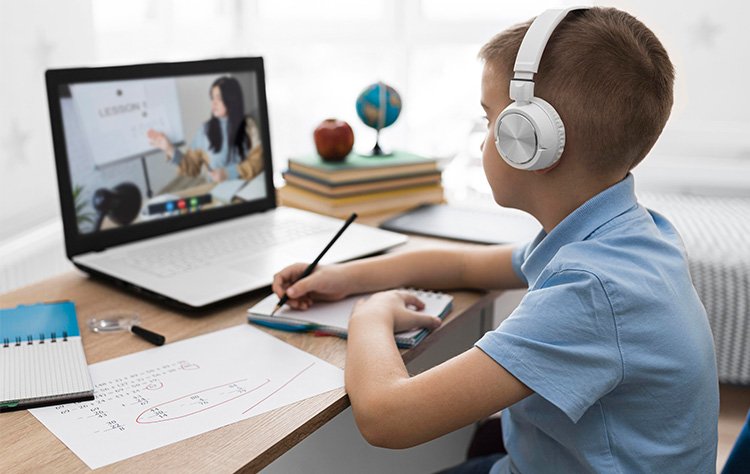 First of all, let's tap into our creative side and imagine this. We were all taught about plant and animal cells in our childhood. Looking back, it's difficult to remember all those layers and parts that we so scrupulously read from the textbook. Now, what if we were taught the same thing using a video visualization. No matter how clear a textbook diagram is, it will never come close to a video explaining each part with clear dissection. This is the basic tenet of EdTech
EdTech refers to the use of technology in education or teaching methodologies. It has been around for a while but never so advanced as we're seeing it now.
EdTech has come a long way; once, it couldn't do much more than assisting in teaching, but now, it has become the primary teacher in many places. It also incorporates advanced tech like AR and VR to help bring 2D theories to life and provide a better conceptual understanding. Also, EdTech focuses on the demonstration of concepts (their application and utility) rather than dumping them on top of each other.
A survey conducted by Schoology exchange to gauge the importance of the digital way of learning showed that student achievement and growth are positively impacted by the use of education technologies. So, it is evident that EdTech promotes outcome-based and career-based learning.
During the pandemic, the global EdTech industry witnessed a major surge in its applications. Studies show that the global EdTech market was valued at USD 74.64 billion in 2019 and is estimated to reach USD 318.8 billion by the year 2027, it is said to progress at a growth rate of 19.9%.
EdTech is the technology of today as it is highly relevant to the current trends in education. Conventionally, the standard way of education is a classroom setup. However, it is widely accepted that a classroom way of teaching leaves many needs unattended. Also, according to Brookings Institution, conferring 21st century skills is the primary premise of EdTech innovations, second to literacy. So, they are undeniably more relevant and equipped to prepare a child to face the dynamics of the world today.
Lately, it is necessary that education not only enables children to understand concepts but also apply them. In fact, applicability is of higher relevance. Also, increasing advancements and fast-changing times demand that students are equipped with strong basics that serve as a solid foundation to build their future skills.
Not just children, EdTech is revolutionizing education for a wide range of age groups. From toddlers who have the attention span of a fly to industry-specific professionals seeking to better their careers with certifications or guidance, EdTech is serving them all.
The various facets of EdTech
EdTech includes any and every technology applicable in the education field. It encompasses everything from simple video lectures to complex tech like extended reality applications. A few of its popular facets include:
Smart Classrooms
Assistive Tech (assists the specially-abled)
AR/VR/voice applications
Apps and platforms (Educational, certifications, or assessment portals)
So, why the sudden surge in EdTech?
The pandemic definitely played its part in encouraging the widespread adoption of EdTech. With schools, colleges, and educations institutions being closed due to federal restrictions, the only option left for students and learners was EdTech; for most, this option soon became the norm.
Once people started experiencing the difference between EdTech and conventional teaching, they started preferring EdTech applications due to its many benefits like remote accessibility, the personalized pace of learning, better teaching methodologies, visualization of concepts, quick, timely, and effective assessments, etc.
Apart from this, the quotient of Digital Adoption these days is higher than ever before. With the world going digital, every industry is finding its own way of accommodating technology into its niche and this, in turn, is widening the scope of industries as more and more people are leaning towards the digital way of life.
For instance, tablet technology has colonized toddlers' and childrens' learning experiences. The more the masses adopt digital tech and appliances, the more the penetration of EdTech.
These days there is a lot of Awareness regarding the importance of education, and the perspective of what it means has altered for good. Consequently, all the stakeholders in this sector are investing towards bettering the quality of education in their local realms.
From such realization came the aspect of practical learning or career-based learning where the core value is to learn to apply. So, as a positive action towards that goal, people started embracing the unconventional yet effective way of learning introduced by EdTech.
As the popularity of EdTech applications is growing, investors and entrepreneurs are jumping the bandwagon. Due to this, there is a significant rise of EdTech startups and applications on the scene.
Not only private investors, but federations are also favoring EdTech applications and are planning to incorporate them into government schools and educational institutions. Also, EdTech firms are coming together in partnerships with each other and adding value to this booming sector. All this is contributing to increased funding of EdTech solutions.
As such, EdTech is undeniably a revolution in the education realm. Moving forward, it will incorporate more disruptive technologies of this age and advance further. Consequently, the investments and growth of this sector will be exponential.