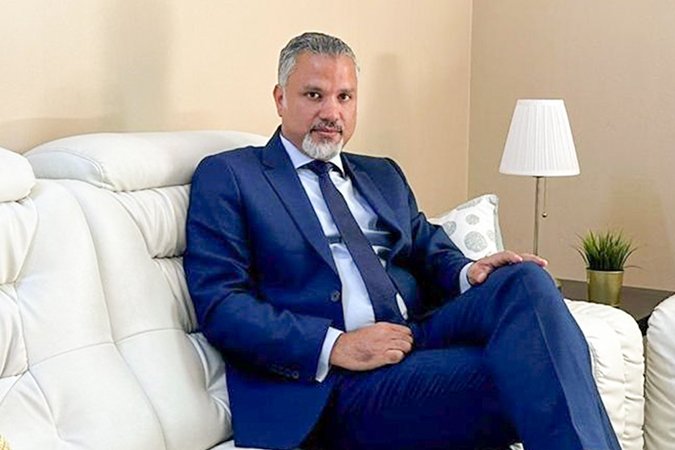 Ali AlSheikh, Managing Director, Innovation Brains For Information Technology
In the ever-evolving landscape of business, there has long been a pressing need for a centralised hub of innovative solutions that can cater to a wide spectrum of industries. Many organisations have grappled with the challenge of curating an effective repository of cutting-edge business tools and strategies. This gap in the market was keenly observed by visionaries who, through extensive industry interactions, identified the demand for a transformative platform that could revolutionise how businesses access and implement innovative solutions. Thus, Ali AlSheikh, recognizing a pressing need in the market, embarked on a journey into entrepreneurship and eventually took the helm as Managing Director of Innovation Brains Solutions H.O.
The mission was to reshape the way businesses across sectors harness innovation for their growth and success. It was a leap into the unknown, driven by a realisation that the skills acquired in university were just the tip of the iceberg. Starting from scratch in unfamiliar terrain was a monumental challenge, but it also served as a powerful incentive to further develop Ali AlSheikh's skills. Ali immersed himself in learning, obtaining certifications in various technology solutions, including FinTech from Harvard, ERP from Microsoft, and PMP certification. This journey was propelled not only by a thirst for knowledge but also by a deep passion for the IT industry. He came to understand that the synergy between business solutions and technology was paramount, and this realisation paved the way for his ascent into leadership roles within major IT companies. His passion for innovation and his recognition of its transformative power were pivotal moments that steered his career towards business leadership and innovation.
Strategic Expansion and a Client-Centric Approach
Under Ali AlSheikh's visionary leadership, Innovation Brains Solutions has undergone remarkable growth and diversification. From its inception, Ali's vision for the company has evolved into a multifaceted approach that extends across the Gulf and Middle East. Key to this expansion has been Ali's ability to motivate his team, fostering a healthy and productive work environment. However, it's his unique talent for incisive and critical problem-solving that has truly set the company on an upward trajectory.
Ali's success in leading the company can be attributed to his acute awareness of market requirements. He understands the significance of employing specialised and highly qualified resources to not only meet customer needs but also to provide ongoing support and expert guidance. This commitment to credibility and customer partnership has been instrumental in the company's ability to expand into diverse businesses across the region.
Cultivating Innovation Through Expertise and Knowledge Transfer
Ali AlSheikh thrives on a culture of continuous evolution and progress. This ethos is driven by a strategic approach to recruitment, seeking out the most qualified and forward-thinking individuals in the industry. By assembling a team with diverse expertise and a passion for innovation, the stage is set for groundbreaking solutions. However, innovation doesn't end with Ali AlSheikh. The belief in the power of knowledge transfer – a two-way exchange where innovations are shared with clients and their insights and needs are absorbed – drives the dynamic collaboration that ensures innovative solutions are not isolated ideas but practical, real-world answers to the challenges clients face.
Moreover, the commitment extends beyond the implementation phase. Ongoing advice and support are provided, helping clients fully harness the potential of these innovations. This comprehensive approach fosters a sense of complete satisfaction among clients as they see tangible results and experience the benefits of innovative solutions. The goal is not just to innovate but to empower clients to thrive in an ever-changing business landscape.
Guiding Through Strategic Leadership
Ali AlSheikh's leadership approach hinges on strategic support, business development, quality services, and effective team management. In every aspect, the goal is clear: to steer the company towards sustained growth and excellence. Strategic support plays a pivotal role. Ali oversees the creation and implementation of planning processes, ensuring the company operates in alignment with its long-term objectives. By designing strategic plans grounded in meticulous forecasts, the company remains adaptable and responsive to market dynamics. Ali doesn't stop at planning; he actively provides improvement recommendations, fine-tuning operations for optimal performance.
Ali's influence extends into business development. His acumen in identifying and nurturing business opportunities has significantly boosted sales volume and profitability. This keen eye for revenue growth has allowed the company to thrive in competitive markets. Quality services are at the core of Ali's leadership. He ensures that the implementation of best practices in all business functions aligns with the company's vision, mission, and strategy. This dedication to quality service not only meets but exceeds the expectations of clients, solidifying long-term relationships.
Perhaps most importantly, Ali excels in team management. Under his guidance, every team member experiences skill enhancement and development. His direction, motivation, and training empower the team to perform at their best. As a leader, Ali plays a pivotal role in planning and implementing the organisation's programs and services, all aimed at delivering exceptional service. In essence, Ali AlSheikh's leadership approach is a blend of strategy, business acumen, commitment to quality, and the empowerment of his team. This multifaceted approach not only drives results but also upholds the company's purpose and values, ensuring it remains a beacon of excellence in its industry.
A Roadmap for Growth
Throughout Ali AlSheikh's extensive career, he's encountered a diverse array of challenges, each presenting opportunities for growth and learning. One of the most significant setbacks occurred during the early stages of his professional journey. At that time, Ali AlSheikh was part of a group comprising seasoned colleagues, and they were tasked with an ambitious goal: to increase their performance by 20% within a three-month period. Driven by a shared passion and commitment to excel, they embarked on this challenge with unwavering determination. However, when the year came to a close, they had fallen short of their target, achieving only a 16% improvement. While it wasn't a complete failure, it was undoubtedly a moment of disappointment.
This experience, though challenging, proved to be invaluable for Ali AlSheikh. It taught him vital skills necessary for navigating the complex terrain of the corporate world. It highlighted the importance of effective teamwork, goal-setting, and time management. Furthermore, it underscored the significance of perseverance in the face of setbacks. Though Ali AlSheikh may not have achieved the desired outcome during that particular challenge, it served as a powerful motivator. It ignited a relentless drive within him to consistently produce better results in the years that followed. In essence, this setback became a roadmap for his professional journey, reminding him that even in trying times, there are valuable lessons to be learned and opportunities for growth to be seized.
Shaping a Legacy of Impact
Ali AlSheikh's leadership journey paints a distinctive picture of legacy. It's not about tangible assets but rather about people. His vision for Innovation Brains Solutions surpasses conventional definitions of success. It's about personal growth, empowerment, and the art of paying it forward. Ali firmly believes that people are the true treasures in this world. While individual achievements may create ripples, genuine success occurs when one can rally a collective movement. His legacy won't be a plaque on a wall; instead, it will be a living network of transformed individuals.
In the realm of entrepreneurship, Innovation Brains Solutions isn't just a business entity. It's a platform where individuals thrive, talents blossom, and inspiration takes root. These individuals, in their unique ways, will shape the entrepreneurial landscape, leaving a lasting mark across the region and beyond. For Ali, leadership means changing hearts, and it's through these transformed hearts that a legacy of enduring impact is etched into the entrepreneurial world.