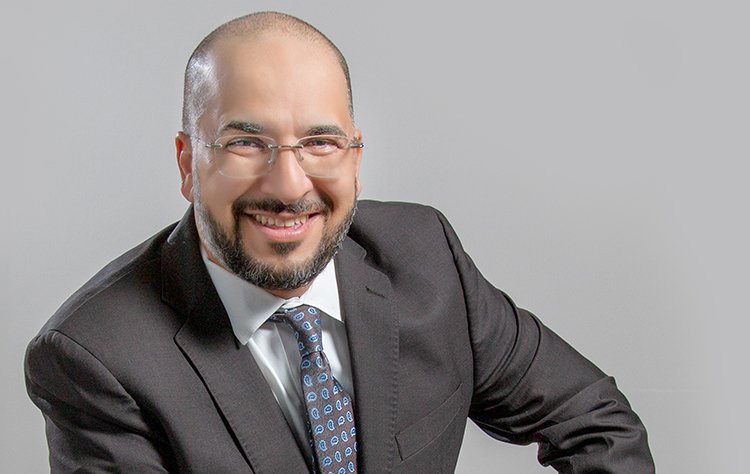 Dr. Hilal Al Dhamri, Managing Director, Raysut Cement Company
While many individuals find contentment in their accomplishments, a rare few set themselves apart with an unquenchable thirst for perpetual enhancement. They live by the mindset of "always wanting more," propelling themselves each day in pursuit of knowledge that fuels self-improvement. They shape their own success, crafting greatness in both their personal and professional lives. Today, we introduce one such individual – Hilal Al Dhamri, the former General Manager of Oman Cement Company, and recently Managing Director in Raysut Cement Company. Also he is chairman of Board Director in some companies in Oman. With a drive to surpass his own limits and thirst for knowledge, Hilal embarked on a captivating journey of self-improvement and innovation. From a childhood fascination with science, particularly Chemistry, to his current role as the Managing Director, his story is a testament to the transformative power of constant aspiration.
After earning a BSc degree in Chemistry from Kuwait University, Kuwait in 2001, he launched his career at Oman Cement Company as a junior chemist trainee in the quality control department. Amidst the whirring machines and bustling laboratories, Hilal discovered the profound role Chemistry played in the cement industry. Over the course of eight dedicated years, he immersed himself in mastering the essentials of the cement industry and technology. In 2008, Hilal enrolled on MSc program at Sultan Qaboos University in Oman, driven by a mission to address a significant cost challenge plaguing the cement industry – the heavy reliance on expensive imported minerals known as "Bauxite". His research efforts yielded a groundbreaking solution and cost effective: substituting imported Bauxite with a locally sourced mineral, achieving complete self-sufficiency by 2010. This monumental achievement not only resulted in substantial cost drops but also propelled his career forward, earning him well-deserved promotions and the trust of the management. Hilal ascended to the role of Senior Assistant Manager Quality Control and, within a mere two years, further rose to become the Senior Production Manager as a first Omani in this position. In 2018, Hilal's journey culminated in a significant milestone as he took on the role of General Manager Manufacturing at Oman Cement Company, where he undertook comprehensive oversight of all manufacturing operations which includes three productions lines, Quarry operations and Quality Control responsible of manufacturing and dispatching of 3.5 million tonne cement annually.
Despite achieving numerous milestones and ascending from a junior trainee to the position of General Manager Manufacturing, his insatiable thirst for knowledge remained unquenchable. He pursued a doctoral program in Civil Engineering with Construction & Material Science Specialization at the University of Leeds in United Kingdom, and later an Master of Business Administration (MBA) at Hult Business School in London in 2021, solidifying his expertise and expanding his horizons on a global scale. Hilal's journey from a junior trainee to the General Manager testifies to the extraordinary heights one can reach when driven by an insatiable thirst for growth. His story illuminates the boundless potential of those who are forever driven to shine brighter than yesterday.
Cement Industries in Oman Through The Ups & Downs 
Oman has witnessed a remarkable boom and growth in its construction industry, with a surge in various projects. This surge led to fierce competition among Building Material sector, resulting in price wars that affected profit margins across the cement & concrete business. Cement industries sector was no exception, facing intense competition aggravated by external factors such as the removal of electricity subsidies and a threefold increase in fuel costs. These challenges put significant pressure on cement producers profits.
Rather than succumbing to these difficulties, Hilal and his team embarked on a strategic journey of adaptation and growth. He focused on process optimization, lowering maintenance costs by adapting Leen management principles, streamlining purchases, and improving energy efficiency. Research and development became a top priority, leading to the creation of cost-effective, high-performance cement. This journey culminated in the successful launch of a new product in 2018, marking a pivotal moment for both the company and Oman's construction sector.
However, this transformation was not without its challenges. Oman lacked specific legislation in construction to support the new cement variety, necessitating rigorous laboratory testing and international benchmarking. The marketing for the product played a vital role by highlighting the environmental advantages of the new lunched cement, particularly its role in reducing greenhouse gas emissions – a significant concern for industries increasingly committed to environmental responsibility.
Hilal's journey exemplifies the commitment to adapt, innovate, and prosper in adversity. Its story is an example of how they continually strive for excellence, all while shaping a sustainable future for Oman's construction industry.
Cementing Success: Hilal Al Dhamri's Impact on Cement Industry in Oman
Hilal Al Dhamri's leadership style has propelled the organization to excel in the construction industry while fostering a positive work environment. His approach to leadership has been marked by a commitment to nurturing the company's greatest asset – its human resources. During his tenure as the chairman of the Human Resources committee, he oversaw the transformation of Organization's workforce into a highly skilled and motivated team. This achievement was no small feat, as it involved training a team of Omani professionals capable of leading operational departments and addressing complex challenges, all while maintaining the company's professionalism.
Hilal's commitment to a collaborative work environment was evident to impressive accomplishments and success relies heavily on scientific research and development. He introduced new cement types like the widely acclaimed registered trade mark known in local market "Al-Burj" cement and eco-friendly oil well cement, boosting sales and showcasing their dedication to innovation.
Another objective in Hilal's journey in cement industry is introduction of alternative materials as added value resources to cement manufacturing stream. The unwanted byproducts generated from several industry sector in Oman were recycled as alternative materials in cement manufacturing achieving 100% complete eco-friendly solution for disposal which appreciated environmentally avoiding of its complication for handling, storage which is promoting sustainability and cost-efficiency. Furthermore, they dedication to environmental responsibility has earned Hilal's team two recent awards for environmental initiatives and performance. The remarkable approach to fostering a positive and collaborative work environment has not only steered the organization to new heights but has also inspired a workforce driven by ambition and a commitment to success.
Adventures Box Company: A Thriving Family Business
Adventures Box Company, a recent venture involving Dr. Hilal Al Dhamri as Board chairman, is a vibrant family business that stepped into the world of high-end bicycles just two years ago. As the authorized agent for the renowned American brand, "SPECIALIZED," Adventures Box Company specializes in providing a comprehensive range of services and top-quality products for avid cyclists. The company operates across five main sections (High-end bikes showroom, Bike care & maintenance, Bike Tours in Oman, Bike Fitting & Bike rental section), each designed to elevate the cycling experience.
Within this venture, Hilal with his two brothers, Bassam and Musab plays a significant role, contributing their insights and experience to shape Adventures Box Company's success in the bicycle industry. His involvement spans various aspects, from selecting premium bicycles and essential accessories to ensuring top-notch maintenance and repair services.
Moreover, the company actively participates in organizing thrilling bicycle trips and adventures across Oman's scenic landscapes, catering to cyclists of all ages and preferences. Adventures Box Company has evolved into a hub for cycling enthusiasts, offering a comprehensive cycling experience that includes rentals, maintenance, guided trips, and a cozy cafe to relax after an exciting ride.
A Roadmap For Aspiring Entrepreneurs 
Hilal Al Dhamri offers aspiring entrepreneurs invaluable advice centered on innovation and adaptability. Hilal firmly believes that progress lies in leveraging the lessons of the past to shape a brighter future.
In future of construction, one of the cornerstones of Hilal's advice is the potential of 3D printing technology in construction, particularly within Oman's dynamic business landscape. He envisions 3D printing as the future of the construction industry, offering unmatched efficiency and cost-effectiveness. It's a transformative approach that aligns seamlessly with Oman's market, setting the stage for groundbreaking advancements.
Hilal also emphasizes the importance of judiciously sourcing materials to suit Oman's diverse geographical conditions. Whether for coastal developments, mountainous terrains, or regions prone to heavy rainfall, his guidance underscores adaptability and resourcefulness. Additionally, he champions the preservation of historical structures through innovative techniques that respect and replicate the original materials.