Vinod Damodaran, CEO, Central Quarry & Mining
"When you want something, all the universe conspires in helping you to achieve it". These words of Paulo Coelho hold immense motivation for those who tirelessly pursue their dreams. They are the ones who remain undeterred by challenges, finding the way to their goals with unwavering determination. Vinod Damodaran, CEO of Central Quarry & Mining is one such individual who started his journey from scratch and placed himself as a prominent leader in the aggregate industry of the UAE.
From the moment he set foot in the UAE, his aspiration has been unwavering: to craft a prosperous enterprise and assume a leadership role in whichever field he enters. He had to go through the tough task of finding a job within 30 days of his visit visa. Determined to persist until success, he decided to accept any job offer that crossed his path, regardless of remuneration. In just 18 months, he advanced from being a Site Secretary to becoming a Sales Executive at a firm specializing in Crusher Spare Parts. As he traversed quarries across the UAE, he understood the abundant prospects within the quarry industry. This ignited a desire within him to one day lead a quarry operation.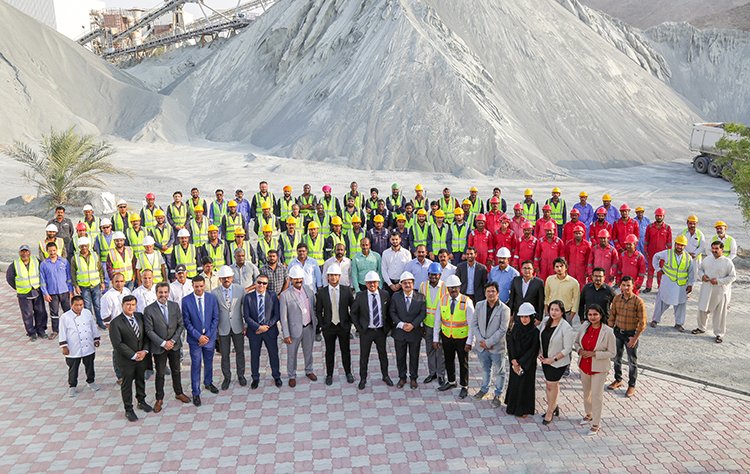 The entrepreneurial voyage began with screen mesh production in the Fujairah Free Zone, evolving into a comprehensive one-stop solution for the crushing industry. This progress paved the way for setting up a division to trade aggregates, and eventually, acquiring a quarry. Additionally, a dedicated transport division was established to support the quarry operations. Consequently, Central Quarry & Mining LLC emerged as a prominent player in the aggregate industry of the UAE.
The Exemplary Excellence in Aggregate Industry
Founded in 2017, Central Quarry & Mining LLC (CQM) has firmly established itself within the aggregate industry landscape as a prominent manufacturer of an extensive range of quarry products. The portfolio includes a diverse array of offerings such as Aggregates and Sand, Armour Rocks, as well as Road Base and Sub Base materials that meet quality expectations for both local and global markets. One of the company's standout strengths lies in producing top-tier construction materials, particularly aggregates tailored for asphalt projects.
Backed by cutting-edge machinery and equipment, they consistently deliver world-class quality. CQM's well-equipped laboratory rigorously tests and certifies the entire spectrum of products, adhering to stringent and accredited quality control protocols. This commitment to excellence has earned CQM the approval under International Management System Standards, further underscoring its dedication to delivering products of the highest caliber.
CQM's impact resonates through its involvement in prestigious projects such as the Dubai Intl. Airport Runway, Dubai Al Ain Road, Shindagha Tunnel, Sheikh Zayed Bin Hamdan Bin Zayed Road, Nad Al Sheeba Infra, Garhoud Ramool Road, Bateen Airport aunway Abu dhabi, Mohammed Bin Rashid City Abu Dhabi, Zayed Link Road Abu Dhabi, Ajman ring road to name a few. With a legacy defined by exceptional quality, a diverse product range, and a proven track record in delivering aggregates for popular projects, Central Quarry & Mining LLC shines as a beacon of excellence within the industry.
Rising Through The Challenges
Entering an intensely competitive market without prior experience was a formidable challenge for Vinod. Amidst this struggle, his alliance with a dedicated team he had nurtured over the years emerged as a strength. This team of dedicated, sincere, and assertive individuals steadfastly supported the development process of CQM.
Luckily, he found a quarry that had been unused for over ten years. However obtaining the necessary initial funds was tough, followed by fixing and operational responsibilities. But his diligent efforts began to give him steady progress. He took on the task of hiring approximately 130 new employees and overseeing the restoration of the entire crushing line, as well as refurbishing all the outdated earth-moving equipment. Essential clearances from relevant authorities were secured, along with necessary approvals from Dubai RTA, municipalities, and other government bodies, ensuring the approval of the materials for infrastructure projects in the UAE. "Even though it was difficult, every achievement was a source of joy", reflects Vinod.
A Commitment to Quality
Vinod is highly aware of what he brings to the table. He insists that whatever he does should be unique and reflective of the company's culture. He executed the most impactful strategies to the very foundation of his business, that is customer relationship. He discerned the market flaws and challenges clients were grappling with. He focused on addressing customer needs and finding optimal solutions to the challenges they faced. The asphalt industry, in particular, demanded a pinnacle of material perfection, unwavering quality, and steadfast consistency. As a result, the team undertook the responsibility of ensuring a consistent supply of high-quality materials to their esteemed clients. Aligned with their dedication to maintaining reputation and work excellence, they served clients who prioritized upholding their reputation.
Just as his clients value their reputation, his own reputation is of utmost significance. He staunchly refrains from providing low-quality materials at discounted prices. He firmly believes that quality is intrinsically linked to its cost and appreciates clients who recognize this value.
A Visionary Leader
Vinod Damodaran is more than just a successful entrepreneur. He is a visionary leader who understands that leadership extends beyond the boardroom. His leadership philosophy is simple yet profound: "Lead by example". Vinod firmly believes that to inspire and lead a team effectively, one must set the highest standards and adhere to them rigorously.
Throughout his career, Vinod has consistently demonstrated his commitment to these principles. Whether it's ensuring the highest quality standards in his products, maintaining a safe and ethical workplace, or treating every member of his team with respect and fairness, Vinod leads with integrity.
This commitment to ethical leadership has not gone unnoticed. Central Quarry & Mining LLC has received numerous accolades for its ethical business practices and commitment to sustainability. Vinod's leadership has not only driven the company's growth but has also set an example for the entire industry.
The Team, The Strength!
From the very beginning, his team has always been his strength. He nurtures a deep sense of trust in all his colleagues, believing in their dedication to the company's success. "This trust has never been misplaced", asserts Vinod. This mutual reliance has significantly eased his journey.
He holds every individual working with him in high esteem, prioritizing their concerns and requirements. "Think Safe, Work Safe, Be Safe", this is the motto that drives CQM's operations. Ensuring a secure working environment and continuous health & safety training stands as a pivotal element to achieving the goals of zero accidents & zero harm to his employees. Recognizing the importance of his team's well-being and their families' happiness, he deeply comprehends the significance of timely salaries for his employees. To guarantee this, he enforces a stringent policy that ensures salaries are always paid promptly, irrespective of the circumstances.
His team, the cornerstone of his endeavors, is indeed his greatest wealth. Hence, he relentlessly dedicates himself to their welfare, ensuring their support and contentment remain at the forefront of his leadership.
The Path Ahead
To Vinod, the future holds hope, just as it always had. Vinod envisions forging a lasting legacy. He aims to persist as a respected and influential figure within the quarrying industry. He will strive to maintain the prevailing reputation for producing top-tier construction aggregates that enhance the durability and safety of infrastructure and road projects throughout the UAE.
On a concluding note, he motivates emerging entrepreneurs with powerful advice. "The path to growth never involves idleness. It's about consistently pursuing accomplishments, regardless of their scale, as even the smallest steps yield benefits in the long run. A clear sense of direction is paramount, signifying a crystal-clear understanding of the path to personal growth", advices Vinod. These words are something he wholeheartedly says to aspiring entrepreneurs.
This very mindset of holding the door open for others, determination, and commitment will undoubtedly pave the path for an exceptionally fruitful and profoundly fulfilling journey.