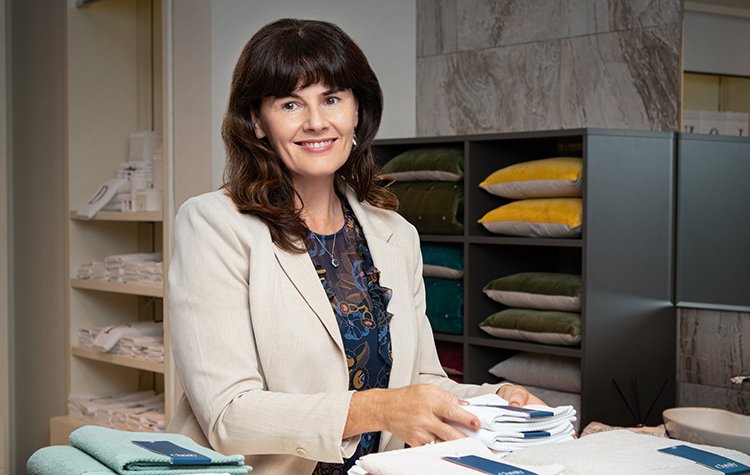 Pamela Opie, CEO & Founder, Linen Obsession Textile Trading
Being a successful entrepreneur isn't for the faint of heart.The path to entrepreneurship is often long and grueling, filled with unexpected detours, roadblocks, and dead ends.There come moments when doubt, stress, and obstacles come in intense waves, plans don't work out, and funding doesn't come through. Despite those hardships, true entrepreneurs embark on the journey, determined to bring their vision to fruition and fill a need they see in society. They embrace these hardships and use them as fuel to move further along the path and to find even greater success. A prime example of one such perseverant entrepreneur is Pamela Opie, the CEO, and Founder of Linen Obsession Textile Trading, a leading supplier of branded home textiles to retail stores in the Middle East.
Pamela grew up learning thatyou have to work hard to achieve anything in life,which helped her prepare for an entrepreneurial career.Growing up in Australia, which had a robust textiles manufacturing industry, she developed a keen interest in the sector and started working with Australian factories, making export sales around the world for them.Once the Australian factories closed their production and moved to become importers, she expanded her knowledge in the branded side of the business. "I love the history of brands and how they developed. Many of the brands that I work with now, like Christy England or Morris & Co are not just part of textile history but are part of the story of the development of global trade and the industrialization of Europe," asserts Pamela. In 2008, Pamela moved to Dubai to start her own homewares trading business, which culminated in the creation of Linen Obsession Textile Trading LLC in 2018, a distribution company managing the Middle East sales of several famous UK and global homeware brands.
Tailoring and Redefining the Business Model
Operating in the beautiful city of Dubai, UAE, Linen Obsession has launched several famous home textile brands in the Middle East over the past fifteen years. With proficient staffin all gulf country department stores,a higher level of service, and its ability to keep track of local tastes and preferences, Linen Obsession has come a long way since its inception. However, the path has not always been easy. Pamela started the company by launching Esprit Homewares in the Middle East in 2008. This famous global brand was instantly successful, but the success was shortlived as the popularity of the parent fashion brand was declining due to the entry of fast fashion players like Zara Home and H&M. It took Pamela two years to convince Christy in England to let Linen Obsession take over their Middle East distribution. Now the Christy England brand is the best-selling linen brand in most regional department stores and the gulf is the top export region for the brand.
Once Pamela saw the success of selling Christy wholesale, the decision was made to revert to a concession supply model – where the company supplies the stock and the staff to the department stores in a contracted space, but payment is only received after the sale. Although this was definitely the right change of strategy to take the business forward, the rollout of concession stores was delayed by internal department store issues which resulted in less profit than anticipated. There were also issues with the parent brand wanting to invest enough money into the Middle East stock to fuel the fast growth that Pamela knew her company could achieve. So in 2018, Pamela made the bold decision to purchase all Christy stock in the Middle East including the Dubai warehouse, so the company could become the exclusive distributor instead of a sales agent. This involved moving from a freezone to a local company and setting up their own warehouse and direct contracts with retailers. This was a difficult time to manage cashflow, as she had a huge amount of stock to pay off in one year, whilst having to fund sales growth of 50% in the first year of the new business model. "This issue with trading companies is that you can only make sales from stock you have purchased, so it is always investment heavy for inventory. During this period, I successfully secured the first external funding for the company," elucidates Pamela.
The change of distribution model with Christy allowed the company to invest in other non-competing brands, so they could take greater space in department stores and more market share.
Key Attributes of Successful Leadership
As a people-centric leader, Pamela believes in managing a company in a connected, emotionally intelligent, and holistic way. According to her, a leader must have self-confidence, self-belief, a learning mindset, and empathy for others along with a purpose and passion to keep going and be on the right track. As a successful leader, she advises budding entrepreneurs to keep watching their profit as closely as possible, so that they can make any necessary adjustments to their business model as early as possible. "I think many new business owners; women, in particular, do not watch the money closely enough.You might be living your passion and your dreams, but we all still have bills to pay! You should earn more than you could be working for somebody else. Most trading businesses should aim to be profitable from year one, or at least from year two," affirms Pamela.
Embracing a Localized Business Model
Besides its top-notch customer-centric services, the differentiating strength of Linen Obsession also lies in its ability tomatch local preferences. Though it sells famous global brands, the pioneering company focuses on a localized business model and tailors the sets to match local preferences, such as supplying American comforters in UK brands. It always strives to be the best supplier to each department store and assist and support its customers in their time of need. Even during the Covid-19 outbreak, Linen Obsession was one of the few companies carrying good stocks all through and after the pandemic. Thus, it was able to help its retail partners to trade out of a difficult period, further cementing Linen Obsession's status as a dominant supplier. Even though every retail store was closed for some time in 2020, Linen Obsession was still able to achieve good growth that year and did not lay off any staff; in fact, any temporary salary cuts during uncertain times were repaid in full to staff as soon as adequate cashflow became available.
Gearing Up For a Greater Walk Ahead 
Going forward, the company is excited about the launch of its first stand-alone retail store in Mirdiff City Center in Mid October, where it can really showcase what Linen Obsession is about and its special linen expertise. Through this store, Pamela aims to create a destination where passionate linen shoppers will come to have a great shopping experience and find all the lovely white and cream linen they need for their homes.
As a business leader, she believes that businesses must be caring and ethical and look after their people. Driven by this value, she aims to attract more leaders with a similar mindset to create a positive impact on society."I look forward to attracting more leaders like me so we can be strong together and make positive changes. I think the classic business model of "We win whilst you lose" is much less successful than taking everyone with you on the success journey," concludes Pamela.