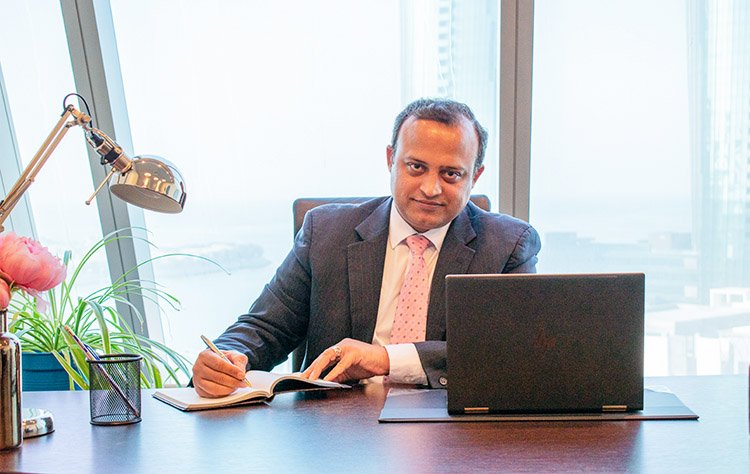 Haresh Shukla, Senior Director & Partner, Empact Consulting
Today, the success of an advisory firm depends on how it foresees the shifting market landscape can impact potential deals. When it comes to Empact Consulting, the value of an opportunity is growing with the deep industry knowledge. With a vision to be a trusted brand providing in-depth research and consulting services, Empact empowers its clients with knowledge and insights, to drive sustainable impact. The company is a GCC-centric boutique management consultancy with expertise across industries.
With the right guidance from Dr. Prashant Kumar, Managing Partner, Strategy & Government Advisory, and Mr. Haresh Shukla, Senior Director & Partner, Advisory & Deals, Empact Consulting professionals have had a clear vision, integrity, and value that are instrumental for transformation of businesses across the region since 2015. 
Mr. Haresh says, "We are an ex-Dun & Bradstreet team who have been in the region for almost 15 years and have worked extensively with both public and private sector organizations."
The company works with public sector organizations and has been focused on small and medium sector development including SME Financing, Foreign Investment Promotion, and Cluster Development initiatives. In the context of private sector enterprises, it has been very active with development of business plans and feasibility studies, valuation studies, purchase price allocations, and financial advisory (including financial restructuring, design and implementation of financial governance, and outsourced CFO services for medium to large organizations). Empact has outsourced CFO services (Chief Financial Officer Services) and SMO services (Strategy Management Office services) which are service packages designed on a build-operate-transfer model which allows client organizations to move from outsourcing to in-sourcing within 12-24 month contracts.
Incepted in 2016, today, Empact boasts a clientele of more than 300 businesses across several countries including all GCC countries, Jordan, Morocco, Egypt, Malta, Cyprus, Canada, Australia, Hong Kong, India& Nepal. The company has about 25 hand-picked consultants on its payroll in the GCC region, a tie-up with an Indian firm for another 40 financial analysts, and a corporate law firm with about 200 corporate lawyers for financial advisory projects. It also has an in-house digital team for digital transformation or ICT systems that may be required for transparency and governance. "Our mission is to provide actionable and grounded recommendations, build long-term client relationships, develop a team of motivated individuals within teams and promote a culture of accountability, success, and pride in delivering excellence," states, Mr. Haresh. 
Overcoming Challenges
Empact annually works with 500-1000 startups across different projects including impact assessments done for Government subsidy programs. Mr. Haresh asserts, "As a company, we were always aware of the challenges the start-ups face. However, it was very different to be on the receiving end when we were going through the initial years at Empact." 
The company faced four key challenges since its inception: 
Establishing the brand Empact as a known name in the market for the services it offers. 
Onboarding, training, and retaining talented individuals while developing a culture of mutual respect and cooperation.
Financing challenges commensurate with high growth phases of the company. 
Ignoring distractions that came along the way including some high-profile and interesting jobs that came along to different people in the team, who chose to continue with Empact's vision and team.
The company faced a constant challenge to choose between growth and stability as Empact is a bootstrapped firm. However, with an excellent advisory board that guided the company on the right path, shared critical feedback from time to time; today, Empact is proud to have a team that is talented and humble while being well-trained to think in the best interests of its clientele. 
Initially, getting business with a little-known brand in Bahrain was difficult especially due to low oil prices and limited government budgets during 2016. The team strived hard to work in limited price points and created a good name for the firm with a series of financial restructuring, loan consolidation, and business planning for various greenfield projects. With support from its Qatari partner and advisory panel, the company carefully steered the operation into a successful venture.
In this highly competitive and price-sensitive market, the team members are constantly putting in efforts to differentiate the services provided by the firm. Some of the key differentiators offered by Empact are well-grounded methodology in all our engagements, quality of services, ability to support clients with turnkey solutions, and flexibility in the approach. "Empact is willing and able to implement whatever we recommend as a part of our advisory engagements, which has been very unique as we often follow up our planning projects with implementation projects. Some of these projects even involved fraud detection and follow-ups with lawyers to provide them significant inputs to build their cases," says, Mr. Haresh.
Future Growth
"At Empact, typically we expand into a new market and then allow a cooling off period of 9-12 months before expanding further. We have also developed an in-house and custom-built ERP system which we are now implementing for streamlining our operations. Our immediate plans include further market penetration into KSA, Oman, and Kuwait markets while finalizing our plans linked to future offices in Cyprus, London, and Canada," shares Mr. Haresh.
The company aims to establish a bigger digital transformation team and bolster its Fintech capabilities in addition to expanding the realm of its financial advisory services. It is also actively developing capabilities for internal audit services.
During the next two years, the company aspires to strengthen its outsourced CFO capabilities by adding more manpower and digital capabilities. Lastly, it is also developing call-center capabilities to be closer to the clients by taking in their requirements at any time of the day. "We hope that the markets would respond positively to the progressive changes we are bringing in concerning both the breadth and depth of our services in the advisory domain," concludes, Mr. Haresh.