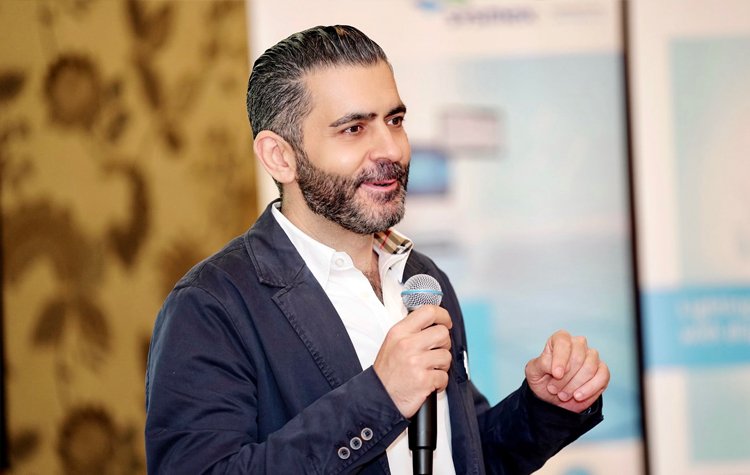 Wissam Daoud, Managing Director, Middle East & Africa at Sysmex
There is a most famous quote by Donald McGannon–'Leadership is action, not a position'. Leadership is not about title or position. It is about being a positive influence on those around you and motivating others toward success. Great leaders make the purposeful choice to empower everyone they lead to help them be the best version of themselves. They acknowledge the strengths and potential contributions of their employees and provide them with the opportunity to grow and learn effectively. They lead by example with integrity and inspire the people around them to push themselves – and in turn the company – to greatness.
An embodiment of such exemplary leadership is Wissam Daoud, the Managing Director of Middle East & Africa at Sysmex Middle East FZ-LLC, a subsidiary of Sysmex Europe SE, one of Europe's top laboratory diagnostics and healthcare companies and the global leader for haematology diagnostics and service. Sysmex Middle East FZ was established in April 2008 as a regional hub for Sysmex activities throughout Middle East countries, operating from its offices in Dubai. Under the insightful leadership of Wissam, the company is marching ahead on the path of growth and success.
Lighting the way with diagnostics
Sometimes it is the tragedy or unfortunate events that pave your way to achieving a greater purpose. As Robert Thomas aptly said in his excellent book 'Crucibles of Leadership': 'Great leaders become great by finding meaning in adversity – in traumatic and unplanned crucible experiences – and then transforming those experiences into improved performance'. For Wissam, one such pivotal incident was when one of his favourite uncles was wrongly diagnosed with arthritis while he had bone cancer. That wrong diagnosis worsened his life and they didn't discover it until the last stage. This startled Wissam to the core and made him think– how a single diagnostic error can have serious, lasting and sometimes tragic results. He realised that diagnostic error is one of the most important safety problems in healthcare today, and leading the transformation in the industry can reflect so many lives. Thus, he decided to illuminate the blind spot of diagnostic error and improve diagnosis in healthcare through Sysmex and through successful partnerships with healthcare providers and various governmental bodies across our region.
Attributes that differentiate Sysmex
Over the years, Sysmex Middle East FZ-LLC has grown to become one of the Middle East region's leading diagnostic suppliers with a reputation for high-quality products, service and reliability. However, its unique proposition lies in its ability to have direct existence in three different regions and chains of strong partners, a professional team and optimal after-sales support. Besides, what further gives the company a unique edge in the market is its focus on hiring the right people and training them to meet itscustomer expectation, having the right geographical coverage and right strategies regarding what to focus on, what to develop, what to transform and what are the opportunities. Sysmex also acts as a knowledge provider for the systemic academy, where employees are trained and encouraged to expand their knowledge and maximise their potential. 'We don't sell me-too products. We sell unique products. Sysmex value-added services provide our customers with a personalised, tailored approach whether you require standalone diagnostic solutions or a fully integrated managed service agreement', opines Wissam.
Relinquishing the challenges
Undoubtedly, establishing a successful company is not a piece of cake. But what Wissam finds even more challenging is to be consistently successful in the region. Initially, building brand equity and brand awareness was quite challenging for the company. 'It requires multiple factors to build this including state-of-the-art products, technology and results and after-sales service. If you're having a product and don't offer the support that the customer needs, then it is just a piece of metal sitting on the shelf', asserts Wissam. With state-of-the-art products, groundbreaking technology, optimal customer service and a highly proficient team, Sysmex was able to overcome all the obstacles along its way to reach where it is today.
Redefining leadership
Wissam has always believed in servant leadership style, and he has followed this at Sysmex too. Highly inspired by the book called 'Leaders Eat Last', which speaks about serving the employees and working for the employees, he always strives to put this leadership style into practice and makes sure everybody in the organisation has everything to be successful. According to Wissam, a leader must ensure that everyone in the organisation has the right tools, right knowledge, right mindset, time and the capacity to be successful at the job they are doing. 'It's not really about how successful I'll be or how successful the company will be. It's also about how successful our employees are. As a leader, it gives me great pleasure and a sense of pride when I see the people I worked with are accelerating in their careers and gaining great success in the market', adds Wissam.
Continue Reshaping the Future of Diagnostics
While there are several attributes that play a key role in Wissam's success story, it is his firm belief in his capability, unwavering courage to take risks and strong determination to get out of his comfort zone to try different things that make him the impeccable leader he is. Imparting the key lessons from his years of experience, Wissam advises emerging entrepreneurs to take calculated risks, step out of their comfort zone and try new things no matter how crazy they look.
Going forward, Wissam aspires to see Sysmex Middle East as a partner of choice for medical laboratories across the Middle East area. As a complete solution provider, now the company is enhancingits capabilities internally and further improving its solutions to help its clients become more effective, doing the job they need to do with high accuracy and efficacy. 'Our goal is to not only deliver best-in-class products but to also increase the number and quality of tests that are being made and be a true healthcare company where we can help people diagnose any symptoms early before they get sick rather than being a sick care company treating people after they get sick', elucidates Wissam. As the company continues to thrive, Wissam also envisions growing as a leader and as a person to take this venture to a new height in the coming years.