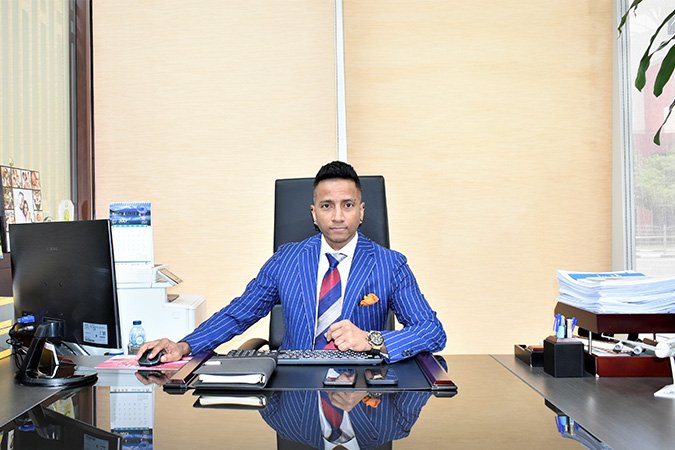 Nitin Menon, Executive Director, Dadabhai Travel LLC
Career advancement and recognition are on every professional's list of goals. Unfortunately, only a few are able to achieve their aspirations and progress in the way they desired. What makes these professionals different from the others? It is the ability to identify potential opportunities, the right mindset, and the willingness to perform well. Nitin Menon, the executive director of Dadabhai Travel is an exemplary business leader who joined the company through an entry-level job and triumphantly climbed the corporate ladder with his optimistic attitude and enthusiasm towards every opportunity that came along his way.
Sportsperson to Business Leader
Interestingly, Menon comes from an entirely different background. He was a successful cricketer before he began his career in the aviation and travel industry. During that period, he represented teams in both state age group crickets as well as at the university level. The dedication he had towards the sport helped him to grab the many opportunities to play for the leading clubs in the state and even was appointed as the team captain. "Sports have played a huge role in my overall growth; personally and professionally," says Menon. He adds how being a leader in sports has helped him to effectively evaluate situations and undertake necessary changes when things don't go as planned. Menon is a classic example of how making the most out of different life experiences can significantly help one in gaining critical skills and insights.
That being said, the shift from sports to business was not that easy for Menon. It was quite challenging for him to learn the basics of the travel trade at first. But with unparalleled keenness and determination, he was able to overcome those initial hurdles and gradually matured by strategizing his business approach in order to maximize the revenue streams and also to scout for new opportunities in such a competitive landscape. Needless to say, he was successful in all his endeavors.
The Beginning
Menon's entry into the travel industry was as a sales manager at Dadabhai Travel in 2022. After spending almost 20 years with the company, he eventually became the executive director of the organization by adopting a positive approach toward his goals and by showcasing exceptional performance. He also gratefully acknowledges the guidance he got from Mr. Aziz Gilitwala, the managing director of Dadabhai Travel throughout his journey.
Menon is an ideal example of perseverance and hard work. He started his career when he was just 18 years old and he made sure to accumulate every knowledge and experience he needed to successfully climb the ladder. After almost two decades of commitment, he was honored with the position of executive director of Dadabhai Travel.
Understanding the Playground
Dadabhai Travel is a specialized tour operator headquartered in Bahrain. Their services include corporate and retail ticketing, inbound and outbound holiday packages, sports tourism, visa services, event management, GDS distribution, and online platform for travel agencies (B2B / B2C).
As someone who is in an executive position in the company, Menon understands that it is vital to sell the dreams and experiences of travel with the mission of creating memorable moments for their guests. In spite of the reason for their travel, professional or personal, people expect to feel cared for, appreciated, and welcome. Thus, it is the responsibility of hospitality and travel companies to inspire and care for their customers more than any other business sector. Dadabhai Travel also focuses on keeping up with these fundamental factors.
"Making an impact in the industry and in customers' lives with innovations is my motivating factor," states Menon. For this reason, he constantly seeks out ways to substantially contribute to important projects that give him a sense of ownership in both his work and the work environment as well. Besides, the leader in Menon always stands by his morals and values. He makes sure to offer his help and support to his colleagues and clients during difficult times.
Menon is a business leader with a growth mindset. He is always exploring new challenges and opportunities and learning along the way. He looks forward to applying his learning to his everyday work and intends to offer inspiration to pivot a new idea.
"Among the many factors that mold a good entrepreneur, adaptability and vision play the key roles," advises Menon. For the upcoming generation of young and budding entrepreneurs, Menon puts forward a quote. A quote by Henry Ford – "Whether you think you can, or think you can't, you're right". "Believe in yourself. Believe that you can succeed, and you'll find ways through different obstacles. If you don't, you'll find yourself looking for excuses," reminds Menon.