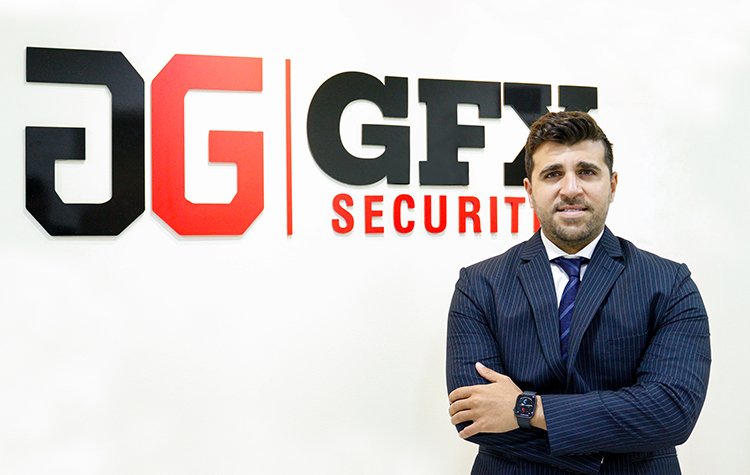 Ali Al Hleewa, CEO of GFX SECURITIES
It would not be an understatement to say that, out of thousands of entrepreneurs, only a handful of business enthusiasts can barge into the world of finance and gain international stardom. This story is not only about Bahrain's most trusted investment house GFX SECURITIES, but also about the man behind its pioneering achievements. Ali Al Hleewa, the CEO of GFX SECURITIES, has charted his path as an undisputed leader and a visionary making a profound impact in the field of global securities and logistics.
Mr. Ali was just 19 years old when he bootstrapped his first startup. He was completely overtaken by an insatiable desire to explore the trading market as one of the most lucrative business ideas. Driven by an ardent enthusiasm in this domain, he worked even as an ad hoc trader while literally; he possessed nothing, no knowledge, no channel, or guidance. He risked all his savings and lost millions in the trade, but nothing could surpass his dream of becoming the "Trading King". With every unsuccessful attempt, he bounced back with double intensity and force. Within a minimum span of two years, Ali could spin out a profit of more than a million dollars from the market. This filled his mind with a sense of self-confidence and optimism that helped him to overthrow every challenge, break moulds, and set precedence through incredible results throughout his long and illustrious entrepreneurial career. In 2018, Ali Al Hleewa's dream took a concrete shape with the inception of his investment company GFX Securities. The man who had initially been tossing in uncertainty, finally, set a benchmark of raising 100 million dollars for his business.
It was due to lack of in-depth knowledge and understanding of the financial domain that Mr. Ali had to face hurdles and suffer losses during his initial days. Keeping this in mind, the entrepreneur has also launched an education platform GFX Learn and compiled a book on trading concepts that could help nascent investors to take appropriate financial decisions.
It is under his aegis, GFX Securities has been able to generate a profit worth ten times its losses. However, Mr. Ali Al Hleewa perceives his biggest comebacks as his biggest challenges. Every single time he puts his credentials on trial, sets new targets for himself, and never stops until he emerges victorious with some glorious feats of achievements.
GFX SECURITIES-The Next Generation Trading Platform
At present, we are going through a truly turbulent phase. The growing issues of global unrest, economic downswing and a slew of unemployment have forced novice traders to invest a lion's share of their income in online trading, stocks, and financial markets. In doing so, they sometimes fall prey to fraudulent investment marketers or money swindlers, who deceive them with wrong financial advice and information. To guard against such risks, we must rely on someone or some organizations who have proved their worth over the years through their strong business ethics and market prowess. GFX Securities is one such frontline trading platform, which has been able to carve a niche in the trading market by offering state-of-art solutions and services to its millions of trusted investors.
The company offers seamless and hassle-free investment solutions right from the first stage of planning and advice to the final point of executing your investment plans. It understands and appreciates the discerning needs of every customer. GFX has devised different investment schemes that ensure good returns on investments (ROI). It also extends its professional support in handling intricate wealth management programs and helps monitor customers' portfolios with digital solutions and experienced financial advisors.
A good investment practice instils within us a sense of financial discipline, which in the long run, helps us to accumulate a corpus for rainy days. The company conducts various training sessions and awareness programs on stock trading and investmentthrough its GFX Learn platform. This helps the young generation gain knowledge of the complex trading process and makes them aware of the nitty gritty of trade and investments. The learnings help them make correct speculations in stocks and take meticulously calculated risks in the finance market.
Trading houses have to tackle a myriad of issues when it comes to rendering security and safety to their clients. For Mr. Ali Al Hleewa, client security is of paramount importance, and, at GFX, the entrepreneur ensures the highest degree of informational safety and security. The company makes use offront edge technologies to preserve the portfolios, data, and information related to its clients and their transactions and thereby protects them against any unauthorized action or infringements.
GFX Securities is well known for offering uninterrupted, 24*7 technical support through a variety of communication channels that meet their client's expectations. The dedicated team of experts at customer support plays a major role in GFX's burgeoning success in recent years.
Why GFX Securities?
The most challenging task of an investment company is to enlighten its clients about the complexities, risks, and benefits of a financial market. GFX Securities has emerged as a stellar performer in providing the most lucrative and beneficial trading plans to its customers, mostly newcomers. With its dedicated software, user-friendly interface, and international brokers, the company helps you to invest wisely. Apart from being an investment counselor, GFX Learn educates you with various strategic approaches to investment, lets you gain insight into the right market analysis, and gives you an idea of when to invest, where to invest, and how much to invest. The 24/7 tech support solves all your queries regarding investments.
The Inside Story
A company succeeds only when it cherishes the right mix of positivity, diversity, and inclusiveness. The in-house culture of GFX justifies its performance at the global frontier, beyond Bahrain. Ali Al Hleewa seeks to achieve an employee-oriented working environment that respects, acknowledges, and celebrates the various efforts and diverse experiences of the employees. The company takes pride in its bonds with its employees, who believes in working and growing together as a family. At GFX, the workers are trained professionals, who are efficient enough to handle challenges and adapt to changing business scenarios with their updated skills and market knowledge.
Awards and Achievements
Mr. Ali Al Hleewa, during his entrepreneurial career, has added many feathers to his cap. He has been endowed with a host of prestigious titles and honors for his landmark achievements in the field of finance. He is the proud recipient of THE BEST CEO EXECUTIVE IN THE MIDDLE EAST AWARD, THE BEST HUMAN DEVELOPMENT IN GCC AWARD, and THE BEST BLOCKCHAIN PROJECT IN MIDDLE EAST AWARD. Under his stewardship, the company has been able to reach the highest level of success and has bagged many rewards and recognitions. The company received MORE THAN 40 AWARDS LOCALLY & INTERNATIONALLY, it is recognized as the BEST BROKERAGE FIRM SUPPORTING ARABIC LANGUAGE and the BEST FOREX COMPANY TO IMPLEMENT ISLAMIC RULES IN FOREX TRADING.
Future Spotlights
The lives of the world's most famous businessmen are often coloured by both triumph and tragedy. The right combination of skill, luck, and determination is the bottom line of any successful business endeavour. In its long and eventful journey, GFX Securities has been deftly handling the complexities and intricacies associated with capital markets and has built an indelible legacy in the world of trade and finance. Over the years, it has been able to prove its efficacy, acumen, and accuracy and has been the trailblazer in offering the best, fastest, and most affordable investment solutions to its clients.
As their pipeline project, GFX is now planning to segue into the world of cryptocurrency for which they have focused on developing a cryptocurrency trading system. Global expansion is also included in their future plan of action. GFX Securities, as envisaged by its founder, Ali Al Hleewa, is on a mission to establish itself globally as the "ALL-IN-ONE" trading system, which would facilitate all kinds of trading under one roof, and on one platform.