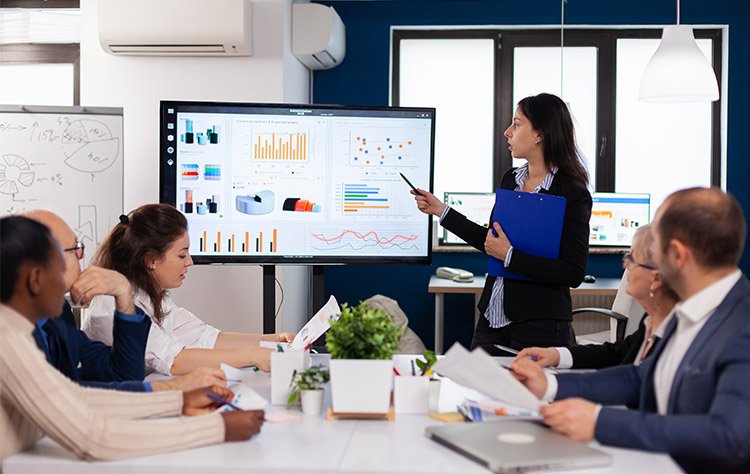 Strategic management is the management of an organisation's resources to successfully achieve its goals and objectives. It's a plan to ensure that the business continues to grow and that the performance targets are met. By processing and creating plans and policies that are specifically created to achieve goals and then allocating the resources to start the plan, strategic management aids in providing a comprehensive direction.
Organisations use strategic management to have a competitive edge over competitors.Keep reading to understand what strategic management is and why it is important.
What is Strategic Management? 
Strategic management was first introduced and defined in the early 1950s by Peter Drucker. He is known as the father of modern management theory.
Strategic management is the planning, monitoring, assessing, and analysing of all the requirements an organisation needs to complete its goals and objectives. When it comes to strategic management, the organisation's size is irrelevant because even small organisations need to understand how effective they are in the industry and what steps should be taken to improve their performance.
The business environment is changing, and organisations must have plans to enable them to succeed. The strategic management process will help any organisation to take components from their situation, brainstorm different strategies, and analyse and implement them to know the effectiveness of the implemented strategies.
The Benefits of Strategic Management. 
A strategic management process helps the leaders and their organisations think about the company and plan a strategy to help them thrive in the future. Strategic management has both financial and non-financial benefits.
Successful strategic management creates a vision for an organisation and its staff. Strategic management differs from the typical one-time strategic plan in that it continuously plans, monitors, and evaluates all of an organisation's activities. This only results in better operational efficiency, market share price, and profit.
Mantra Behind Strategic Management 
Strategic management is based on the organisation's clear understanding of its mission. It entirely depends on the organisation's goals and where they see themselves in the future. Values are important because they guide the actions of the organisation.
Understanding the vision and putting strategic management planning into practice calls for dedication to strategic planning and the organisation's capacity to manage both long-term and short-term objectives. Constantly planning strategic decisions and activities and allocating resources are included in strategic planning as they are needed to achieve all the goals set by the organisation.
It is necessary to have a clearly defined process that will enable institutions to develop new objectives steadily to keep up with daily changes in the market, business environment, and technology. Therefore, strategic management will inevitably aid an organisation in gaining an edge over rivals, increasing its market share, and continuously planning for the future.
Effective Implementation of the Strategic Management 
The organisations here all vary from one another and from one type of business to another. There are a few widely accepted, straightforward methodological steps that organisations can use to integrate strategic management into their plans.
Step 1: The strategic intent –
We need a strategic intent to successfully implement strategic management. Strategic intent begins with defining the organisation's objectives and then using them as a benchmark to measure the performance and progress of the organisation.
Strategic intent is a stage in which businesses define their future areas of focus and assess whether or not using a specific strategic management method will make them profitable and expand their operations.
Step 2 – Strategic formulation –
Organisations go through this stage to carefully assess and analyse their internal and external environments and themselves. This strategic analysis stage focuses on understanding the company's strengths, weaknesses, threats, and market opportunities.
The organisation can understand what it is doing better than its competitors at this stage and what needs to be done to outperform them. It also analyses the advantages the competitors have in the market space. They will undoubtedly benefit from this in developing strategies for outperforming their competitors and advancing with the times.
The organisations also determine where they are and want to be during this stage. Once an assessment is made, it is the right time to implement the strategy.
Step 3 – Strategic implementation –
An excellent place to start with strategic management is an organisational plan. Still, implementing the plan as soon as possible is also required. After studying an organisation, a well-thought-out and discussed strategy must be implemented to ensure its survival, growth, and expansion.
A report indicates that over 60% of strategies are not successfully implemented, ultimately leading to an organisation's demise. Therefore, developing a strategy alone is not the complete solution.
An organisation's success depends on
Developing structures and systems
Allocating required resources
Overseeing change management
Implementing the risk management strategies
Creation of the decision-making procedures
Formulating the project management capabilities
Communicating strategies
Building competitive capabilities
Managing the resources provided by aligning the individual roles with performance objectives
Rewarding or praising employees for their performance.
By successfully implementing strategic plans, organisations can investigate new possibilities and consider all the crucial elements of a business, including people, strategy, and operations.
Step 4: Strategy Evaluation
The final phase of strategic management is where we can evaluate and analyse the outcomes of the strategic process. By evaluating the performance of an organisational strategy, companies can finally decide to either stay on the same course of action or make any adjustments to correct their actions and adapt to the ever-changing market conditions.
Strategic evaluation is a continuous process that allows organisations to assess performance and take appropriate action. The strategic plan's evaluation provides a glimpse of potential failures. It determines whether the overarching company strategy needs to change course. Organisations must review their strategies regularly to ascertain what will and won't work.
Closing Thoughts
Strategic management is about making crucial decisions, overcoming various distractions, and seizing opportunities as they arise. A company's chief executive should have keen analytical skills and the ability to motivate staff to perform at their best. A strong understanding of strategic management can propel your company forward and help you outperform your rivals in the marketplace.