Web3 and The Metaverse – this year's tech buzzwords which have become extremely popular
and puzzling recently.
While making NEXT Happen has been at heart, we are ready to fully immerse you with our
advanced unforgettable 3D event experiences and engaging content, thereby seamlessly
merging the physical, digital and virtual worlds.
Our solutions, allow your attendees to interact with each other in real-time. You can fully
customize and brand your event as per requirements.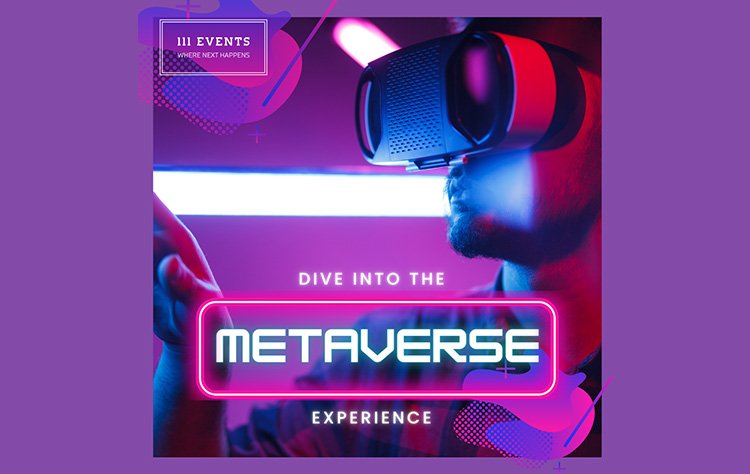 Make your brand come alive, within your budget!
Increase levels of interaction and make the impossible possible. Keep your audience informed,
engaged and entertained throughout this experience in a secure and trusted environment.
Hassle free and with direct access making the metaverse platform adaptable for any type of
event from corporate meetings, events, exhibitions, product launches, fashion shows, to social
gatherings and private events.
Unlock new opportunities, kickstart your journey. Think Big, start small & scale fast. At 111
Events Dubai, we often recommend to our clients to start small and not rush into doing
everything all virtual. Be ready for what comes NEXT, however give your audience the option to
engage with your brand across different means thereby striking a balance between traditional
methods and new ways.
Keep your customers coming back for more
Through analytics and a proper understanding, study of how people interact in the metaverse,
brands can learn a great deal of what interests their customers. This information can then be
used to create better developments overall across the brand and enhance relationships with
customers by rewarding them instantly.
Our immersive gaming style experiences helps in customer retention through high engagement
and offers a vast potential to target ads that could deliver exceptional value which users are
constantly demanding from brands.
Breaking boundaries
Through a mix of strategy, creativity and technology we'll work with you to push the boundaries
and create unique experiences that will wow your audience.
It's a brave new world out there, and as the metaverse, Web3 is growing, so does the need for
brands to have a strong presence in this new digital landscape.
Start your growth journey with us:
Contact us:
www.111dubai.com
maina@111dubai.com
Founder & CEO
111 Events Dubai