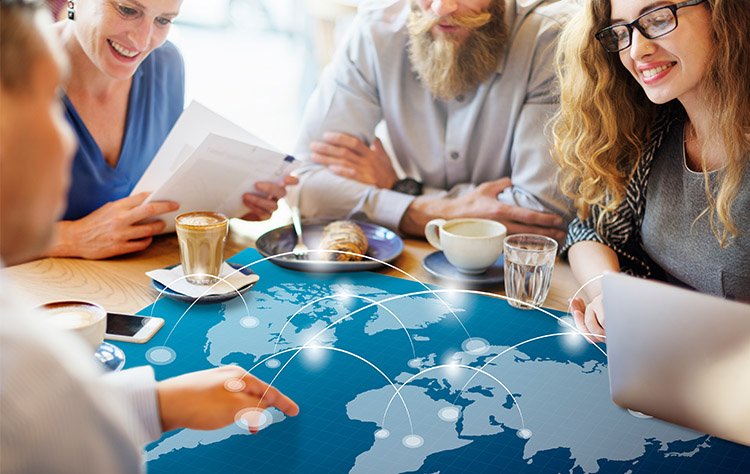 Businesses are interconnecting the world markets in unprecedented ways. It is only natural for entrepreneurs and leaders to want to expand their businesses to greater shores in hopes of further growth. Globalizing a business has obvious benefits but if approached without caution, the prospects are quite brittle.
We are in a time where globalizing is easier than ever. Our current technological, logistical, and business advancements make it feasible for optimal collaborations and partnerships. Many businesses have followed the bandwagon and have realized success. Upon deriving lessons from their success stories, we have broken down the process of taking your business global into simpler pieces.
Assess your readiness for globalization
The business plan for going global
Challenges of expanding overseas
Let us cover each of these in detail and prepare your business for global success.
Assess your readiness for globalization
As a business aiming to reach foreign shores, there are multiple things you need to consider. The foremost thing is to acquire a strong home base. It is tried and proven that businesses find it easy to flourish in newer markets after attaining a strong influence back at home.
This impacts your business in many ways. A strong home base indicates that you have a team that is well-experienced and is equipped with expertise in handling local rivals better than their counterparts.
This experience cannot be wholly transmitted to abroad markets but can serve as a blueprint when initiating your business in a new market. Also, experience is the first contingency in the time of crisis; so, having a safety net to fall back to is indispensable in globalization.
Also, it is necessary to understand that taking your business global is a long-term bet. If you are betting on globalization for yielding quick cash returns, you are under the wrong impression.
So, if you're ready to invest huge sums in anticipation of a long-term haul, then it is favorable to go forward with the globalization plan.
Another important consideration before entering a foreign market is proper infrastructure. This includes your logistics, supply chain, customer support, and also your day-to-day business processes. All of these must be scalable and adaptable to suit markets abroad.
Finally, the most basic yet equally vital aspect is to find the right time to go global. The right time and the right place are more than just clichés; getting them right will make all the difference. This is where you need to exploit the researching wing of your business and dig insights regarding prospective countries, economies, and markets and plan accordingly.
Also, consult experts who've been through this process before. Their experiences can serve as valuable lessons in your journey. Be adaptable to new changes and ideas they suggest and incorporate them in the way you think best.
Once you've done your part and your business seems ready to take flight into the global scene, the next step and the most crucial is to carve up an effective business plan.
The business plan for going global
Planning your business for the overseas markets comprises 6 steps:
Internal Business Audit
This step entails the infamous SWOT analysis. As the name suggests, it is 'internal' to the organization that is wishing to go global. Through this, you analyze your business as per the global market requirements and discern the peaks and valleys of your performances, processes, and products.
This step helps you gauge your readiness for the global scene and also points out where efforts need to be concentrated.
Competitive Analysis
This step is akin to 'know your enemy.' Entering a foreign market is no easy feat. Every market has its heroes who've been the primary suppliers of products and services pertinent to that particular customer base. Breaching such a market with a new face and earning the trust of the natives can be daunting.
So, to prepare for a seamless entry, it is essential to conduct a competitive analysis of the market players. Depending on the findings, it is possible to reach out and build partnerships or make changes in your business strategy to rival them profitably.
Market Analysis
After analyzing your counterparts, the next step is to derive insights regarding the market. Areas like the size, volume, and nuances of the market, the demographics that are the focus of your niche, etc are all basic tenets of this analysis.
From a proper market analysis comes an effective market strategy. This step is fundamental to plan your way around the consumer trends and market fluctuations in a foreign country.
Marketing Strategy
This is one of the most important tasks to perfect when aiming for globalization. This is where you delve deeper into foreign customs, cultures, languages, and even local slangs of the populace in question. Once you develop enough knowledge regarding their ways of living, it is only a matter of focused effort to make your business relatable and personal to them.
A successful marketing strategy evolves effective pricing of products and establishes a solid brand image. It also includes post-transaction activities like product delivery and identifies key performance indicators for further planning and assessment.
Localized Infrastructure Plan
This is a vital step in globalizing your business. Neglecting this would come back as cost and time-consuming legal and compliance issues. Localizing Infrastructure not only includes sourcing suppliers and logistic partners but also employees who bring 'local expertise' to the table.
Nailing this step will benefit your business in the long run. So, do not give in to the temptation of frugality and spend magnanimously here, so that you can draw profitable margins later.
Top-down Budget & Timeline
A top-down budget is prepared by the senior management of an organization in alignment with its business objectives. This then percolates into lower departments and individuals. This type of budgeting saves time and resources for the lower management. It is less tasking and time-effective.
Since the budget is focused on the greater growth of the organization, such spending would propel the business towards the intended targets.
Similarly, it is efficient to have a top-down timeline mapping the plans and progress of such an expansion.
Now that you're done with planning, you're almost there; because a job well-planned is halfway done. The only other thing left is to brave the challenges awaiting you.
Challenges of expanding overseas
There are a few challenges that come with globalization.
Compliance and Regulatory Issues
Varying Currency and Payment methods
Supply Chain Risks
Logistics and Operational Costs
Hiring the Right Workforce
Building Efficient Customer Support
Local Competition
Cultural and Language complications
Local Marketing and Packaging challenges
Though these are a letdown, they are actually easy to overcome. With effective research and due diligence, it is possible to expand your business into foreign markets with no such glitches. The secret to a successful globalized business lies in mastering the art of localizing your globalization.