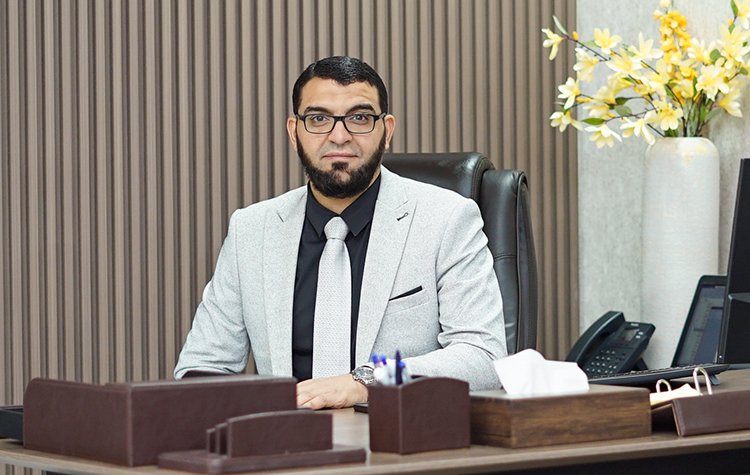 Almoehed Bellah Mohamed El Hady, Founder and General Manager, Gulf Experts
Entrepreneurship is generally misconceived as being a business owner, what it actually is a perspective and lifestyle. All the successful entrepreneurs know the staggering amount of work and sacrifice required that really defines entrepreneurship. It always starts with a solid idea, one is passionate about. It can be so challenging to be an entrepreneur that it may make you wonder why anyone willingly sets out on such a path. Despite those hardships, one such successful entrepreneur who embarked on an entrepreneurial journey, determined to bring his vision to fruition and fill a need he saw in the surrounding is Almowhed Bellah Mohamed EI Hady, founder and General Manager of Gulf Experts, an independent large tonnage commercial air conditioning service company specializing in Chillers and Cooling Towers Service, Maintenance, Retrofit, and New equipment installations. The company aims to break the monopoly in the gulf market to deliver best in class services in the most cost-effective way.
The Beginning
As the child's first and main educator, parents play an important role in the process of development of an entrepreneurial behaviour. A social specialist who is well aware of how to raise leaders, Mr. Almowhed's mother laid the foundation. "When I was young, she used to delegate duties to me to build leadership skills in my personality. She provided me with the opportunity to have my own income while I was 10 years old. She would guide me to work on small projects and gave me tips to manage them," recalls, Mr. Almowhed.
Since that age, Mr. Almowhed started developing leadership skills and started working in the market gaining soft skills and core of the technical field. He also worked with freelance technicians who were in the refrigeration and air conditioning field. It was then when Mr. Almowhed ascertained the core principles for a successful business growth. He believes that for a business to grow, it must be backed by strong scientific, managerial, and practical knowledge. He emphasizes that a continuous professional development is the key to the growth of a business and this motivated him to join a technical school in Egypt. While most of the parents hesitated and were against of sending their ward to this school, for vey absurd reasons, Mr. Almowhed's mother became a firm psychological support for him and encouraged him to go ahead and start gaining in-depth knowledge and enhance the ability to work as part of a team.
Soon after completing his graduation, Mr. Almowhed started working with top Multinational Companies of air-conditioning and refrigeration industry. He asserts, "I worked in that company for almost 15 years and during that period I solidified my knowledge and gained the technical and managerial exposure from the best people of the industry. All those experiences built a strong confidence and driving force in me to set out on my entrepreneurial journey, the dream that took birth in my eyes when I was 16 years old".
Mr. Almowhed in his career minutely observed the monopoly that was created by the top international companies by keeping the know-how and the technical expertise limited to themselves and keeping out other companies to deliver the same services and compete with them. After several continuous attempts to prove their competency and to gain the trust of the client, finally the clients were compelled to accept their techno-commercial proposal as other companies struggled to provide the same level of expertise as his team did. "This idea motivated and pushed me to start thinking of establishing an enterprise named as Gulf Experts to break the monopoly in the Gulf Market to compete with all these big commercially minded companies and provide the clients with an equal calibre of services in a very cost effective way," says, Mr. Almowhed.
Incepted in 2015, the company started off with mere 3 staff and since then it never looked back. And today, it has grown up to more than 100 employees serving clients in Qatar and Oman. "I would like to highlight that it was never a one man show, the main pillars of our successat this stage are my partners, who believed in the same idea, and worked day in, day out with me till now and contributed to the success of the company.It is my honour to mention their name here as they deserve all the praise; Hasan Hussein, Mosleh Abdel Alkader, Ali Mohamed, and Ahmed Saied" shares Mr. Almowhed.
The Mission of the Company
Initially, one of the major challenges the company faced was to convince clients that Gulf Experts is the best equivalent solution to the original equipment manufacturer who they can entrust with their precious equipment. In the early days of the inception, it was a very daunting task to gain the trust of the clients and the idea was being rejected by a lot of clients, and today, the scenario is that they are being requested by the clients to provide their invaluable solutions. The company also faced challenges to build a good stock of spare parts for all the major brands, and to encounter this challenge Gulf Experts built a robust supply chain network worldwide from where all the required spare parts could be procured easily and within a reasonable time .Gulf Experts is a unique enterprise in the market that provides its clients a one-stop-shop solution for heating, ventilation, air conditioning, and industrial refrigeration (HVAC&IR). 
Beholding the Future
"I am continually working with people and starting different verticals in HVAC market to increase our employees' job satisfaction, and coaching them towards a fulfilling career, develop and grow their soft skills , and mentoring for professional development," shares, Mr. Almowhed.
At Gulf Experts, they are focused to continue their journey to set-up branches in every GCC country to keep breaking the monopoly, saving the client's precious money and adding to their profits. It believes in corporate social responsibility to train fresh graduates and prepare them to work in the same field as the demand for skilled technicians in the field of HVAC is increasing day by day in the GCC region.
Mr. Almowhed concludes with a note for every budding entrepreneur, "Do not start a business just to increase your income. The main motive to start your own business is a belief in an idea that no one is supporting, and you open your own business and make it scalable within a short time frame and show you're believing as a fact in the life."