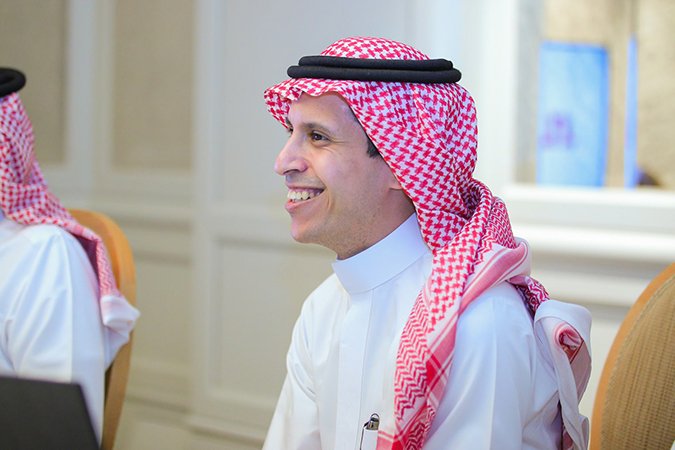 Abdulaziz Alsenan, Co-Founder, Sahem Financial
Unveiling the chronicles of entrepreneurial pursuits is like immersing ourselves in the riveting journey of leadership through the visionary lens of an entrepreneur. We get a glimpse into the exciting twists and turns of his fortune and the myriad prospects and adversities that have shaped the entrepreneur's path. Today, as we encounter the vast horizons of SAHEM Financial, we are thrilled to get an insight into the enthralling vicissitudes of fortune, trials, and triumphsthat defined the life of its co-founder Abdulaziz Alsenan, rewriting the narrative of Finance at the forefront of innovation and excellence.
Riding along, we discover that Abdulaziz Alsenan's entry into the world of business, was not abrupt or unplanned. Rather, it was the result of his meticulous understanding and astute observations of the shifting dynamics in the financial market, that propelled Alsenan, the co-founder of SAHEM Financial, to boldly step into thedynamic world of Fintech, where innovation knows no bounds. He recognized that technology had the immense potential to transform financial market, revolutionize investment strategies, particularly in the real estate sector, and make them accessible to a broader section of the audience. Alsenan's vision was clear: to bring transparency, simplicity, and accessibility to real estate investments in Saudi Arabia.
In his own words, Alsenan reflects, "The desire to bring accessibility and simplicity to real estate investments, combined with an aspiration to lead in the growing fintech space in Saudi Arabia, fueled the foundation of SAHEM Financial. This journey has been an amalgamation of learning, evolving, and taking risks, all with an eye on contributing to the vibrant Saudi economy."
The Tech Behind the Transformation
SAHEM Financial isn't just another fintech company; it's a pioneer in providing a digital experience for real estate investment. SAHEM's mission to provide a digital experience for real estate investment is underpinned by its innovative solutions and cutting-edge technologies. The company leverages blockchain technology to ensure transparency and security in transactions, a paramount concern in the realm of finance. This commitment to security extends to every user, from the novice investor to the seasoned pro.
Moreover, true to its leader's commitment of providing an uninterrupted, and hassle-free digital experience in real estate investment, SAHEM harnesses the power of artificial intelligence (AI) and data analytics to provide personalized investment recommendations. This not only empowers investors but also simplifies their decision-making process, making real estate investment a seamless experience for all.
Abdulaziz Alsenan adds, "Our mobile-first approach makes real estate investment a seamless experience, democratizing access to opportunities previously restricted to a select few. SAHEM Financial is committed to creating a level playing field for all investors."
Staying Ahead in the Fintech Trends
As a stalwart in the fintech sector, Abdulaziz Alsenan remains vigilant about the emerging trends and shifts in the industry. He anticipates a surge in the integration of AI and machine learning for predictive analysis and personalized customer experiences. Furthermore, the adoption of decentralized finance mechanisms may reshape financial services. At SAHEM, Alsenan ensures staying ahead of the curve by fostering a culture of innovation, exploring emerging technologies, and adapting to shifting market dynamics to provide forward-thinking solutions.
Leadership in the Fintech Frontier
Finance leadership is not for the faint of heart and it demands more than just a business acumen. Abdulaziz Alsenan's leadership principles have been pivotal in steering SAHEM Financial toward desired outcomes. In his view, leadership in fintech demands agility and visionary thinking. He values collaboration and innovation as essential principles, where every team member is empowered to contribute their best. 
He shares, "Open communication, adaptability, and a customer-centric approach are essential principles in steering the team toward achieving our shared goals. In the fintech sector, innovation and adaptability are non-negotiable."
Balancing Entrepreneurship and Personal Growth
Walking on the path of entrepreneurship, dauntlessly, is no small feat. It demands time and attention, often blurring the lines between work and personal life. Managing the demands of entrepreneurship while investing in personal growth has always been an intimidating task. Alsenan's strategy for maintaining a work-life balance and investing in personal growth hinges on disciplined time management and setting clear boundaries. He prioritizes self-care through regular physical activity and mindfulness practices, which recharge him to lead effectively.
Investing in a proficient leadership team allows for delegation, ensuring business continuity while creating space for personal growth. This approach underscores Alsenan's belief in the power of teamwork and mentorship.
The Future of SAHEM Financial: A Vision Unveiled
Alsenan's envisions SAHEM Financial to emerge as a powerhouse in the fintech sector. "We plan to expand our portfolio to include a broader range of investment products and services," he reveals. International markets are on the horizon, with alliances that will foster growth and bring value to investors and stakeholders. Technological advancements will remain at the core of Sahem's expansion strategy.
Resilience and Customer-Centricity – The Key to Success
In the world of fintech entrepreneurship, Abdulaziz Alsenan's story shines as a beacon of innovation and resilience. In his opinion, resilience gives us the strength and agility to sustain challenges, bounce back, and start afresh. SAHEM Financial's transformative approach to real estate investment reflects his unwavering commitment to providing accessible and secure financial solutions.
In his advice to the upcoming business talents, the leader shares his nuggets of wisdom, "Be resilient. The entrepreneurial journey is fraught with challenges, but it's your ability to bounce back and learn from failures that define your success. Moreover, never lose sight of the customer's needs, as addressing them effectively is the cornerstone of a successful venture."
Abdulaziz Alsenan's entrepreneurial journey is a testament to the transformative potential of fintech in the modern world. Under his aegis, SAHEM not only aims to redefine real estate investment but also stands as a symbol of innovation in the fintech sector. As the fintech sector continues to evolve, the story of Abdulaziz Alsenan continues to inspire generations with an indelible legacy that continues to mark SAHEM's presence not only on the Saudi Arabian landscape but also on the global frontier.