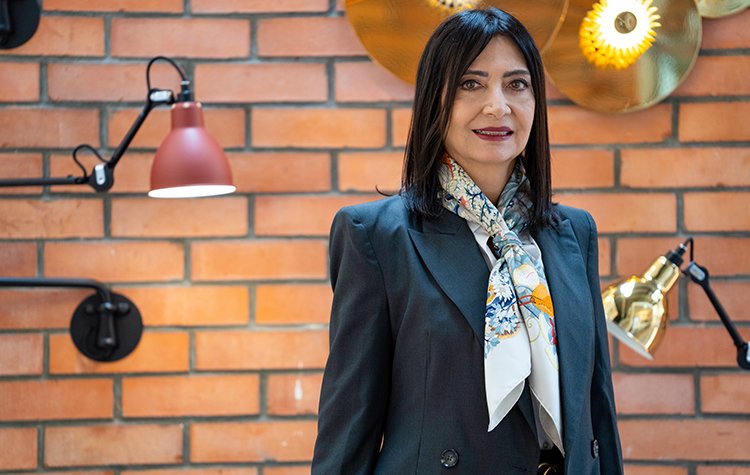 Nathalie Abou Jaoude, Managing Partner, Abensal Lighting
Picture this: you walk into a room, and the lighting instantly catches your eye. The warm glow invites you to sit and stay awhile, while the sleek design of the fixture enhances the ambience of the space. It's no secret that good lighting can transform a room and elevate the overall look and feel of a space. Whether it's a cozy living room or a bustling office, the right lighting can make all the difference in how we feel and perform. In fact, lighting is one of the most crucial elements of interior design, architecture, and project conception.
Abensal Lighting , a leading provider of lighting solutions, understands the importance of good lighting and its impact on design and aesthetics. Established in 1992, Abensal has built a reputation as a leading supplier of design-oriented lighting products, catering to customers both regionally and globally. The company takes a comprehensive approach to lighting solutions, working closely with interior designers and architects from the early stages of project conception until completion.With showrooms and offices in Dubai and Doha, it offers an impressive range of lighting fixtures sourced from leading manufacturers worldwide, along with customized fixtures developed in-house using cutting-edge technology.
The Ingenious Leader behind Abensal Lighting
Abensal has been moulded into an industry-leading, pioneering supplier of designer lighting fixtures under the astute guidance and expertise of its seasoned Managing Partner, Nathalie Abou Jaoude. Nathalie stumbled upon the world of lighting by sheer coincidence while pursuing her career in interior design. However, her love for the industry only grew stronger with time, leading her to lay the foundation of lighting division of Abensal. Running a business in the 90s came with its share of challenges and obstacles, including competition, cash flow management, and marketing, as well as adapting to changing market conditions and global crises. Nevertheless, Nathalie's persistence, hard work, and diversity have helped Abensal grow and develop into a successful company over the years. "After conducting market research and developing strong business plans, the idea was to identify a niche market and find the right audience. We started focusing on high-end decorative lighting. Being an interior designer; this direction was natural for me and not many companies in the UAE at that time were concentrating focused on the same trend," asserts Nathalie.
Committed To Delivering an Exceptional Lighting Experience
Creating an exceptional lighting experience is an art form that requires a meticulous attention on quality, reliability, and user satisfaction. Also, the integration of advanced technology and smart lighting systems plays a pivotal role in enhancing performance and functionality.By bringing together these key elements, Abensal strives to deliver products that transcend expectations and revolutionize the way people experience light in their daily lives.Over the years, it has collaborated with numerous manufacturers some of whom are still partners while others have been replaced due to reasons such as bankruptcy, mergers with larger groups, and the emergence of new markets."Our strength is to always have a variety of sources to deliver an exceptional lighting experience to the end user depending on the budget, the time frame, and the aesthetics," opines Nathalie.
In addition to sourcing and providing unique exceptional lighting products, Abensal also offers consultancy services to its clients. Its design division offers a complete lighting solution to architects, interior designers, contractors, developers and end users which includes lighting design, specifications sheets, lux levels, and rendering. Providing excellent service has always been the company's motto, and it strives to uphold this principle in all its endeavors. "Our knowledge, experience quality and product reliability enable us to face the future with confidence in order to become an increasingly solid organization, which is ready to cope with the challenges of this competitive market, adds Nathalie.
Prioritizing People over Profit
Abensal takes great pride in upholding a set of core values that guide every aspect of its business.These values of loyalty, commitment, respect, honesty, leadership, and unity are prominently displayed in its offices and are the cornerstone of its mission statement. Its vision is to be innovative, provide the best products at the best prices, be transparent, and be true to its values while making a positive impact on society and the environment. "When I started the business 30 years ago, providing lighting solutions with minimal lights, clients would not always understand what I was doing. I always justified that the light should be distributed in a way to serve its purpose, to keep a smooth atmosphere and to avoid glare. Nowadays, people are more educated, they understand better this concept, and they want also to have environmentally friendly solutions," elucidates Nathalie.
Abensal's philosophy is rooted in the belief that customer satisfaction reigns supreme.What truly sets it apart from its competitors is its willingness to provide the right solution, even if it means making less profit, rather than offering a low-quality solution for a higher profit. This commitment to customer satisfaction is mirrored in the company's approach to quality, innovation, customer service, and sustainability. Abensal's passion for quality and innovation is evident in every fixture it produces. Each product is carefully designed to deliver energy-efficient solutions that surpass client expectations. Keeping up with the latest technologies, Abensal provides custom-made fixtures to meet every design requirement. With flexibility and transparency at the core of their customer service, Abensal has established a strong reputation for excellence in a highly competitive market. "Ultimately, a company's key strength will depend on its unique capabilities, resources, and strategic focus. By identifying and leveraging our key strengths, we position ourselves for success and growth in a competitive marketplace. Likewise, achieving customer satisfaction is a vital aspect of the business, and it is essential to be transparent in all of our business practices, encompassing pricing, policies, and procedures. As such, we strive to maintain transparency with our customers, through open and truthful communication that fosters loyalty and trust," shares Nathalie.
Set To Expand To New Territories
Abensal has achieved a well-balanced growth within its 30 years of operation, adapting to market trends and expanding its reach to new territories. In 2013, it opened a branch in Qatar, and today, it has expanded to two locations, Dubai and Doha – with a showroom-office-warehouse all in one place. Its team has also grown over the years, with most of its staff having been with the company for several years. Abensal places a strong emphasis on team building, with regular gatherings and yoga practices. While the company has been labeled as high-priced in the past due to its focus on high-end products, it has evolved to cater to changing market demands while maintaining its reputation for quality and reliability. "Our clients are quite faithful as we aim to provide a good service and prompt delivery. It is quite touching to meet someone that you have been working with for 30 years! We thrive to increase and diversify our client to cover a larger part of the market share," affirms Nathalie.
Looking to the future, Abensal plans to further expand its reach into new markets, such as KSA and other GCC countries, tapping into new sources of demand and revenue. It also aims to improve operational efficiency, reduce costs, and improve supply chain management to enhance profitability while focusing on sustainability, which appeals to environmentally conscious consumers and differentiates it from competitors. Finally, it aspires to leverage digital technologies such as IoT, AI, and cloud computing, which are transforming the lighting industry, to enhance its products and services and create new growth opportunities. By developing a clear and focused growth strategy and executing it effectively, Abensal is set to position itself for long-term success.