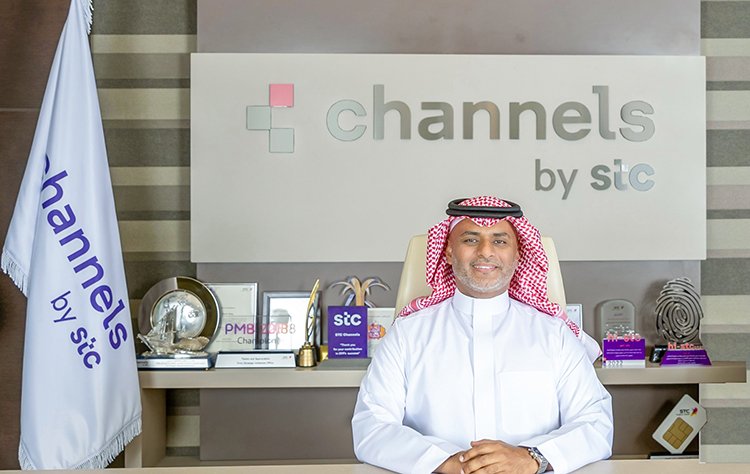 Faisal Alatig, CEO, channels by stc
In the ever-evolving telecommunications sector, innovation and adaptability are the twin engines driving seamless communication. Innovation fuels progress, while adaptability ensures it remains on course. channels, the sales and distribution arm of the stc group, stands as a leading force in the telecommunications sector, known for its innovative and adaptable approach to seamless communication solutions. At the forefront of this transformative journey is Faisal Alatig, a visionary leader who has redefined the telecommunications sector in the Region through his relentless commitment to innovation, adaptability, and customer satisfaction.
In a distinguished career spanning two decades, Faisal Alatig, the CEO at channels by stc, has navigated the landscape of the telecommunications industry, leaving a remarkable mark through strategic milestones and transformative moments. With a keen eye for innovation and an unfaltering commitment to customer fulfilment, Alatig has witnessed the evolution of the telecom sector that has actively shaped its trajectory. One defining moment that stands out is his instrumental role in spearheading a game-changing network infrastructure project. This project served as a catalyst for a connectivity revolution across the entire region. It marked a turning point, demonstrating Alatig's capacity to drive substantial change within the industry.
His trajectory underwent a momentous shift when he joined stc, the largest digital enabler in Saudi Arabia. A move that provided him with invaluable industry exposure and an acute understanding of market dynamics. Now, at the helm of channels, Alatig is poised to leverage his vast experience and visionary leadership to steer the company towards a future brimming with growth and innovation.
Spearheading Innovation and Excellence
channels by stc's exceptional journey in the Region owes much of its success to the visionary leadership of Faisal Alatig. His relentless pursuit of excellence and commitment to innovation have been driving forces behind the company's growth. Strategic partnerships with industry leaders have expanded the company's market presence, catering to a diverse client base.
Furthermore, Faisal's forward-thinking approach is reflected in the company's strategic investments in cutting edge technology. This dedication to staying at the forefront of technological advancements ensures that channels by stc consistently offers state-of-the-art products and services for its customers. In a highly competitive market, what truly sets channels by stc apart is its unswerving dedication to provide an exceptional sales experience. This customer-centric focus, coupled with a culture of continuous improvement and innovation, forms the cornerstone of the company's success. As a result, channels by stc continues to thrive and redefine the market landscape in the region.
Navigating the Dynamic Terrain of Entrepreneurship
Entrepreneurship, particularly in the sales and distribution sector, presents a unique set of challenges that require clear navigation. One major aspect adapted in Faisal Alatig's career was steering through the ever-changing industry landscape. The sector he operates in
is highly dynamic, marked by constantly evolving consumer needs and continuous technological innovation. To maintain his status as a distinguished entrepreneur in the field, he remains committed to reaching the targeted segment with operational competence and elevating the quality of services and products to ensure they receive the best possible experience, beyond the market variables.
Faisal Alatig encountered an unprecedented challenge with the onset of the Covid-19. This global crisis disrupted the industry and the broader business landscape. However, with an unwavering focus on harnessing human and technical capabilities and bolstered by robust business continuity plans, he only weathered the storm but also achieved record-breaking performances in various aspects of the business. This challenge showcased his steadfast commitment to providing exceptional experiences, even in challenging circumstances.
Striking a Harmonious Chord Between Leadership and Life
In the domain of leadership, where the stakes are high, and responsibilities are immense, maintaining a healthy work-life balance can be a formidable challenge. Yet, for Faisal Alatig, it's a challenge he navigates with grace and purpose. At the heart of his leadership philosophy are several principles that have not only been effective in achieving channel's objectives but also in preserving his equilibrium. Clear communication, he emphasises, is the keystone. It fosters alignment, empowers collaboration, and keeps the entire organisation moving cohesively towards its goals. His belief in open and transparent interactions, coupled with regular feedback mechanisms, nurtures an environment of continuous growth and progress.
Faisal's leadership extends beyond conventional boundaries. He champions a culture of innovation and ownership, where change is embraced rather than feared. By valuing diverse perspectives and encouraging continual learning, he empowers his c-suite team to unleash their unique skills and creativity. This drives channel's success while also creating an environment where employees feel valued in expressing themselves at work. A quote that embodies his inspirational approach to leadership is, "Productivity that comes from the heart leads to lasting success." Faisal believes that work should be more than just a series of tasks; it should be a source of fulfilment and inspiration. Informing his leadership, he embodies a style characterised by setting an example, cultivating a positive work environment founded on accountability and integrity, and fostering growth.
Maintaining a work life balance is paramount for Faisal. To ensure this, he adeptly manages his time, delegates responsibilities, and trusts his team. Also, Alatig is keen on allocating time for his family and personal activities; he secures his well-being while rekindling his passion and enthusiasm for effective leadership. In his words, "Balance fuels productivity, and productivity fuels success." Faisal Atalig's leadership is testament to the profound impact of balance on both personal well-being and organisational success. His steadfast dedication to this principle serves as an inspiration, motivating his team at channels by stc and entrepreneurs and leaders aspiring to achieve excellence while balancing a fulfilling life beyond the boardroom.
Navigating the Dynamic Telecommunications Landscape
Faisal Alatig provides invaluable advice to promising entrepreneurs and aspiring leaders entering the ever-evolving realm of telecommunications. He underscores the importance of embracing innovation and staying adaptable in a sector marked by constant technological advancements and evolving consumer demands. In this dynamic industry, being open to new ideas, experimenting with emerging inventions. And readily adjusting business models are crucial strategies for success.
Faisal emphasises the significance of building capabilities and nurturing a culture of collaboration and creativity. In such an environment, each team member's skills and passion contribute to the collective success. Moreover, he advises preserving through challenges, to be curious about the newest trends in the sector, and maintaining a commitment to continuous learning and adaptation. In the telecommunications industry, where opportunities abound alongside setbacks, Faisal's wisdom serves as a guiding direction. He encourages future leaders to view challenges as valuable learning experiences and deepen that resilience, a growth-oriented mindset, and an unwavering drive to make a positive impact are the keys to achieving enduring success.
Charting a Better Future at channels by stc
Faisal Alatig envisions a bright future for channels by stc. The company remains devoted to continuous innovation, technology integration, and diversity as it strives to maintain its leadership in the market. The company's expansion across the region will solidify its position as a premier provider of cutting-edge service solutions. The vision is to be the preferred partner of choice for both individuals and businesses seeking seamless connectivity, outstanding service, and innovative solutions. With a passionate dynamic team, strong partnerships, and an unwavering commitment to customer centricity, channels by stc is well-positioned for sustained growth and enduring success. By staying at the forefront of industry trends and anticipating future market demands, Faisal Alatig's leadership will continue to drive the company towards excellence while contributing to the region's entrepreneurial landscape.