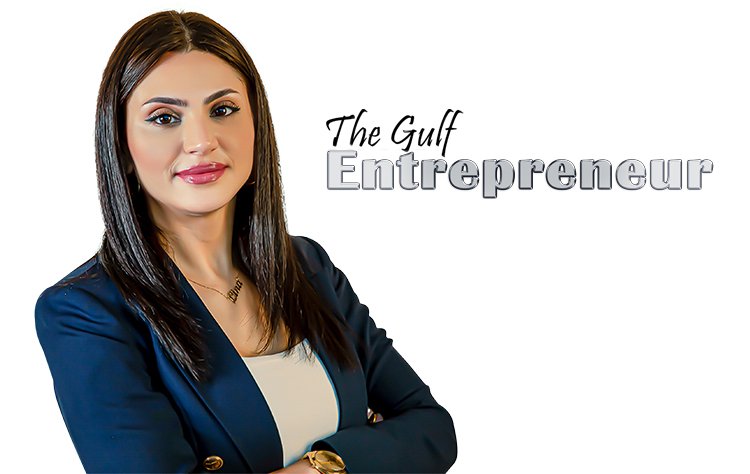 Lina Bassam, CEO, N.O.W Nirvana Over The World
The Gulf Entrepreneur is set to honor Lina Bassam as one of the 10 most admired CEOs from Abu Dhabi in 2023. We are excited to share the story of your entrepreneurial journey with millions, especially budding entrepreneurs to inspire them into business and embolden the entrepreneurial spirit of the region.
This article will feature the tale of your happiness and woe, your motivation and challenges throughout as a businesswoman. This will further focus on your unmatched leadership style and your ethics and ideals that have added value to your organization and society, at large. At The Gulf Entrepreneur, we are encouraged by your story and are delighted to support you in your future endeavors through our various programs.
What brought you into this business? Did you identify a gap in this sector, or it was just a flash of inspiration?
The truth is, it was a combination of factors that led me to where I am today. Though I have always been passionate about travel and exploring new cultures, my extensive experience in the industry has allowed me to not only address the gap, but to spot the opportunity. The gap plainly lies between customer expectation and managing perceptions of customer expectation. It's the lack of customer understanding, and thus, lack of personalized and customized travel solutions.
Realizing this was both an inspiration and a drive to make a difference. I believe that traveling should be an experience, not just a transaction. For that I utilize my knowledge, skill, and passion to ensure that every aspect of our client's travel experience is seamless, enjoyable, and holistic.
My journey thus far has been thrilling, and I'm grateful for all the support I have had from my team and clients. Moving forward, I have a steadfast determination to constantly adapt to the every-changing clients' needs and always exceed their expectations.
What were the initial deadlocks, as a startup entrepreneur and as a woman, if any? How did you overcome them?
To say that we started from the ground up, won't be an understatement! Born as a standalone B2B department in Nirvana Travel and Tourism, we have worked our way up by providing unmatched travel services, staying updated with the latest trends in the travel industry and incredible work ethic.
As a female CEO, I primarily faced the challenge of being a minority in a predominantly male-dominated industry. To address this, I actively sought opportunities to advocate for diversity and inclusion within the company and the travel industry as a whole. Embracing diversity not only strengthens the company's performance but also fosters a culture of innovation and creativity.
Additionally, striking a work-life balance as a startup entrepreneur and a woman was vital. The demands of running a business, especially in the early stages, can be all-consuming. Over time, I learned to delegate effectively, trust my team, and create a supportive company culture that encouraged work-life balance for all employees. By taking care of myself and fostering a positive workplace environment, I was able to lead by example and inspire my team to perform at their best.
I surrounded myself with a team of individuals who believed in my vision. I also made a conscious effort to network and build relationships with industry leaders, which helped me gain credibility and recognition. Most importantly, I remained true to myself and my values. I refused to compromise on my principles and remained committed to providing exceptional services to my clients.
N.O.W. has become a one-stop travel platform catering to B2B wholesalers, travel agencies, OTAs, and DMCs and is highly recognized by tourism industry experts. Could you please shed some light on your modus operandi, and some of your specialized services and solutions designed to facilitate our travel experience?
Nirvana over the World brings together two aspects of the same spectrum – the suppliers and the buyers. Established and supported by advanced technology that enables us to provide a plethora of travel services. Our extensive network of travel providers and on-ground services further enhance our ability to provide reliable and unparalleled services to our clients consistently.
As an award-winning entity, we are committed to delivering the best in value and premium travel arrangements. Through having exclusive and special deals for international flights worldwide, being in partner with the biggest car rental company in the world, providing fast and efficient Inbound Visa issuance by our own Visa Fleet, to having more than 750,000 static & dynamic hotels on the list. In addition to having access to full packages, semi- packages, and ground arrangement that can be tailored as per demand, and more.
Our passion for excellence and supreme hospitality ensures that our platform is a comprehensive avenue that connects all aspects of the travel industry under one name. It's designed to offer a seamless and convenient way for consumers and providers alike. With our innovative approach and commitment to excellence, we are confident that we can continue to lead the way in the travel industry.
Tell us something about your relationship with customers. How do you build a long-lasting relationship with your clients?
I believe that building strong, long-lasting relationships with our clients is a necessity, not an option. At N.O.W. we understand that our clients are the lifeline of our business, and we go above and beyond to ensure that they receive exceptional service every step of the way. One of the vital ways to build lasting relationships with our clients is by taking the time to understand their unique needs and preferences. We listen carefully to their feedback and use it to tailor our services to their specific requirements. This personalized approach helps to create a sense of trust and loyalty between us and our clients.
We also believe in being transparent and honest in all our dealings with clients. N.O.W. provides clear and concise information about our services and pricing, and we are always available to answer any questions or concerns they may have. Finally, consistency is the key. Our commitment to these principles has helped us establish a loyal client base that continues to grow and thrive.
Coming back to you, what are your understanding of good leadership? In your opinion, what should be the innate values of a successful business house?
For me, good leadership is the ability to inspire and motivate others towards a common goal. A good leader should have a clear vision for the future and be able to communicate that vision effectively to their team. They should lead by example, demonstrating the values and behaviours they expect from their team members.
In my opinion, the innate values of a successful business house should include integrity, equity, transparency, and a commitment to excellence. A successful business should always operate with integrity, ensure its employees are valued and appreciated, and be honest in all its dealings. This helps build trust and credibility with clients, stakeholders, and internally among leaders and employees.
Additionally, a successful business should always strive to improve its services and offerings. This requires a culture of continuous learning and innovation, where team members are encouraged to take risks and think outside the box.
Give us some hints about your plans for tomorrow. What are you excited about?
As a CEO of a flourishing travel company, I am passionate about the ever-changing landscape of the travel industry. One of the key aspects that I'm thrilled about is embracing emerging technologies in the operations for N.O.W. The travel industry is in a constant state of evolution, and the adaptation of new technologies plays a pivotal role in staying ahead of the game. Our company is committed to continuously developing, enhancing, and upgrading our own technology to become more advanced and accessible as a booking platform engine for our partners globally.
Being at the forefront of technological innovations means we can offer our partners seamless and efficient booking experiences, making travel arrangements a breeze for travellers around the world. By leveraging cutting-edge technologies, N.O.W. aims to revolutionize the way people plan their trips and ensure that they have an unforgettable experience from start to finish.
Overall, I am eager to contribute to the success of this travel company by playing an active role in the integration of emerging technologies and keeping our finger on the pulse of travel trends. Tomorrow, I look forward to immersing myself in projects that will shape the future of travel and create incredible opportunities for our partners and customers alike.
Finally, what is your message to aspiring entrepreneurs, especially to the women who are enthusiastic about taking up a business?
Believe in yourself and your vision.
Starting a business can be quite challenging, but with determination, hard work, and resilience, anything is possible. Don't let fear or self-doubt hold you back from pursuing your dreams. Always remember, successful people have fear. Successful people have doubts. Successful people have worries. They just don't let these feelings stop them.
It's important to surround yourself with a supportive network and like-minded individuals who can offer guidance and support along the way. Seek out opportunities to learn and grow and be open to feedback and constructive criticism.
As a woman entrepreneur, it's also important to be aware of the unique challenges and biases that may exist in the business world. Don't be afraid to speak up and advocate for yourself and your business. Stand up for what you believe in and don't let anyone undermine your value or worth.
Finally, remember that success is not just about financial gain or accolades. It's about making a positive impact on the world and leaving a lasting legacy.