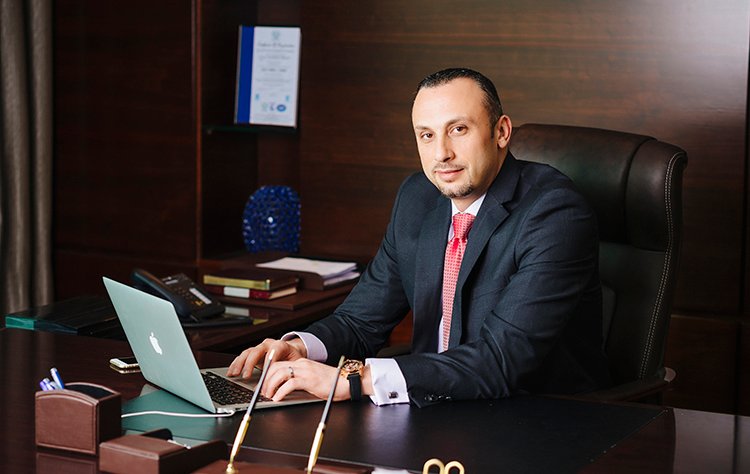 Mohamed Saadeh, General Manger, Darwish Interserve Facility Management
Business is not only about mining profits and making a fortune for yourself; rather it thrives on the transcendental idea of catering to a larger society. A true businessman always sets his goal towards transforming society and making lives better for the people. Our story today revolves around a person of such a magnitude, a compassionate soul, and a business personality who has created precedence in the world of business with his egalitarian thought and conscientious devotion to service that could benefit all.
Mohamed Saadeh, the General Manager of Darwish Interserve Facility Management, has set an indelible legacy of 22 years of entrepreneurship rooted in excellence, expertise, and unswerving loyalty to purpose while following a holistic approach to his business. As a professional, Md. Saadeh has an illustrious career of 22 years in the Facilities Management and Real Estate Development industry. It is under his ingenious leadership that DIFM has met incredible success during its journey since its inception in 2010.
Though DIFM started its operation as a subsidiary organization, nevertheless, it gradually rose to prominence, and today it has established itself as an independent company pioneering facility Management in Qatar. The credit for this staggering growth of DIFM goes largely, if not entirely, to its GM Md. Saadeh. Positioning an organization at the pinnacle of success that too within a short span of 12 years was not a cakewalk for him. It's through his deep understanding of market strategies, innovative business ideas, and extensive knowledge of market trends that he was able to harness skills, improve efficiency, and reduce costs while conforming to the company's established service level and budgetary standards.
USP and the list of premium services
The success of a business house primarily hinges on its unique selling proposition and being a prudent entrepreneur Saadeh relies greatly on the latest technologies and practical business propositions that have global recognition. Being the chief of a customer-centric organization, Saadeh, vows to provideexemplary services when it comes to the Facilities Management sector and for this, he has devised hard and soft services based on scientific principles and practical practices only. A strong business network based on trust lies at the bottom line of a booming business enterprise. Hence, apart from maintaining a strong portfolio of services, Saadeh emphasizes building strong, amicable relationships with his clients and that stands to be his USP at Darwish Interserve.
As a visionary, Saadeh, thinks much beyond his time and refuses to accept the prototypical concept of business being merely a supplier-customer relationship. Rather, he perceives business as an idea that includes all and continues for a long. He prefers to serve his customers as partners working in harmonious collaboration with each other and helping his clients in every stage of their business from planning and development to delivery of services with a prime focus on assets, health, and safety so that they get a holistic facility experience at DIFM.
Driving culture of the workforce
Inspiration, inclusiveness, and insightfulness are the three 'I's that help in fostering the in-house culture of a business concern. Being the people's leader, Saadeh strongly believes in engaging his entire workforce in his business endeavor and that, as he says, would inspire each one of them to contribute their best. At DIFM, the leader has empowered his army with strong ethics and moral values of mutual trust and respect. In the opinion of this astute entrepreneur, identifying talents, granting freedom at the workplace, and respecting the values and judgments of your people always yield some good results. A team of a learned and experienced workforce can thrive only within the sphere of a healthy and harmonious organization that appreciates and values their efforts. At his organization, Saadeh makes sure that none of his worker's contributions goes unnoticed and for this, he has introduced a monthly-award scheme where the best employees are awarded. This keeps the workforce dynamic and competitive, akin to an ever-growing business enterprise.
Award-winning style of leadership
Md. Saadeh has been a leader in all profundity. His knowledge and experience in the field of Facility Management have enriched his understanding of business with all its ambiguities and enabled him to handle every situation with much dexterity, patience, and resilience. At DIFM, Saadeh plays a multifaceted role of a problem solver, who is capable of implementing solutions to turnaround situations; a leader, who motivates his people and leads by example; a trainer, who upgrades his workers with consistent training and education, related to their fields. As the chief of the organization, Saadeh focuses on developing a sound rapport with the entire team connected with DIFM- departmental managers, associates, and most importantly the clients who happen to be the part and parcel of an organization. As a compassionate leader, Saadeh stands by his people in every circumstance and helps them grow within their professional capacity. A leader always influences his follower to walk on his path and Saadeh, with his vision and wisdom has been able to create a strong impact on his people, which further encourages them to follow his mission.
Landmark achievements
Driven by its growing reputation as a trustworthy and highly professional entity in Facility Management, DIFM has been leading the Qatar market for the last 12 years. With more than 2,000 direct and subcontracted workforce DIFM enjoys the privilege of combining local capability with the benefits of global strength. Well-known for its state-of-art technology and superlative services to a vast network of domestic and international clients, DIFM, is currently managing Facilities and Administrative buildings of 49 Live Projects at a total of more than 311 locations. With a vast land area of 3M sq. Meter, the company now handles projects in the fields of Education, Banking, Telecommunication, Ministries, Aviation, Residential, Museums, cultural centers, and hotels. The names of some of their eminent and happy clients include MOEHE, MOI, Milaha, Ooredoo, HIA, and Air Traffic Control Centre.
Throughout its exalted career of 12 years, DIFM boasts of being the proud recipient of 4 prestigious awards for excellence. The awards and accolades received in different categories are enumerated below:
BIZZ Winner 2021 award for Business Excellence.
World Confederation of Business- Platinum Award
Facilities Management Middle East 2022- Shortlisted for Sustainability Initiative of the Year
Middle East Cleaning, Hygiene & Facilities Awards 2022- Shortlisted for Best Use of Smart Technology by Service Providers.
Future spotlights
Under the aegis of its GM Mohamed Saadeh, DIFM has been able to touch the crescendo of success and glory. But for Saadeh, success is not a man's game, it's a teamwork. He mellows his contribution to the outstanding growth of the company in recent years and expresses his gratitude to Al Darwish United (ADU) Chairman– Mr. Yousuf Al for his continuous support and CEO, Mr. Abdal Rahman Al Darwish for his invaluable contribution to the business.
As a business explorer, Md. Saadeh loves to push his boundaries and set new targetsevery day. He has a series of milestones to be achieved in the near future. He promises to bring variety to his services to the customers by expanding its domain into different divisions. As a conscious entrepreneur, Saadeh is cognizant of the changing scenario of the market, but he is equally convinced of their potential, which gets reflected in his voice laced with confidence, "Numerous FM companies are being established recently leading to much competition in the industry. Nevertheless, we stand out for being innovative with a team of highly qualified and experienced professionals in the management of facilities, services, operations, and maintenance", echoes the leader.