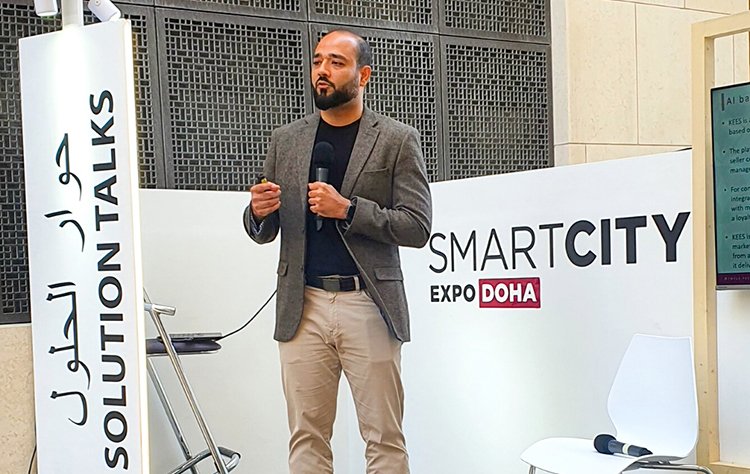 Nauman Gul, Co-Founder And CEO, Twyla Technology and Pay2M
In the fast-paced and ever-evolving realm of technology, CEOs in Qatar are leading the way in driving innovation, shaping industries, and spearheading transformative change. Nauman Gul stands out as a visionary leader in this dynamic era, with his exceptional leadership skills, strategic thinking, and extensive experience. As the co-founder and CEO of Twyla Technology and Pay2M, Nauman has made significant contributions to the advancement of the technology sector in Qatar.
Nauman Gul's journey in the technology sector spans over two decades, during which he has honed his skills in strategic, managerial, operational, and technical leadership. With a strong background in the electronics and construction industry, Nauman has demonstrated his expertise in navigating complex challenges and delivering exceptional results. Throughout his career, he has held key positions in multinational organizations, assuming profit and loss responsibilities and driving the expansion of regional businesses.
Strategic Leadership and Managerial Excellence
Nauman Gul's leadership style is characterized by his strategic vision and the ability to inspire and motivate teams. He fosters a culture of collaboration and innovation, encouraging employees to think outside the box and embrace new ideas. Nauman's keen business acumen and forward-thinking mindset allow him to identify emerging trends, capitalize on opportunities, and steer organizations towards sustainable growth. His expertise in sales strategy and account management has been instrumental in achieving revenue growth and building long-term client relationships.
Nauman Gul firmly believes in the power of digitalization to revolutionize businesses. He has been at the forefront of driving digital transformation initiatives, helping organizations optimize processes, enhance customer experiences, and gain a competitive edge. Nauman's ability to anticipate industry trends and leverage technology effectively has enabled his companies to adapt to changing market dynamics and remain at the forefront of innovation.
Expanding Regional Business and Acquisition of Large Infrastructure Projects
As a leader with a strong regional focus, Nauman Gul has successfully expanded the business reach of his organizations. His strategic acumen and industry expertise have facilitated the acquisition of large infrastructure projects, further establishing his company's presence in the market. Nauman's ability to navigate complex business landscapes and forge strong partnerships has played a crucial role in the successful execution of these initiatives.
Nauman Gul places great emphasis on collaboration and relationship-building. He understands the importance of strong partnerships with clients, stakeholders, and shareholders. Nauman's collaborative approach, combined with his effective communication skills, enables him to align business objectives and drive successful outcomes. His ability to foster mutually beneficial relationships has been instrumental in the sustained growth and success of his organizations.
Twyla Technology: Delivering Cutting-Edge Solutions
Under Nauman Gul's leadership, Twyla Technology has become a renowned technology company in Qatar. The company offers a diverse range of solutions in areas such as FinTech, e-Commerce, e-Health, Security, and Audio-Visual systems. Twyla Technology's reputation for providing innovative and reliable technology solutions is a testament to Nauman's commitment to delivering value and supporting organizations in meeting evolving business dynamics.
Pay2M: Revolutionizing the Online Shopping Experience
A subsidiary of Twyla Technology, Pay2M has emerged as a revolutionary platform in the online shopping space. With Nauman Gul's leadership, Pay2M Checkout provides a seamless and secure transaction experience for customers. The platform streamlines the checkout process, accepts various payment methods, and identifies returning customers, enhancing the overall online shopping experience. Nauman's customer-centric approach has contributed to Pay2M's success and its reputation as a leader in the industry.
Social Impact through Business: A Commitment to Betterment
Beyond his professional achievements, Nauman Gul is dedicated to making a positive social impact through business. He recognizes the role of businesses in contributing to the betterment of communities and society as a whole. Nauman actively seeks opportunities to co-create solutions that address societal challenges, aligning business objectives with social responsibility. His commitment to social impact is a testament to his visionary leadership and his belief in the power of businesses to drive positive change.
Nauman Gul's Lasting Impact on Qatar's Technology Landscape
Nauman Gul's extensive experience, strategic leadership, and technical expertise have positioned him as a prominent figure in Qatar's technology sector. His contributions to Twyla Technology and Pay2M, as well as his broader impact on the technology landscape in Qatar, demonstrate his commitment to delivering value, fostering innovation, and shaping the future of industries. As Qatar continues to thrive as a global technology hub, visionary leaders like Nauman Gul will undoubtedly play a pivotal role in steering the industry towards new heights of success.