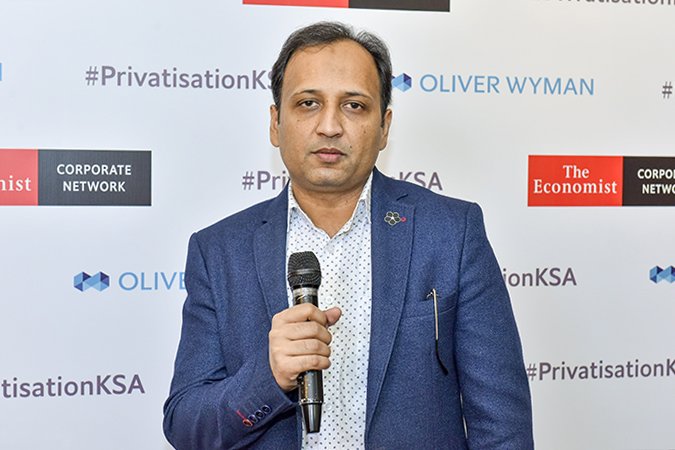 Shakeeb Kazmi, Managing Director, MCI Group
In a world where success stories often seem to favor the privileged few, there are those whose remarkable journeys defy the odds and shine brightly. These are the stories of grit, determination, and unwavering ambition, proving that one's starting point doesn't dictate their destination.
Today, we have the privilege of sharing the inspiring journey of Shakeeb Kazmi, Deputy Managing Director of MCI Group, one of the largest and most renowned global event companies in Saudi Arabia. Born into a middle-class family, Shakeeb's life came with its own fair share of struggles. In his early twenties, Shakeeb left home with a head full of dreams and determination, to pursue higher education. While studying at Aligarh Muslim University, he experienced the exhilarating world of events at the India Trade Fair. These events' sheer scale and complexity left an unforgettable impression on him. His heart raced with excitement, and his mind buzzed with questions. He couldn't help but wonder about the meticulous planning, the seamless coordination, and the creativity that brought these events to life. It was a moment of revelation, a realization that this captivating world of event management held endless possibilities and challenges waiting to be explored. This ignited a passion within him, propelling him to explore the intricacies of event management.
He took his first step into the world of events as a tech-savvy junior executive, learning the intricacies of event management. Shakeeb was fortunate to have received guidance from Creative Travel India Pvt Ltd during this formative phase and remains ever grateful for the foundation they provided. Years of relentless dedication, numerous sleepless nights, and unwavering support from family and friends paid dividends. Today with over three decades of experience and many transformations, Shakeeb proudly assumes the role of Deputy Managing Director at MCI Saudi Arabia. Over the years, Shakeeb has executed awe-inspiring events that have left an enduring impact on attendees from across the globe. His entrepreneurial spirit led him to co-found AlRowad Exhibitions and Conferences Organizing Co., a pioneering force in the Saudi events industry. As a board member of AlRowad, Shakeeb continues to be a driving force, pushing the boundaries and setting new standards of excellence in event management.
MCI Group: A World Leader in Marketing Innovation and Events
Founded in 1987, MCI Group has grown to be a globally renowned platform for marketing innovation and communication in the digital age. Their journey towards excellence is marked by an impressive portfolio of services that encompass every facet of event management and marketing. Whether it's designing and executing meetings or incentive programs that drive collaboration, leveraging digital strategies and influencer partnerships for brand growth, MCI Group consistently delivers comprehensive solutions tailored to their clients' needs.
MCI Group's impressive journey towards global recognition is characterized by several key pillars that set them apart. With decades of industry expertise, MCI has cultivated a deep understanding of corporate events, association meetings, and congresses. Their extensive global footprint, spanning offices worldwide, provides an intimate grasp of local markets, cultural nuances, and a valuable network of regional resources. Furthermore, MCI Group has forged strategic partnerships with industry stakeholders, amplifying their capabilities and keeping the company at the forefront of the industry.
The Transformative Leadership At MCI
Events aren't just gatherings, they are experiences. And at the heart of crafting these unforgettable experiences, lies effective leadership. Shakeeb Kazmi embodies this leadership through a human-centric approach. He firmly believes in the transformative power of bringing people together to create positive change in the world. Shakeeb recognizes the global team of professionals as the most precious resource of his organization. He actively supports his team's career journeys and personal development, fostering a diverse and inclusive workplace where every member feels valued and respected. This commitment to a collaborative and participatory approach extends to clients, partners, suppliers, and communities, with feedback playing a pivotal role in understanding their values and needs in a broader context.
In today's fast-paced, tech-driven landscape, Shakeeb leverages the latest technology and innovation to meet client needs and tackle societal and environmental challenges. The company's investments in research and development explore new ways of harnessing data, artificial intelligence, blockchain, and other emerging technologies to create a positive impact. Shakeeb's ultimate aim is to deliver high-quality results that not only exceed client satisfaction but also measure and report on the value and impact of solutions, encompassing economic performance as well as social and environmental benefits. This multifaceted commitment to excellence and positive change defines Shakeeb Kazmi's leadership at MCI Group.
Forging a Transformative Future
In the midst of sweeping transformations across various facets of Saudi Arabian society, including culture, economy, business, and entertainment, MCI Group is poised to embrace this wave of change and become an integral part of Saudi Arabia's evolving landscape. Their vision is clear – to play a pivotal role in bringing world-class events to Saudi Arabia and to leave behind a legacy that resonates globally.
Gazing into the future, MCI is steadfast in their commitment to crafting noteworthy and inventive ideas that will firmly establish Saudi Arabia's footprint on the global events stage. The company's determination propels it to broaden their range of events, form strategic alliances with local partners, and customize their services to perfectly align with the distinct requirements of the Saudi market. MCI aims to foster growth and development within the region, aligning with Saudi Arabia's Vision 2030 goals.
Furthermore, MCI dedicates itself to promoting social and environmental responsibility in all aspects of operations and events. The company recognizes the pressing need for a sustainable and minimalistic society, and aspires to create a world-class event on sustainability that positions Saudi Arabia as a global leader in this crucial endeavor. This event will not only convey a powerful message but will also serve as a platform to develop mechanisms for resource sharing, conservation, and responsible consumption, fostering a minimalistic society for the betterment of future generations.
By aligning aspirations with Saudi Arabia's Vision 2030 goals, MCI aims to contribute not only to the country's development but also to the well-being of its people and the planet. The future holds boundless opportunities, and MCI Group, under the leadership of Shakeeb Kazmi, is committed to making a meaningful and lasting impact on Saudi Arabia and beyond.