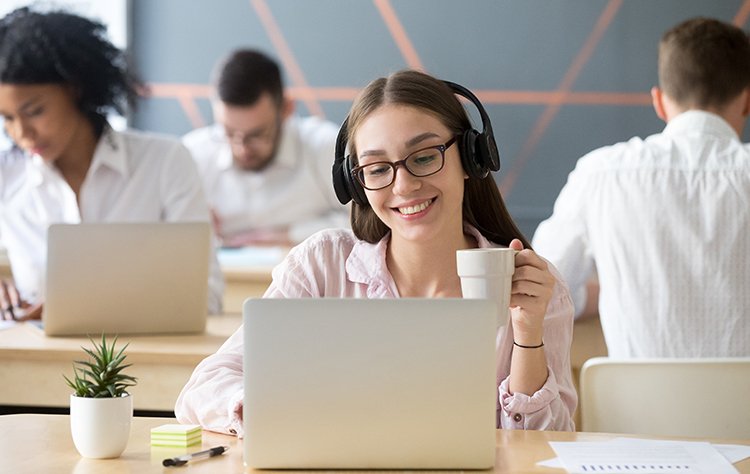 Being an entrepreneur involves many obstacles, and one of them is getting an office space. Steve Jobs was not eternally making computers in the garage: he went out, marketed them, and took the next step. The same thing happens in a startup. In the beginning, at the moment of pursuing the idea, creating the project and putting it into operation, perhaps you can stay at home. But there comes a crucial moment in which you have to go out, work from the core of the entrepreneurial world, and take advantage of the advantages that this can offer you.
Moving from the living room to an office is not an easy process. You have to find the most suitable area, keeping in mind that maintenance costs are quite high and that at first, the equipment may not be large enough to occupy an office. Therefore, the best option to take the first steps as a company is coworking spaces.
When the startup does not have the funds or the need to invest in a regular office, it usually goes to the intermediate point, which is coworking. In this way, you will have an internet connection, fixed or flexible stalls in an inspiring space, and many occasions' kitchen, and access to events and programs that can take place from the space itself.
Let's take a detailed look why coworking space is great for launching startup:
Perfect for networking
Perhaps the first advantage of a shared workspace is the ability to meet new people every day. These places vary in their user profile, so you can meet all kinds of entrepreneurs and professionals, which brings you many advantages in terms of contacts that can help you in the future.
Networking is tough to achieve from time to time, but coworking offers you a chance to do it at any time. You can approach someone in the kitchen, or at the next desk, or even having lunch, and this person can be valuable for your mission and you for theirs.
Relevant location
It is important to note that many people still trust brands with physical locations where they can meet owners and search for business information. Especially if you are going to receive potential clients in your office, a central location and careful design are crucial for building a positive reputation and brand image.
The possibility of accessing a privileged location or settling for a more modest one will depend on your budget. You should also assess the time it will take employees to access the office, the availability of private parking, security, and access to other facilities such as restaurants and recreational facilities, etc.
You can surround yourself with positive energy
Don't underestimate how psychologically difficult starting a startup can be for your life balance. There will be times when you will doubt yourself, your business, and your mission, and there will be many nights when you will be working hard while your friends and family will be enjoying. So, surrounding yourself with smart, dedicated, and hardworking people is the best remedy against the blues of starting a business. No matter what challenges you face, someone else has probably faced them and defeated them, and a great coworker by your side is great.
Cost reduction
It is not easy for anyone to start a business from scratch, but it is necessary to know how to prioritize what expenses are crucial. Before, office space was one of the essential expenses, but it no longer has to be. If you have a membership in coworking spaces, you save expenses in many things, such as services, rent, arrangements, security, internet, etc. So you can focus on creating a budget to grow your startup and not spend in an office that you don't need.
Concluding remarks
When you enter the world of startups, you only partially know what you are getting into. You may have a vision for your business, but there are 1,000 little things you probably haven't thought of or have no experience with how to deal with. Being surrounded by other entrepreneurs in an environment specifically designed to support young companies can prove to be an invaluable asset for your growth.
In short, the coworking space allows, due to its modularity, a startup to start its business life flexibly, and offers the possibility of meeting customers, and future collaborators, all for a reasonable price.