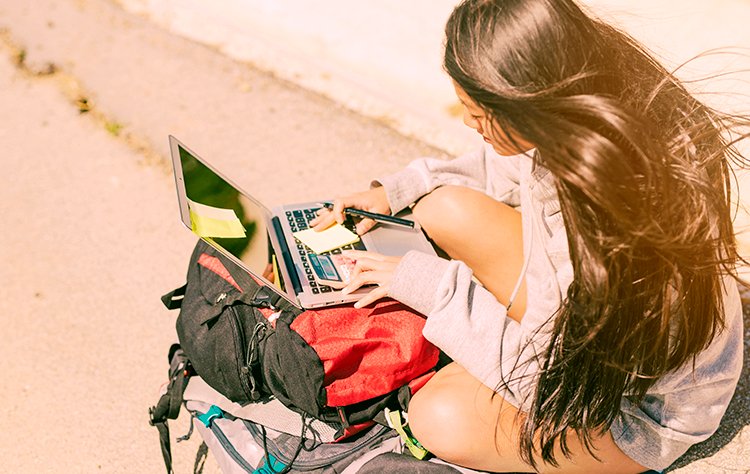 Are you ready for the digital nomad life? Would you like to change your office to an island paradise? Would you love to have a flexible work schedule? Maybe you would like to be able to practice sports or fulfill your passion every day. Sounds like a dream, right? Well, it's not that far! Every day, more people abandon their office work for the flexibility and freedom of living as a digital nomad.
But, be careful, it is not as easy as it seems. For the right person, the digital nomad life is ideal. For the wrong one, it can be a real martyrdom.
If you still do not know the term digital nomad, take note because it may interest you a lot since these professionals have an enviable lifestyle. Are you willing to embark on this adventure? In this article, we will tell you what it is and how to be a successful digital nomad.
What is a digital nomad?
Digital nomadism is a vast entrepreneurial trend where young people seek to reconcile the professional side with an emancipated lifestyle. The work of a digital nomad is often linked to technology, which allows him to perform the task, from anywhere in the world, remotely. This is too much, right?
This new way of working gained popularity a few years ago, and since then, it has attracted more and more individuals, after all, who would not want to work in front of the sea, the mountains, inside a van while traveling the world?
If you want to start this adventure, here are some tips for you!
Identify something you are good at and focus on that
My first advice is to focus on what you are good at and what you like to do. Never copy. Pretending to do something because it worked for someone else is a mistake. That it has worked for someone else does not mean that it will also work for everyone.
Each person is different, and certain things may work for some and not for others. It is not a copy and paste. On the other hand, don't worry about your weaknesses. They can compensate them with other people or with other resources.
The main thing here is that they discover themselves, think, and take the time to see what they are good at, what they know how to do better than most. That they focus on those jobs that they think can help them generate income in the future.
Work for someone else until your business works
If you share your time as a freelancer at home and in the office working for someone else, don't quit your job until the freelance way to make money pays off. You know that training in the development of entrepreneurial skills on the Internet costs money.
You need to invest in new knowledge, resources, and tools that will allow your business to grow, and if you don't have a fixed source, how are you going to pay for it?
Therefore, the idea is to build the foundation of your project and open the way to earn money on your own and dedicate yourself to it full time. On the contrary, if you have savings and you are not afraid of being left with nothing, start with your dream of being a nomad right now.
Be determined
In the beginning, many people will try to convince you that digital nomadism is not the way and will discourage you from abandoning traditional ways of working, with the premise of insecurity. Don't listen to them believe in yourself, your purpose, and your willingness to make it happen.
Each has a path, and the path of some may be more difficult than for others, but that does not mean that it is impossible. The view always makes up for the climb. Do not take "no" as closing doors, but as opportunities for improvement. Do not give up with the first difficulty or the second. Swim against the current; don't stop believing in your dream for a second, because nobody will run after you if it isn't you.
Convince your boss to do remote activities
Even if you love your work, many activities are likely to be done in front of the laptop, which can be performed at your home. If you have an understanding boss, who knows, you might not be able to convince him to give you more freedom to do part of your job remotely?
Don't tell him that you think about working as a digital nomad. The ideal is to prove that you can do your job remotely with the same quality that you deliver to the office. If all goes well, you can even become a digital nomad without leaving your current job. That would be great, wouldn't it?
Wrapping Up
Becoming a digital nomad is not something that happens overnight. Most of the time, it requires a lot of effort, but it is possible, and many people are proving it. It mainly depends on your willingness to venture on this journey, which will positively bring many emotions and great stories to your personal and professional life.