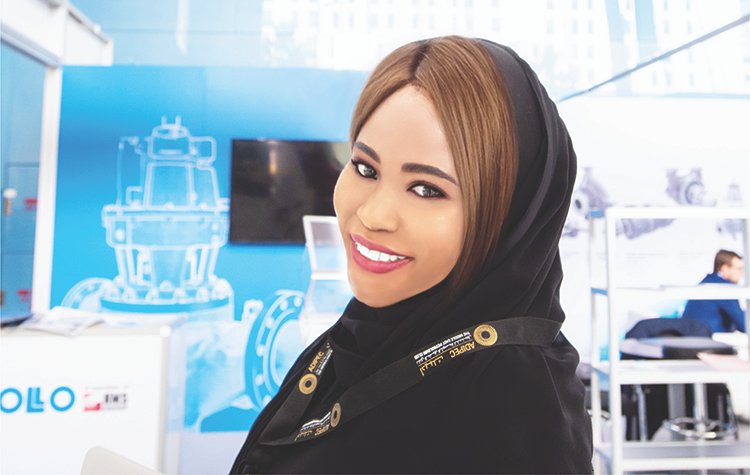 Khadijah Ba, Founder and Chairman, Der Mond Oil & Gas
There is no single definition of success. Everyone has a different meaning of success. For some, success is money, for some it's fame and some defines success as happiness. For Khadijah Ba, the founder, and president of Der Mond Group, success is inner self-satisfaction. "I am never satisfied until I reach one goal that I've previously set to myself. Once done, I set another goal for myself. Giving yourself a deadline is important to reach each goal, inspire others, and see the people around you move forward by another goal. Inner self-satisfaction by reaching my goal is called success to me," opines Khadijah.
Born and brought up in Senegal, Khadijah moved to Montreal, Canada to finish her high school with a degree in Economics Social Sciences. She had her first internship in one of the Major British Oil and Gas companies and this made her curious and passionate about the industry. So, after graduating with honors, she moved to Abu Dhabi, United Arab Emirates as it was one of the emerging Oil and Gas producing countries. She worked with several multinational Oil & Gas companies in UAE where she was exposed to the French and American systems. This allowed her to expand her learning and earn the highest positions with big responsibilities that paved her way to becoming an accomplished leader in the industry. While Khadijah's journey to success was littered with many challenges and obstacles, the ardent entrepreneur believes that it was the challenges that gave her the motivation to never give up. It tremendously added value in her professional career and shaped her personality and eventually her company: Der Mond Oil and Gas, which she finally founded in 2015.
The Prolific Journey of Der Mond Group
Oil and Gas is a very vast industry and hence Khadijah carefully studied which part she should focus on. First, she decided to get involved in the full channel of the Energy Industry through her company, Der Mond Oil and Gas. Therefore, she started downstream and didn't stop there. She also started Der Mond Academy in West Africa, which now has a partnership with certified institutions and multinational companies that give competent, professional courses in the Energy Industry. Months later, she discerned that it is not just the energy industry that is absolutely in need of those training and certificates from professional international professors and local teachers to have a transfer of knowledge. On the other hand, she was exposed to other commodities such as precious metals, gold, platinum, precious stones, diamonds, emeralds, pearls, and other expensive gemstones which led her to found Der Mond Precious Metals & Stones. "The core of my business is Oil and Gas, however, it was interesting to me to buy and sell these other commodities individually from different countries and I was again very curious about that," elucidates Khadijah.
While exploring the upstream opportunities in the East of Africa, she started to develop an interest in Precious Metals & Stones. From there after successful collaboration with suppliers for years she decided to move forward with Der Mond Precious Metals & Stones which led her finally to the constitution of Der Mond Mining, which acquires mines, investments in shares to related companies after researching and making careful background checks to ensure sources are clean. In parallel with the expert's full check-up of the viability of those mines, Der Mond Real Estate was an idea that developed from the vacations that Khadijah would have in some western countries and her interest in real assets such as land and buildings. That's not all. In parallel, being a responsible leader aware of climate changes, Mrs Khadijah established Der Mond White Energy , a renewable energy company. While delineating about Der Mond White Energy, she said, " It is indeed difficult to change the behavior of people and it doesn't change overnight but let's start from now on as a leader in this industry which is one of the most important legacy for the generations to come,".
Fostering a Winning Work Culture
Being a flexible leader, Khadijah encourages everyone in its team regardless of their organizational rank or age to bring out and express their views and skills. Der Mond heavily focuses on nurturing a sense of belief and ownership for learning among its employees to improve their knowledge and skills and to acquaint them with new technologies. As a leader, Khadijah wants her employees to feel valued and have a life after work. Thus, she strives to maintain a fun work environment abuzz with creativity, cutting-edge technology, and team spirit. Each employee at Der Mond has common respect for each other at work and that reflects greatly on how much they care about their clients and the companies they work with. "Although the company is young and we have competitors, knowing our line of business and having an attitude to do our best for the client has really worked well for us. As the logo shows, the royal eagle is polyvalent and can fly high meaning we can work with all and are open to all possibilities as long as it is in line with our principles," affirms Khadijah.
The astute entrepreneur also feels that Der Mond has a responsibility towards every country it works in. Thus, she focuses on investing in human capital and supporting environmental initiatives to be more specific Corporate Social responsibilities.
Key Traits That Distinguish the Business Leader
For Khadijah, when it comes to duties, no by-the-book laws are applicable. She always strives to keep herself motivated and innovative in making her ideas come to life. As a leader, her responsibilities involve, pulling out the strategy and ensuring that each structure is incorporating the strategy well. When it comes to investment, she prefers to invest if she sees a gap that needs to be filled or if she has a passion for the industry. However, she makes sure to discuss the idea with her inner circle before giving the final decision.
According to the visionary entrepreneur, understanding, being tolerant, listening, and exchanging ideas and opinions is truly important for a leader. She advises budding entrepreneurs to learn from the mistakes and success of others. She also urges them to be clear about their goal to succeed. "Knowing what you want is essential otherwise it's a road to failure. The Customer is not a king but the only king—this is my vision to my customers. I truly believe in that and always work with the objective of closing a deal fairly and that can evolve to collaboration," asserts Khadijah.
Moving ahead, the business leader intends to fuel the growth of the company by expanding its capabilities by entering into new markets and industries. She is always open to hearing new pitches and being exposed to new ventures at different stages of funding. Meanwhile, West & East Africa, the GCC, and the South Pacific countries very close to her heart, she plans to continue working on the projects that are established in both countries to support their nationals and highlight their talents.
Leading the Success Route
Khadijah attributes a lot of her success to her mentors who have helped her grow as an entrepreneur. "Being surrounded by such motivating mentors has opened many opportunities to me. I started young and alone and that was a problem at the beginning for the banks who believed that I was so young to take the risks of being a partner. Thankfully now they are approaching me and have more comfort after seeing my achievements," states Khadijah.
Finding a monopole of people with a similar mindset and passion in the industry was not easy for Khadijah. However, overcoming all the odds, the resilient entrepreneur was able to enter the business world as a young African woman leader and find success in a male-dominated industry. "The key is to believe in yourself. I am proud to hear that I was like a model to some aspiring businesswomen too. Just never give up and at the end of the day, hard work will surely pay off," concludes Khadijah.