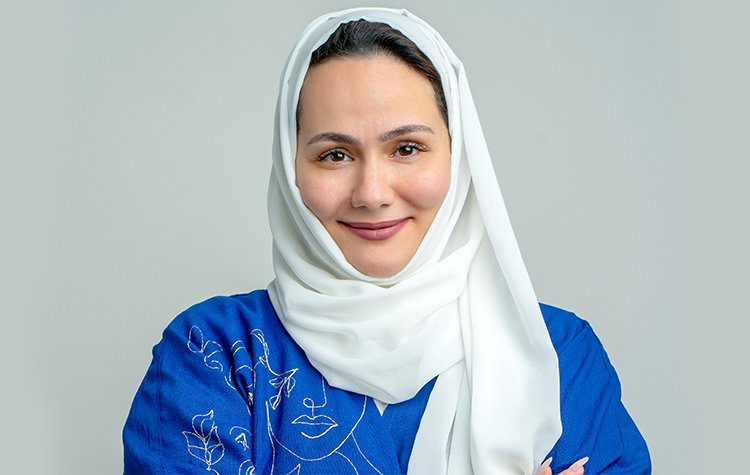 Maha Shirah, Founder & CEO, Sheworks
Entrepreneurs find a purpose in solving the problems of society. They wield great power and responsibility. They are willing to take responsibility and are undaunted in the face of challenges. They seek solutions and continuous improvement to fulfill their purposes. Maha Shirah is such an inspiring entrepreneur from the Middle East and this is her story :
"My name is Maha Farid Shirah. I am a Saudi businesswoman. I am also a wife and mother of two boys," Shirah introduces her. Shirah is an ambitious woman with the goal to help others with her talent and knowledge. She knew to excel in a competitive business world a person must be sharp and smart. With that insight, she went on to earn a bachelor's degree in English-Arabic translation, an MBA in finance, and a diploma in photography. Consequently, these degrees helped her to bag many jobs in different fields; teaching, translating, auditing, investment banking, and photography. These jobs helped her to sharpen her skills and acquire experience to strive in the corporate world.
During these years she shifted to North America with her husband and returned to Saudi Arabia in 2013. Here she started to work as a freelance photographer and also successfully managed her family of two young kids and long-hours working husband. Shirah's story is also a great example of how women can carry out family responsibilities while working on their dreams and interests. Her time management skills and the passion to excel in her freelancing gig upheld her to go forward without compromising on her duties as a mother or a wife.
During this time Shirah came across the difficulties faced by freelancers, especially women, in Saudi Arabia due to the lack of workspaces. It was difficult for freelancers to meet or network with other professionals and investors and they were isolated from their peer crowd. This laid the bricks for SheWorks – Saudi Arabia's first women-oriented co-working space and business hub; designed for women by women.
Overcoming the Hurdles
Every entrepreneur's success lies in their approach to handling the obstacles. A strategic way of thinking helps in jumping the hurdles and also open ups ways for substantial growth and progress. Shirah's way of handling issues and turning them into growth opportunities is quite admirable. The initial years of SheWorks were quite a rough road. Shirah understood that even though the ecosystem was developing and growing, it wasn't maturing enough. So, she decided to start working towards this disadvantage. At the same time, she sensed a need to educate their consumers about their business model and the value of the services they provided. Since such an establishment never existed before, people were reluctant to join SheWorks. Shirah and her team really came forward to handle this and made sure their consumers understand the need for such a space in Saudi Arabia's marketplace and the ways it can help freelancers and budding entrepreneurs to reach their objectives. Later in 2014, SheWorks hit another block with getting a permit for their business model for the same reason. Here also Shirah and her team demonstrated great effort in educating the policymakers and the government entities about what they do and why they provide such services. On top of that, SheWorks had to get through the changing policies and procedures of Saudi Arabia. Needless to say, Shirah was successful in managing these challenges and leading SheWorks towards a better future.
SheWorks began to mature to become more than a co-working space. Shirah understood the varying needs of different entrepreneurs and decided to help them in their journey. Out of the many talented women who joined SheWorks, many lacked the business knowledge and struggled to run their venture successfully. Shirah undertook this responsibility and gradually transformed SheWorks into a business incubator providing all the services their women consumers needed. Most importantly, Shirah was able to help them balance their work and personal life through these services.
The toughest challenge for SheWorks was undoubtedly the Covid-19 outbreak. Being an establishment that provides a physical platform for professionals, the pandemic restrictions came as a threat. Shirah knew the MENA (the Middle East and North Africa) region still needed SheWorks' services. As a result, she successfully launched SheWorks' digital presence – an online business incubator for women.
Harnessing Growth Mind-set
One of the important traits of an entrepreneur is a growth mind-set. Shirah is the epitome of this ideology. SheWork's journey through the pandemic was an eye-opener for Shirah and she testifies that those hardships made her realize the significance of patience, persistence, and perseverance among many other things. She also asserts that it is normal for a person to make mistakes but what matters is the maturity to ask for help when needed. Such an approach will help in building a network or a community where everyone can be of help to each other. An entrepreneur should also acquire the necessary skills to be resourceful and valuable to the said network or community. She reminds us that mentorship and consultation are needed every now and then.
Adopting an attitude of openness and growth has helped Shirah to gain confidence and look for solutions out of the box. "Don't trap yourself in your comfort zone. Challenge yourself and be out there. Learn more, educate yourself, and adapt to the new changes. This will help you to see things differently and find opportunities in every obstacle and challenge," she reflects. She says it is important to possess the eagerness and curiosity to learn and try new things and the ability to see opportunities in every situation. This kind of approach made Shirah practice her skills and create something from her knowledge. Her strong will led her to become the businesswoman she is today and also help many women to find success in their life.
Defining Success
When many people assess their success with the revenue or the remuneration they get from their businesses or careers, Shirah defines success as the capability to create fruitful projects and build a good reputation around it. SheWorks portrayed Shirah's strong traits, where she developed an idea from scratch and sailed through all the challenges triumphantly. "Navigating through challenges itself can be considered to be a success. Setbacks are common when you are on a mission, but getting up and motivating yourself to start all over again makes one exceptional," advises Shirah. She adds that every setback gives the knowledge to handle challenges and by facing it every time one gets to learn lessons that no book or school can teach.
"I would love to set myself as a role model for my kids. For that, I am working hard and trying to create valuable and meaningful projects for myself and the people in my life," Shirah shares her driving factor. She has been preparing herself for the future by learning about new advancements in the industry like AI, IoT, and other technologies. "I am currently working as a consultant for entrepreneurs and start-ups, and also part-time with an investment company. My journey doesn't end here, there might be twists here and there, but I still have the same goals and concepts," Shirah concludes.