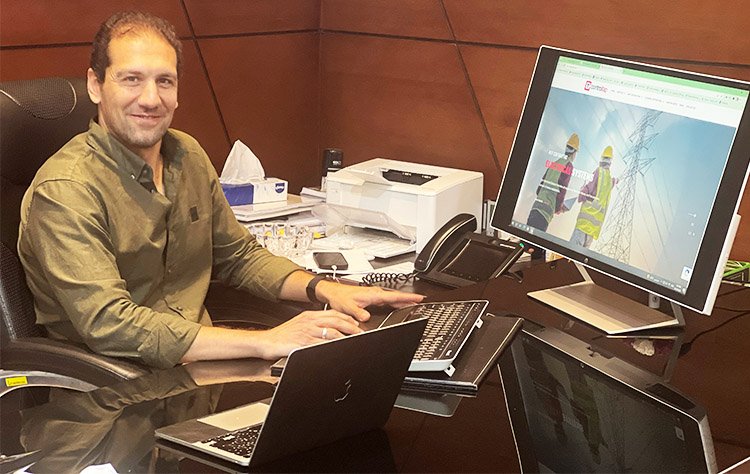 Tarek Youssef, CEO, Control Tap
As they say, "You cannot discover new oceans unless you have the courage to lose sight of shore", it's not everyone's cup of tea to chase a pie-in-the-sky dream and translate it into reality. It requires an indefeasible faith in one's potential, and indomitable willpower that enable us to set sail in the storm-tossed ocean of life and anchor safely.
Tarek Youssef's journey is one such tale of rising above the storm and facing the sunshine. Being a highly-educated man himself, Tarek, felt the life of a regular employee could not do justice to his overflowing cauldron of knowledge and expertise. He realized that he must invest his potential and time into something greater that could help him prove his mettle and satiate his desire. The idea of business hit upon his mind. Without being bogged down by the risk factors associated with a business venture, Tarek chose to consider its positive aspects. In his view, it is not only the monetary benefits that propel one to business; unless you have the guts and gumption to innovate something new, you can never succeed in your journey, whatsoever.
The catchphrase that catapulted vision into reality
For Mr. Tarek Youssef, the CEO of Control Tap, business is not just about minting money; rather it's a passion to serve society and pave the way for social upliftment. Being an ardent business personality, Tarek always gives his customers an edge over everything. The catchline that he always holds to be true in his life is "Customer is always right" and he vows to serve them with utmost sincerity and perfection of knowledge. From the point of initiation of a project to the stage of handing over, at Control Tap, people make sure that every problem is addressed with promptness and resolved with accuracy. In the words of the CEO, "if you manage to satisfy your customer by any means with all your capabilities, then you will have all the success, as you won't need to hire any more sales or marketing employees, your customers will act as your sales and marketing teams." Tarek believes in creating a bond with his customers that would thrive with time and linger forever.
Control Tap: A culture that transforms a workplace into a family
Led by the desire to emerge as one of the best and most acclaimed construction companies in the world, Mr. Tarek Youssef, at Control Tap has left no stone unturned to satisfy his customers by providing them with premium quality services at a competitive price, across the globe. But, to accomplish his mission, Tarek had never been a dictator in his role as an owner. He strongly denounces the idea of imposing duties and loyalties on workers. Tarek is much influenced by the notion that the employees must accept and adopt his objectives as their own. They should feel like one of the members of the concern; rather than an outsider hired for the role. In his view, a good work environment spontaneously brings out the best in a person. At Control Tap, Tarek ensures a healthy and encouraging workspace that would invariably retain his workers' faith and loyalty toward their leader. In his words, "No employee wishes to be a part of a work culture where they feel unheard or are not sure about their future, they seek a culture where they are treated well every day and are recognized for the valuable contributions they make to the company".
The essence of a good entrepreneurship
Entrepreneurship is the art of bringing together men, materials, and money to create unbound possibilities for society. A good leader acts as a messiah for the youths to follow. He leads society to think differently and thereby paves the path for innovation and opportunities. In the opinion of Youssef, entrepreneurship involves a lot of activities, from scratch to the end like sales, marketing, finance management, and administration. And in the process of growing his business, a leader grows along with his team. In the words of this astute business leader, "Leadership is the ability of an individual or a group of individuals to influence and guide followers or other members of an organization".
Keeping within the periphery of a capitalistic entity, it is not an easy task to incorporate a democratic style of management and administration, which Youssef has made possible at Control Tap. "I get everyone involved to come up with a consensus for decisions; the whole team is a part of creating a vision", affirms the leader. He involves everyone in the process of decision-making and also inculcates his vision in everyone. "…I want my team to feel as involved in work processes as I do, but I am also able to step in when needed and make a decision that's guided by overall input", asserts the leader.
A promising future for Control Tap
A businessman never settles for less, nor should he. The spirit of creativity and leadership persists till the end of life. Tarek Youssef, being a business leader par excellence talks with much conviction about empowering Control Tap with expanding partnerships and growth. He unfolds his new business ideas to be launched in the next few years and also plans to extend his business outside the construction and manufacturing domain, for which Youssef is all set to open two new factories close to next year. With a strong determination and benediction, the leader assures, "Next year will be a great year with God's willing, we have spent the last couple of years perfecting our Company. We feel a responsibility to make the world better, especially with our backgrounds."