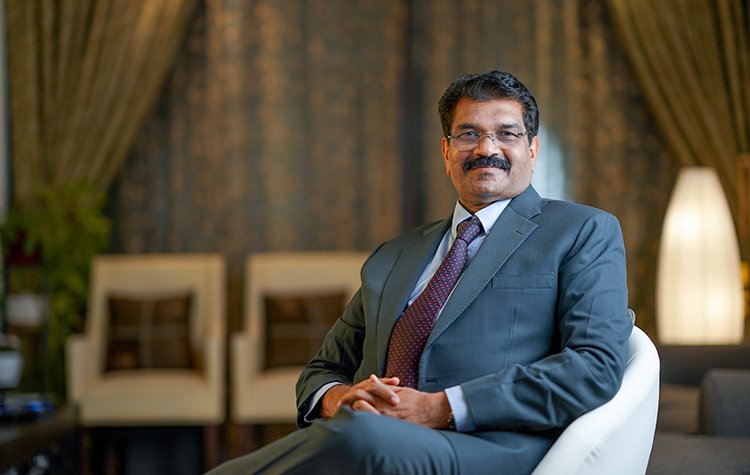 Lal Abdul Salam, CEO, Smithline Reinforced Composites
Driven by his humanitarian instinct to give back to the community, Mr. Lal Abdul Salam, the CEO, and Managing Director of Smithline Reinforced Composites have dedicated his whole life to applying entrepreneurship in the social sphere. He is on a mission to build an eco-friendly society while complying with the needs and necessities of its members. Unlike other business heads, who may be lured by the idea of building facilities that could appeal to a particular segment of society, Mr. Salam is hell-bent upon erecting constructions that could gratify and benefit the sustenance of the human race in its entirety. An entrepreneur and philanthropist, Mr. Salam have been the epitome of hard work, patience, and innovativeness. At Smithline, he believed in breaking molds, pushing boundaries, and setting new benchmarks for others to follow.
A B.Tech in Chemical Engineering, Mr. Salam, at the onset of his career started to work in the second string department of Kerala State Pollution Board, as a Junior Engineer. By dint of hard work and integrity, soon he was able to climb the ladder of success and moved to Abu Dhabi. At the Abu Dhabi Pipe Factory, Mr. Salam spent the longest stretch of his career and gained a treasure house of knowledge and hands-on experience in on-composite products. This, later on, catalyzed his growth as an entrepreneur and helped him to stride on the trailblazing path of his career as the business head of a reputable organization like Smithline Composites. Under his leadership, the company has emerged as a global leader in manufacturing Pipes (GRP, GRE, GRV, Pre-insulated and pipes), GRP Tanks, GRP/FRP Manhole covers along with frames and pre-fabricated chambers. For product details, please visit the website www.smithlinecomposites.com
In the wake of the digital revolution, where ecological diversity is at stake, environment-conducive solutions and ideas are gaining ground. Keeping this in view, at Smithline Composites, Mr. Salam has pioneered the green tech revolution in building on-road constructions. His infrastructural projects are well fabricated to serve their purpose without harming society or disrupting the ecological balance. Innovation being the underlying concept of all his business activities, Mr. Salam has yoked together technology with nature to bring in force environment-friendly, cutting-edge manufacturing solutions that could bridge the gap between economic and environmental resilience.
Mission and vision
The compassionate disposition of a leader often gets reflected in the way he calibrates his thoughts into action for promoting social welfare. At his organization, Mr. Salam identified the revolutionary policy of circular economy as the only measure to tackle climatic change and save biodiversity. He has introduced this daunting policy that works on the principles of eliminating waste and pollution, circulating products and materials at their highest value, and finally regenerating nature. Unlike the linear economy, the circular economy decouples the utilization of finite resources and verges the use of renewable sources.
Mr. Abdul Salam has been instrumental in bringing about a transition in the field of infrastructure construction sectors from conventional materials to composites through his unique yet sustainable products at Smithline Composites. Positioned among the top-rated organizations of the world, Smithline is accredited with diversified business activities with an eye on optimal waste management and a low carbon footprint. As an ethical alternative to metallic products, Mr. Salem has harnessed perennial sources of energy into manufacturing non-metallic products that make use of glass fiber as their primary reinforcing agent, which guarantees the lowest carbon footprint. Their products have been classified under composite products that include Fibre reinforced polymers (FRP) and Glass reinforced plastics (GRP).
Being passionate about giving shape to an equitable and sustainable community, Mr. Salam is enthusiastic about serving utility sectors and some construction units, which endorse his view and prioritize global welfare over economic profit. The prominent utility sectors like FEWA, DEWA, SEWA, ADWEA, and municipalities are their major clients. The company also caters to Manufacturing sectors like Oilfield, metal, and non-metal sectors which may share the entrepreneur's vision of preserving the societal equilibrium while bringing out the best.
Employee spotlights
A benevolent leader always paves his path toward a holistic development of society and embraces all in his noble endeavor. During his venture, Mr. Salam has always recognized and practiced "inclusiveness" as a crucial aspect of his business. His long association with the low-income group at the beginning of his professional career gained him an insight into the problems, prejudices, and dichotomies of a diverse workforce. This molded him into becoming the people's leader, who is better poised to handle the issues of employee grievances and dissatisfactions at his organization.
However, Smithline Composites is a very happy place to work in. Here, the leader upholds and has strongly instilled the core values of integrity, uprightness, compassion, and humility among his employees, who work together harmoniously with a promise to sustain a progressive yet peaceful workspace.
Relationship with customers
A company running over decades has to go through a lot of upheavals, which could at times be extremely grueling for any businessman. What keeps us alive and awake in this tumultuous phase of our journey is our attitude to life. In its 17 years of tireless service to the nation, what makes Smithline Composites stand apart is its dealings with the customers and its uncompromising quality of service. Mr. Salam, being a proficient business lead, places his customers at the highest citadel of faith, integrity, and honesty. At Smithline, the leader ensures the highest level of credibility through an efficient supply chain network that has helped him to build a loyal customer base.
Why He matters?
As we all know it is the virtue of discipline that allows talent to germinate. Throughout his highly esteemed journey as an entrepreneur, Mr. Salam has adopted self-discipline as a tool that breeds confidence and eventually motivates us to move forward with courage and fortitude. His top-of-the-line leadership style exemplifies resilience and agility as means to keep afloat in a changing business scenario. The leader voices out his inimitable precept on life in his deep yet lucid statement, "Three decades of journey taught me that 'Inhale the future without any expectation hold the present and exhale the past without any regret'." His words resonate deeper within us and leave a profound impact on the minds of millions. Mr. Salem stands to be the ultimate leading light for many aspiring entrepreneurs.
So far, his upcoming plan is concerned, the virtuous leader expresses his desire to continue in his most coveted role of a transformational business personality, who is committed to exploring his way through sustainable development and enhancing global solidarity.
Awards and Recognitions
Many times, Mr. Salam's efforts as an astute entrepreneur have been hailed with much appreciation and honored with prestigious titles and recognitions at the global arena:
Smithline has been incorporated into the 2030 vision of Abu Dhabi.
The company was chosen to be a part of the Green Energy Team of Sharjah Electricity and Water.
Mr. Salam received the 'Best Businessman 2022' award at the World Wide Achiever's Forum.
He received The Master Vision International Excellence Award in 2022.
Finally, the prestigious Golden Achievement Award bagged by Lal Abdul Salam bears strong testimony to his ubiquitous leadership skills, ideas, and vision for the industry.