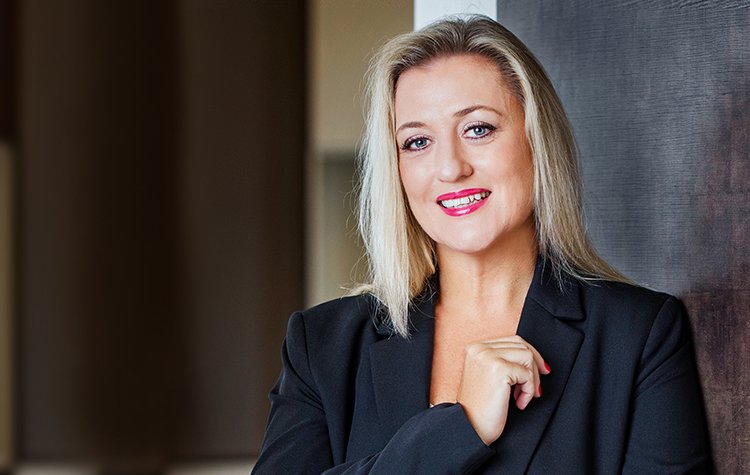 Liezl Meier, General Manager, Voco Doha West Bay Suites
The once male-dominated hospitality industry is now transforming with women increasingly taking the lead. Breaking the glass ceiling, more and more women are now setting foot in the dynamic sector, and achieving the remarkable feat, showing that entrepreneurship should no more be defined by gender.With the right mix of sheer grit, determination, talent, and unique perspective, these women entrepreneurs have not only succeeded to become change makers, but they've also demonstrated time and time again that they have what it takes to be the driving force in the competitive industry. Being the epitome of woman empowerment, they are courageously pushing the bounds of their wings while leading the path forward for others to follow. One such pioneering woman leader in the hospitality industry is Liezl Meier, the General Manager at voco Doha West Bay Suites, a prominent 5-star hotel in the heart of West Bay Doha.
Liezl began her journey in the commercial hospitality industry with a key focus on building successful business relationships with stakeholders and clients to derive maximum revenue for properties and owners she was responsible for. Spending countless hours on the road fighting for business taught her a lot about determination and tenacity, Her prior experience in sales and marketing helped her hone her natural instincts and learn the value and importance of patience. Liezl believes success in business is all about timing. Hence one should know when to strike and when to wait. Learning to understand the balance between moving fast to achieve instant results, versus the skill of pragmatically working towards achieving long terms goals for months, or sometimes even years, without getting disheartened or giving up, shaped her to become a well-rounded successful businesswoman.
Facing Challenges Head On
It is in the harshest of environments, where diamonds are borne from coal. Liezl learned this from a very young age. Thus, she strives to face challenges head-on rather than shying away from them. One of the biggest challenges for Liezl was the onset of the COVID-19 pandemic which was definitely a curveball for all businesses around the world. But she navigated all the hurdles along her way with sheer determination, resilience, and grit while learning from these experiences to become even stronger and more aware. "Whilst we are in many instances still dealing with the aftermath of the pandemic, I know that mankind itself has grown stronger and wiser for having lived through it,"asserts Liezl.She believes thattrue hoteliers thrive on the unpredictability and adversity of the challenging industry.
Focusing on Happy Staff, Happy Guests, Happy Owners
Liezl believes that happier staff leads to happier guests. Hence she heavily focuses on creating a work culture that puts employees first and strives toenrich the work culture to help them reach their maximum potential."The age-old saying of 'Happy Staff, Happy Guests, Happy Owners' still rings true for me. By engaging with our colleagues and our guests is how we build long-standing relationships with customers, which in the end secures the financial returns for our Owners," opines Liezl. As a result of months of hard work, dedication, and commitment of herteam, recently, voco® Doha West Bay Suites has been converted into an IHG Hotel from a standalone brand. Their personalized, authentic service as true hosts enables them to harbor trust and earn a bunch of loyal clients while attaining adrastic increase in rankings in terms of guest satisfaction.
Liezl finds her job satisfaction in her investment in human capital and strives to impart knowledge; advice, wisdom, and a small lesson in whichever form, on a daily basis. "If my interaction with another person adds to his or her riches, I feel that I have achieved something valuable. Being able to reward, recognize and celebrate accomplishments with my team is part of the measure of my own success," adds Liezl.
Cultivating a Positive Work Culture
The work culture at voco® Doha West Bay Suites is built around delivering "True Hospitality for Good, every day." Keeping this value at the core, the company strives to bring positive change in many different ways. It can be making connections that bring loved ones together, creating a feeling of belonging for colleagues and their development within the company, or delivering sustainable solutions to preserve the environment. "Our collective values provide a shared sense of purpose in everything we do. Further to this, we have a culture of diversity, equity, and inclusion and this is crucial to where we are, how we work together, and how we grow our business. My team and I are motivated to come to work every day, as we know that no matter how difficult circumstances may get, we have a work family who will support us and will provide something to smile about every day," shares Liezl.
Aligning Personal and Professional Life
Climbing the ladder to become a leader in the hospitality industry is not easy and you have to find your own competitive edge in order to be successful, which requires ongoing commitment. So, striking the right chord of balance between personal and professional life was difficult for Liezl at times. In fact, she often had to make some personal sacrifices in order to become the successful business leader she is today. "You can't always be everything to everyone, but I am blessed with a very supportive family. Being the mother of two teenagers adds to the challenge of being present at all times, but I believe that 'balance' doesn't always come in only quantity, but also quality. Therefore if I can give more than 100 % at work and alsomore than 100% at home, the length of time spent on each becomes less important," affirms Liezl.
Trailing towards the Successful Future
As a fairly new female General Manager in a company with more than 6,000 hotels across the globe, Liezl believes the world is her oyster and she is excited about what the future will hold within IHG. Drawing the valuable life lessons from her entrepreneurial journey, Liezl advises emerging woman leaders to take advantage of their natural female intuition and believe in their abilities. "At times, when my head and my heart do not necessarily agree on a decision, I follow my stomach – and my gut instinct has never let me down! Authenticity is the key to me. Be true to yourself and your values. Don't be scared to have your opinion in the corporate world – the only time a woman ever has to look down, is to admire the beauty of the heels she is wearing on that day," sums up Liezl.