Ricardo Barcena, Co-Founder & CTO, Spotnik Technologies
Winston Churchill once famously said, "To improve is to change, so to be perfect is to change often." These words of wisdom ring truer than ever in today's rapidly evolving business landscape. As we stand on the cusp of a new era, the role of leadership has taken on a dynamic and transformative dimension. In this age of unprecedented technological advancements, shifting customer expectations, and global interconnectedness, leaders are tasked with not just steering the ship but also continually adapting and innovating to remain relevant and effective. Embracing change is no longer a choice; it's a necessity. The leaders of today must be agile, open to fresh ideas, and ready to challenge the status quo with an unyielding passion for innovation. They need to foster a culture where change is not feared but welcomed as an opportunity for growth and improvement. Exemplifying this new-age leadership, a visionary entrepreneur who is reshaping the realm of Smart Cities and beyond is Ricardo Barcena, the Co-Founder and CTO of Spotnik Technologies.
Back in the mid-90s, Ricardo was deeply immersed in the world of computer games, building 3D environments through computer imaging and animation. Little did he know, those early experiences would set the stage for his current pursuits in 2023. Transitioning into the realms of media and telecom consulting, Ricardo honed his expertise in human-machine interfaces, offering technological consultancy services across more than 40 countries, all from his base in the United Arab Emirates. Before founding Spotnik, he forged collaborations with industry giants such as Everis, du, Ericsson, Cisco, Accenture, and Smart Dubai. Additionally, he ventured into the world of pioneering startups that were at the forefront of Telecom AI Analytics, Blockchain Gaming, and other cutting-edge technological developments.
Then came the game-changer – 2018, the year Ricardo joined hands with Mr. Paras Shahdadpuri to lay the foundation of Spotnik Technologies, a passion project with a dedicated focus on driving innovation in Smart Cities. Having closely observed Dubai's dynamic evolution since 2006, Ricardo's fascination with digital transformation and Smart Cities was ignited. His involvement in Smart City advisory projects further stoked the fire, fuelling his vision for streamlining solutions with emerging tech. As a consultant, Ricardo has always set his sights on tomorrow, anticipating the future by conceptualizing services that make dreams a reality.
Navigating the Uncharted
Entrepreneurship isn't a smooth sailing journey, and Ricardo knows it all too well. One of the hurdles that stood tall in his path was the task of building high-performing teams. It's a challenge that many entrepreneurs face – finding the right talents who are not just on board but are also rowing in the same direction. Striking a delicate balance between innovation and income generation is another tightrope he had to walk. However, Ricardo's recipe for overcoming these obstacles hinges on a combination of faith, unwavering perseverance, and guidance from trusted mentors. As Ricardo passionately states, "Ultimately, the breakthrough comes when your target clients recognize your unique proposition. For us, that proposition involves delivering cutting-edge Smart Cities solutions with urban Digital Twins, proudly crafted in the UAE."
Leadership with Heart and Integrity
For Ricardo, leadership is not a mere role; it's a commitment to protecting and supporting others while fostering trust through sincerity, humility, and unwavering firmness. His leadership style is characterized by transparency and openness, free from hidden agendas or complex tactical manoeuvres. While not without flaws, this approach has proven effective. Moreover, Ricardo acknowledges that effective leadership often requires a supportive team to cover blind spots and weaknesses. At the core of his leadership philosophy are values rooted in honesty, professionalism, and hard work. He understands that his unique abilities come with responsibilities, and he strives to utilize them authentically and ethically in all relationships. In addition to his professional role, Ricardo co-leads a family of four children, seamlessly bridging the gap between business and personal life. Love and care for both his work and the people around him are guiding principles that make him a more effective leader, one who cherishes not just the success of his ventures, but the bonds he creates with everyone who crosses his path.
Defining Success: A Multifaceted Perspective
Ricardo believes that success isn't just about profit margins and revenue figures. Rather, he defines success as a multifaceted concept that encompasses physical and mental well-being. To him, it's about sustaining happiness and taking pride in personal and professional accomplishments. He knows that recognition and financial support are essential for chasing dreams, but true success is when these achievements translate into lasting health and vitality. For Ricardo, it's also about looking around and finding good friends, experiencing the warmth of loved ones, and reciprocating those feelings. At the entrepreneurial level, Ricardo believes that success is reflected in the relationships with co-workers, clients, suppliers, and partners. He understands that a shared vision of success within the team might not always align. Yet, he values and respects the individual choices each person makes on their path to personal success.
A Vision Born from Innovation
Spotnik's story is not one of solitary brilliance; it's a narrative of collective vision. Alongside Ricardo, the company owes its remarkable journey to its visionary chairman, Paras Shahdadpuri, and director, Karthik Moorthy, who have played instrumental roles in shaping the company. Spotnik Technologies was born from a deep understanding of the surging demand for data-driven digital transformation solutions in today's dynamic business environment. As technology evolved at an unprecedented pace, the astute leaders at Spotnik saw a unique opportunity to serve not just local enterprises but also businesses far beyond the UAE's borders. Their vision was clear: to provide enterprises with integrated technology platforms capable of optimizing operational efficiency and revolutionizing customer experiences. The UAE's forward-thinking digital agenda served as a catalyst for their journey, aligning them with the nation's commitment to tech innovation. Under their insightful leadership, Spotnik Technologies has set out to be at the forefront of this technological evolution, delivering innovative solutions that empower businesses to navigate the ever-changing digital landscape successfully.
One of Spotnik Technologies' notable achievements is the introduction of way-finding applications for indoor spaces, greatly improving navigation experiences. However, their true groundbreaking solution is their flagship platform, Smart City Studio Pro, which is designed to address the pressing need for sustainable decision-making dashboards and ESG reporting (Environment, Social, and Governance). What sets it apart is the integration of emerging technologies, particularly Digital Twins. This represents a pioneering approach to ESG reporting, a relatively new domain in business and financial reporting frameworks. "With Smart City Studio Pro, we've ventured into uncharted territory, offering a groundbreaking solution that holds immense promise for businesses navigating the evolving landscape of sustainability reporting and decision-making," asserts Paras.
Paras Shahdadpuri: A SEASONED Pioneer Driving Transformative Change in the UAE
Dubai's strategic location and business-friendly environment were the initial magnets that drew Paras Shahdadpuri to establish and grow his business in the region. His entrepreneurial journey began in commodities trading, where he quickly learned the vital traits of adaptability and resilience, skills that have proven indispensable in the ever-changing business landscape. As he expanded his ventures into diverse sectors, including consumer electronics, FMCG, 3PL Logistics, and Manpower Outsourcing, Paras realized the significance of innovation and relationship-building. These experiences served as a crucible for his entrepreneurial growth, imparting valuable lessons that have guided his trajectory. Today, at the helm of the Nikai Group of Companies, his focus remains on embracing versatility and fostering continuous growth, aligning seamlessly with Dubai's visionary goals. In their tech venture, both Ricardo and Mr. Paras are dedicated to leveraging emerging technologies to drive transformative change within the UAE's digital landscape, contributing to the city's economic evolution.
According to Mr. Paras, Spotnik Technologies was founded to address the growing demand for data-driven digital transformation solutions, providing businesses in the UAE and beyond with integrated technology platforms to enhance efficiency and customer experience.
Karthik Moorthy: The Supportive Pillar behind the Spotnik Operations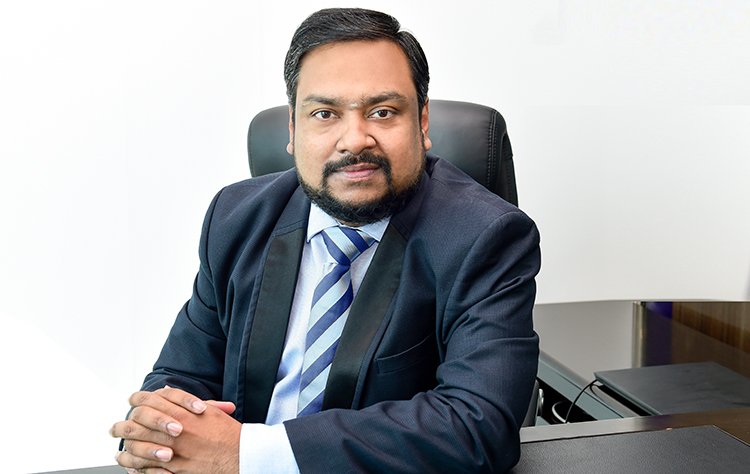 As the Director of Operations at Spotnik Technologies, Karthik plays a pivotal role in the company's pursuits. His responsibilities include facilitating the seamless execution of business strategies, overseeing day-to-day operations, fostering collaboration, and ensuring strict adherence to industry standards. In essence, his role is dedicated to translating visionary concepts into actionable plans, a function that serves as a driving force behind the continued growth of the company and solidifies its standing as trailblazers in the realm of digital transformation. "It's a privilege to contribute to our company's growth and vision alongside Mr. Paras and Ricardo, working collectively to achieve our shared goals and objectives," opines Karthik.
Envisioning A Happier Society and A Sustainable Tech Landscape
When it comes to the future of Spotnik Technologies, their aspirations are ambitious and closely aligned with the UAE's vision for a happier society and the ever-evolving tech landscape. One of their primary goals is to pursue innovative sustainability solutions through technology, addressing pressing environmental challenges and contributing to a greener future. This includes reducing industrial carbon footprints, optimizing resource utilization, and implementing sustainable practices. They plan to collaborate with various industry sectors to understand their specific sustainability objectives, tailoring technological offerings to provide tailored support. "Data-driven insights will be pivotal to our approach, and we will leverage data analytics and IoT technologies to deliver actionable insights that empower informed, sustainable decision-making," shares Karthik.
Their vision also extends to enhancing infrastructure efficiency in smart cities, reducing energy consumption, and improving residents' quality of life. They actively incorporate Environmental, Social, and Governance (ESG) principles into their solutions, ensuring alignment with the broader vision of a happier society and a sustainable tech landscape.