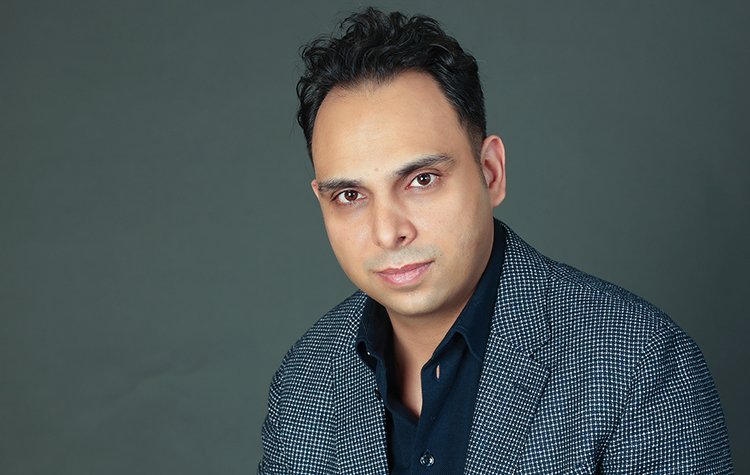 Kaveh Oyar, Co-Founder and Managing Director, Intelligent Devices and Systems – IDS
Success in life depends on the clarity of your vision. Only a clear vision can direct you to exactly what you want to become in your life. It preps you to deal with the unknown and the unexpected that you will encounter along the path to your vision. A clear vision helps to define goals and will guide your decisions. That being said, it is also crucial that you make the most out of your journey as you travel to that vision. It is important to enjoy every twist and turn and learn along the way. Someone who understood the importance of the 'journey' more than the goal itself is Kaveh Oyar, the founder of Intelligent Devices and Systems HYPERLINK "https://www.zoominfo.com/c/intelligent-devices-and-systems-ids/403081342" (IDS). He never backed off from exploring his ways and seized every opportunity that came along his way.
As someone who nurtured the dream of entrepreneurship, Kaveh Oyar always kept an eye out for opportunities to learn and develop new skills. During his college days, he managed to gain experience in administration and PRO jobs even though he was a B.S Computer Engineering Software student (2003). Handling these jobs along with his studies prepared him to manage multiple responsibilities. Eventually, Kaveh Oyar started to program in-house applications. He developed applications for various companies across sectors such as asset management, inventory management, and sales process. Alongside, he also managed to teach a few courses for database and programming in private schools.
The Turning Point
Kaveh Oyar is a perfect example of how a growth mindset can lead a person to a successful future. His enthusiasm to learn new things lead him to a positive turn in 2002 when he got introduced to the world of SCADA (Supervisory Control and Data Acquisition). SCADA is a system of software and hardware elements which is essential to operate most industrial, critical infrastructure and manufacturing organization's assets. The blended discipline of IT (Information Technology) and OT (Operational Technology) is required to bring together a successfully implemented solution while requires combination of different expertise such as computer, electronics, telecommunication, hydraulic, and electric. "The subject was so exciting that it made me take the decision to shift my expertise from programming and data analysis to SCADA," says Kaveh Oyar. He recalls that the shift was challenging as this job demanded to learn on a daily basis and keep updating oneself in order to thrive in that field. Kaveh Oyar kicked off his career as an engineer and from there he slowly climbed the ladder through positions like assistant project manager, project manager, sales manager, business development director, and finally to the managing director.
Kaveh Oyar dedicated over 12 solid years of his career to developing his expertise and spent most of his time participating in and completing many small, medium, and mega SCADA projects in his region. These years became pivotal for his entrepreneurial journey as it was this period that made him the business person he is today. He stays grateful to his mentors, great team of experts, and the knowledgeable people he worked with for all the opportunities they brought for him to challenge, take risks and grow. Kaveh Oyar got the chance to work with many owners, directors, senior managers, engineers, and technicians of various utilities, contractors, and developers in his region and grew to become a name their trust by providing solutions that were beneficiary for their organizations. "After gaining ample knowledge and experience, in May of 2013 I decided to move on and start my own venture to explore new horizons and achieve my dreams," states Kaveh Oyar.
Genesis of IDS
After years of hard work, planning, and preparation, Kaveh Oyar's dream became a reality in 2013 through Intelligent Devices and Systems HYPERLINK "https://www.zoominfo.com/c/intelligent-devices-and-systems-ids/403081342" (IDS). The company traces its origins to the SCADA systems in the electrical and water utilities. It was Kaveh Oyar's far-sightedness and vision for IDS that made this establishment the success it is today. Along with the dedication and commitment of the wonderful people of IDS, the company rose to be in a leadership position as a system integrator, solution provider and consultant in utilities within a matter of years. IDS members are comprised of engineers and business professionals (of multiple disciplines) who are collectively dedicated in providing world-class and superior services with a relentless focus on ensuring clients' goals and objectives are met with utmost efficiency, effectiveness and productivity. With their efforts and support, IDS eventually started diversifying and growing into the fields of manufacturing process automation, IoT, IIoT, telecom, smart cities, and sustainable energy solutions.
IDS is a technology-driven company that always brings together solutions across the spectrum, and delivers the most affordable and effective solutions. The company's genuine approach to their clients has been helping IDS to continue being a success in the market. The company offers a vast range of solutions to different sectors including electrical utilities, water utilities, gas, manufacturing, government and municipalities, sustainable energy solutions, logistics, and inventory. They also offer services to clients starting from project inception processes such as feasibility studies, project charter preparation, and design stage to the execution and commissioning stage. Furthermore, they provide services to clients having an existing infrastructure in all their endeavors such as operations and maintenance, asset management, capacity expansion, retrofits, etc.
"Perfect synergy of ideas, people, and energy can have a huge positive impact on transforming businesses and uplifting lives of people. I am proud that the IDS is providing a platform for such synergies to thrive," Kaveh Oyar affirms.
A Team That Makes Everything Happens
Kaveh Oyar owes IDS's continuing successful voyage to his team who triumphantly secured partnerships with reputed OEMs within the first few years of the company's inception. With their strong expertise in integration IDS managed to deliver solutions to major clients in their region. Another unique aspect of the company is their approach to proactive opportunity creation. Once IDS partners with solutions providers, they approach the right clients and customers for presenting the solution to generate leads. In addition, they also do the POCs and pilot projects if required.
The company's backbone is its qualified set of professionals who possess strong project management skills. The team specializes in the execution of small to large turnkey projects from the preparation of project charter, conceptual designs, feasibility studies, FEED (front end engineering design), and engineering to procurement, manufacturing, testing, installation, commissioning, and servicing. In addition, IDS also helps to add efficiency to maintenance processes by helping the industries to migrate from time-based maintenance to condition-based maintenance.
IDS is the kind of organization that always put effort into nurturing talents. This initiative has rewarded them with a wide range of certified professionals across industry roles like business developers, project and program managers, tendering and procurement managers, software developers, electrical engineers, telecommunication engineers, IT engineers, automation engineers, site execution engineers, etc. Their collective attempts have helped the company to be the trusted partner for their clients and in all their projects, operations, maintenance, expansions, feasibility studies, etc. Kaveh Oyar also appreciates the technical and marketing collaborations IDS has had with a few of the leading names across the globe, which have immensely helped the company to maintain the leadership position they enjoy in the industry today.
The visionary in Kaveh Oyar plans IDS to diversify their business and to focus more on emission-free technologies, alternative energy, and smart solutions. He intends to be part of and play a vital role in the digital transformation journey of the sector. Moreover, IDS is always in a constant pursuit to improve their client satisfaction. Going forward, IDS will also be expanding their business outside GCC and primarily onto North and West Africa.
A Piece of Advice to the Next Generation
According to Kaveh Oyar, once an entrepreneur develops a vision, they should cultivate the courage to take risks in order to achieve what they have envisioned. "Surround yourself with the right people in the subject matter and remember to follow the ethics of business," advice Kaveh Oyar "No matter what, one should not deviate from the business principles and its ethics,". He reminds that being patient and persistent is the key to getting where one wants to be.
Kaveh Oyar believes a leader should practice gratitude, empathy, and respect and possess traits like integrity, self-awareness, courage, and inspiration. They must have good communication skills, flexibility, learning agility, the ability to delegate, and should be influential. "A leader is someone with a vision who is smart enough to make that vision come true through strategic and critical thinking," Kaveh Oyar concludes.