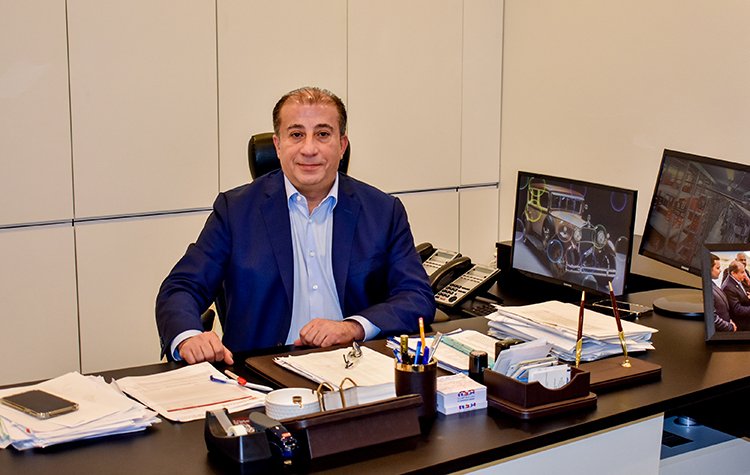 Bassam Hamshari, CEO, THE NATIONAL SPARE PARTS CO. W.L.L
To be consistently successful in life, first, we have to fall in love with the work we do. It's this passion that gives us the inspiration to overcome hurdles and move forward. The CEO of THE NATIONAL SPARE PARTS CO. W.L.L, ALGHANNAM GROUP, Bassam Hamshari's growth as a stalwart businessman holds a mirror to this innate truth of life. National Spare Parts Company (NSP) was founded in 1958, by Hamshari's father Lt. Mr. Naji Hassan Saleh Hamshari in partnership with Alghannam Group and It's incorporated in the year 1962.Peeling back to his childhood days, since then, Bassam took an avid interest in the nature of the business they were in, which primarily dealt with selling spare parts for American Cars.
Unlike other kids of his age, who would love to spend their vacations exploring the Arabian pearls, Bassam used to visit their company on holidays and spend hours in their warehouses and sales counter watching and meditating on the Folk Lift operations, warehouse activities, and environment. It is his passion, inquisitiveness, and curiosity that kept him engaged for hours in the otherwise lackluster factory environment. So, the seed of entrepreneurship was already planted in his young mind, and in 1988 Hamshari joined his father's company as a sales person and continued to work for 2 years in this position. During this period Hamshari worked in all departments and understood more about the overall activities of the firm. In the beginning of 1990 Hamshari stepped in to the position of General Manager.
Eventually, in the next year 1991, he was promoted to the office of Deputy C.E.O, and later in 2019, after the demise of his father, Bassam secured his position as the CEO of the company. Since his initial days to date, Bassam carried out his duty with utmost integrity, dedication, and responsibility, which upheld the values of NSP creating a legacy of serving the nation for a period spanning over 60 years.
Award-winning services
Being a businessman to the core, Mr. Hamshari has deftly handled the overall operations of the company with an equal amount of expertise and enthusiasm. The departments known for bestowing specialized services are:
Imports Department: Mr. Hamshari maintains a highly efficient team that reviews import requirements on daily basis; sends QTN inquiries to different suppliers, verifies stock positions, and only after the inquiries are carefully reviewed by Hamshari, the orders are placed with the vendors.
Sales Department: Sales plays an integral role in business. At NSP, Mr. Hamshari works with a team of highly talented sales professionals, experts both in Wholesales and Retails sectors. They have dedicated departments for govt. orders. After evaluating the orders, he gives the necessary instructions to augment sales volume and improve their performance level. The entrepreneur assigns topmost priority to his client's requirement, for which even during emergencies he accepts orders of rare items and makes sure that those are brought on time by DHL.
Warehouses: NSP boasts of its robust infrastructure that consists of 3 spacious warehouses, capable of holding a huge stock of inventories in a systematic manner that could be easily accessible. Spare parts imported from different countries through container shipment are received only after proper inspection. Any discrepancy in the order is immediately notified to the vendors.
Accounts: Managed by a well-experienced team of accountants NSP displays clarity, transparency, and timeliness in maintaining accounts and paying off dues to its vendors, local and international. He engages professional firms for auditing, which is finally cross-verified by Mr. Hamshari regularly.
IT Department: Adaptability is the key to success in a diverse workspace. NSP is equipped with a very strong and up-to-date IT unit that aids the smooth functioning of the business unit by facilitating coordination among all the departments. Mr. Hamshari works in tandem with the latest technology available and trains his people to adopt necessary changes, as required.
Market Research: The exclusive marketing strategies derived from in-depth market study help him gain an edge over his competitors, achieve milestone success, and thereby reign supreme in the global automobile industry of selling spare parts for American cars.
Classified products line
NSP specializes in selling all kinds of spare parts, exclusively, for American cars like FORD, GM, and CHRYSLER.
Items are sold in 2 broad categories, GENUINE PARTS, and AFTERMARKET BRANDS.
Genuine parts incorporate the brands like FORD,GM, AC DELCO, MOPAR, and MOTORCRAFT,
Aftermarket brands Comprise Mahle, Federal Mogul, Sealed Power, Champion, Moog, Gabriel, Brembo,
Felpro, Wagner, US Motor Works, TYC, Cardone, WAI, SH, American OEM etc.
The company offers spare items and accessories of distinguished quality to satisfy the discerning needs of its huge client base and give them the power-packed experience of riding an American car. Their extensive range of products includes Bumpers, Fuel pumps, Cooling Products, radiators, condensers, AC compressors, engine parts, Brake products, Lamps , Mirrors, Shocks etc.
USPs
Ranked among the largest automotive companies in Kuwait, NSP brings you a wide array of top-class services and spare parts from internationally reputed brands helping its clients to choose among different qualities and prices.
The 3 grand warehouses spread across one head office at Shuwaikh and two other branches ensure safety in the storage of goods.
Items are received in container shipment, ensuring full security of goods in carriage and transportation by sea freight.
For Bassam Hamshari, customer satisfaction is of paramount importance and he views his success through their lenses. Their reviews become his advertisements and their feedback helps him improvise and improve his business ideas and strategies. This helps him gain the highest level of trust in the industry.
A culture that gratifies passion
As a true leader, Mr. Hamshari believes in making a team of leaders capable of handling challenges. He trains and motivates his employees to take important business decisions. He involves each of his employees in his mission and treats them like his family who is motivated to think and act like their captain. Like the head of the family, he cares for every employee and helps them even at a personal level. In his opinion, a good work-life balance, mutual trust and support, recognition of efforts, and freedom in thoughts and actions are the essences of a sound organizational structure, where every member can thrive and sustain throughout their life. Mr. Hamshari inspires his staff members, clients, and beneficiaries in their endeavors and makes them feel trusted and secure at NSP. The leader proudly proclaims "Most of the employees are very experienced and skillful in each of their fields. We have 3 employees with more than 40 years of service. So you can understand how employees love our organization."
Above-board leadership style
Through their inspiring vision, a leader influences and drives his followers to his goal. Bassam Hamshari, throughout his journey as a benevolent leader, has set an example of a distinct leadership style that encapsulates the human facets of moral support, empathy, integrity, courage, self-respect, gratitude, and focus on developing others. To quote his words, "the most successful leaders can adapt to the needs of different situations, employing their diverse set of leadership skills to achieve their goals." His perspectives on leadership speak volumes of his position as an undisputed leader of his genre. In his words "A good leader takes a personal interest in the long-term development of their employees, and they use tact and other social skills to encourage employees to achieve their best. A great leader's unique achievement is a human and social one that stems from his understanding of his fellow workers".
Mission and Vision
As one of the top-rated organizations in the world, NSP anticipates the mission and vision of its leaders of 'gaining long-term customer and associate trust, as well as establishing quality business relationships with partners'.
Through continuous expansion of vendors, responding to market demands, and meeting customer needs, Mr. Hamshari champions world-class services, and products to its customers, local and abroad, through the best brands (Genuine and Aftermarket parts for American cars) at competitive prices. They aim to provide abundant supplies of rare and unique spare parts for American Cars. They also offer after-sales services like warranty etc.
The way ahead
The visionary behind this blistering growth of NSP, Bassam Hamshari, is determined to further illuminate the trailblazing career of NSP by spearheading this legacy of great work, where he has established himself as the torchbearer for millions of budding entrepreneurs, leading them forward through his impeccable style of entrepreneurship.