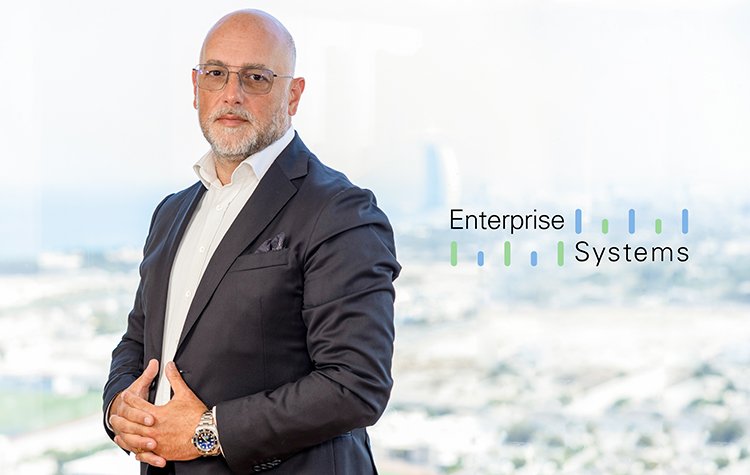 Pouya Parsafar, CEO, Enterprise Systems Trading LLC
A great CEO possesses a unique blend of qualities that sets them apart from the rest. They have a clear vision for their company and can effectively communicate it to stakeholders. They possess a strategic mindset that allows them to navigate through changing market conditions and make bold decisions that drive their company toward success. Furthermore, they are effective leaders who inspire and motivate their teams to achieve the company's goals. Above all, a standout CEO leaves a lasting impact on their company, industry, and society. They are innovators who challenge the status quo and drive change. They are trailblazers who lead by example and inspire others to follow in their footsteps. They are visionaries who imagine what the future could be and dare to make it a reality.
One such prominent and decorated CEO with a rich and diversified experience of more than two decades is Mr. Pouya Parsafar, the CEO of Enterprise Systems Trading LLC. Since its inception in 2012, Enterprise Systems has been dedicated to enabling its channel partners with networking, convergence, mobility, and security solutions for their enterprise clients across the region. The company's focus on providing cutting-edge Huawei networking solutions to system integrators across the UAE has led to its success and continued growth. Parsafar's leadership has been a driving force behind the company's journey, and his expertise has been vital in navigating the ever-changing landscape of the technology industry.
"Our success is a testament to our commitment to delivering high-quality products and exceptional customer service for system integrators, providing them with the latest technological solutions to help them stay ahead of the competition," states, Mr. Parsafar.
Under the visionary leadership of Mr. Parsafar, Enterprise Systems Trading LLC has become a trusted partner and leading value-added distributor in the Middle East. Leveraging a strong relationship with Huawei, the company offers a comprehensive range of cutting-edge networking solutions, including switches, routers, servers, data centers, and storage facilities. With a focus on providing exceptional customer service and technical support, Enterprise Systems has earned a reputation for delivering innovative solutions that meet the evolving needs of its enterprise clients.
As the CEO, Mr. Parsafar shoulders the critical responsibility of spearheading the growth and profitability of the company. He is actively involved in developing and executing strategies that enable the organization to stay ahead of the competition. Mr. Parsafar is also focused on building and maintaining strong relationships with customers and partners by delivering innovative products and exceptional customer service that drives value for their businesses. Additionally, he prioritizes managing the team and ensuring they have the resources and support required to deliver on the company's commitments to customers. Mr. Parsafar's unwavering commitment to leading Enterprise Systems to greater heights of success in the years ahead is a testament to his dedication and leadership abilities. 
Engaging Target Audience
Enterprise Systems Trading LLC's primary focus is on providing value-added services to system integrators in the UAE. These integrators work with a broad range of clients across various sectors, such as government, hospitality, education, healthcare, retail, and manufacturing, to name a few. To meet the specific needs of each industry, system integrators offer tailored solutions that can optimize operations, improve service delivery, and enhance customer satisfaction.
Enterprise Systems recognizes that end-users require reliable, secure, and scalable solutions that can help them increase efficiency, reduce costs, and elevate the customer experience. As a trusted partner to system integrators, Enterprise Systems provides them with cutting-edge Huawei networking solutions, including switches, routers, servers, data centers, and storage facilities, among others. These solutions enable system integrators to deliver innovative and effective technology solutions to their clients, allowing them to stay ahead of the competition.
In the face of this opportunity, Enterprise Systems has established itself as a leading player in the UAE's IT market.
With Mr. Parsafar at the helm, the company has achieved remarkable success in delivering cutting-edge technology solutions from Huawei to the UAE's system integrators. This success can be attributed to the company's unwavering commitment to delivering innovative and customized solutions that meet the unique needs of each industry. As a result, Enterprise Systems has earned the trust and loyalty of its customers, who continue to rely on the company for their technology needs. With a bright future ahead, Enterprise Systems is well-positioned to lead the way in driving digital transformation across the UAE's various verticals.
Enterprise Systems' technical capability is a significant differentiating factor, as their team comprises 10 highly qualified engineers who hold over 130 technical certifications and possess more than a decade of experience in Huawei solutions. This technical team provides exceptional technical support to system integrators, including pre-sales and post-sales support, proof-of-concept demonstrations, technical support, training sessions, and professional services. All of these services are provided with exceptional quality at a highly competitive price, making Enterprise Systems a go-to partner for system integrators in the UAE.
Creating a Great Passionate Team
Mr. Parsafar affirms, "Our mission is to enrich the lives of our community beginning with our employees by providing a nurturing and empowering environment where each individual is free to express, develop and pursue their unique skillset, all the way to our entire ecosystem consisting of our vendors, business partners and most importantly our valued customers."
The team at Enterprise Systems upholds a strong set of values, driven by ethics, integrity, respect, dedication, professionalism, teamwork, community, and transparency. They believe in a lifetime of learning and development, both professionally and personally, with the ultimate goal of driving sustainable growth for generations to come. With a culture of continuous improvement, they strive to provide exceptional service to their customers and partners, while fostering a positive and collaborative work environment for their team of highly qualified and certified engineers.
Mr. Parsafar emphasizes the importance of building long-lasting relationships with customers through a focus on providing guidance, excellent customer service, and delivering quality products and services. He believes in building personal relationships with customers, being responsive, communicative, flexible, adaptable, and rewarding loyalty. According to him, these values are essential in creating a strong bond with customers and in fostering trust and confidence in the products and services offered by Enterprise Systems.
Leading from the Front
Mr. Parsafar believes that good leadership is multifaceted, involving several key elements, such as having a clear and compelling vision, excellent communication skills, empathy, integrity, honesty, transparency, and a commitment to ethical behavior, as well as strong decision-making skills, adaptability, and accountability. To lead diverse teams, a leader must be sensitive, respectful, and appreciative of the unique talents, experiences, and perspectives of team members. Mr. Parsafar emphasizes that a leader can achieve this by building trust, creating a safe and inclusive environment where everyone feels valued and respected, encouraging open and honest communication, and actively listening to the concerns and ideas of all team members. Celebrating and leveraging the diversity of skills, experiences, and backgrounds within the team can create a strong and effective team. Providing training and resources to help team members develop their skills and abilities, regardless of their background or level of experience, is essential. Finally, addressing conflicts or misunderstandings fairly and respectfully, taking into account the different perspectives and needs of all team members, is crucial.
Mr. Parsafar, an entrepreneurial leader, is committed to expanding Enterprise Systems' reach regionally and eventually globally. He believes that reaching out to new markets and increasing the company's customer base will not only generate more revenue but also increase profitability. Additionally, he is excited about the prospect of adding new brands to the company's offerings to support the growing needs of clients, system integrators, and end-users. This will enable them to stay ahead of their competitors and benefit from the latest technology solutions.
Mr. Parsafar's enthusiasm for technology extends beyond the business realm. He is also excited about the increasing use of technology in everyday life, including the rise of artificial intelligence, the Internet of Things, and other advanced technologies. Working with Enterprise Systems, Mr. Parsafar is exploring new ways to leverage these technologies to create innovative products and services that can enhance people's lives.
Enterprise Systems and its employees prioritize sustainability as a core value in their business operations. By implementing eco-friendly practices and reducing their carbon footprint, they not only attract environmentally conscious customers but also contribute to the global effort to reduce the negative impact of human activities on the planet. Mr. Parsafar and his team believe that a sustainable future is critical to the long-term success of their business and to the well-being of the communities they serve.
"I am excited about seeing my employees growing and succeeding in their careers, enhancing their families' lives, and the overall positivity and aspect of gratitude we all collectively feel here at Enterprise Systems. And who knows, being able to hand over the company to my son, Yasha Parsafar, one day would be the true pinnacle of my life, not only as a CEO of Enterprise Systems but as a father too. I know he would lead this company with his kind heart and sharp business acumen, to new heights," concludes, Mr. Parsafar.