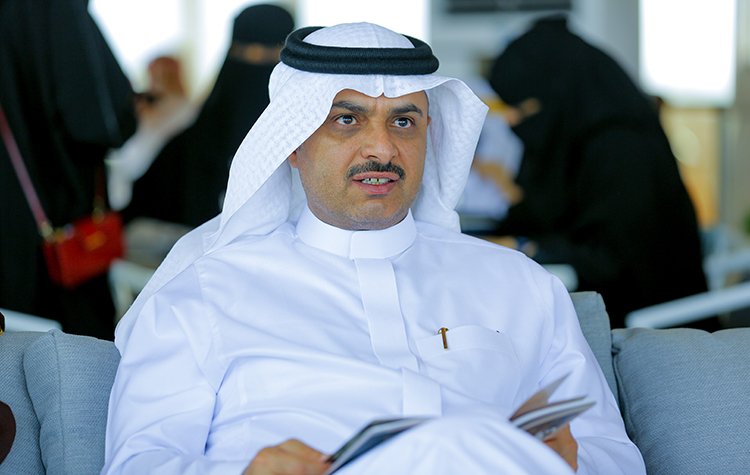 Hassan AlShamrani, CEO, The United Motors Company
It is a widely known fact that our life is a concoction of joys and sorrows; where we must find poetry in every shade and celebrate life in totality. Similarly, in business, to survive in all prospects, an entrepreneur must be able to foresee and promise a new age of hope and happiness, amidst the epoch of incredulity and disbelief. Today our story surrounds the life of an enlightened visionary, an entrepreneur, who with his insightfulness and wisdom was able to hit the purple patch in his career even when the entire business world shrinks under the blitz of uncertainty and gloom posed by Covid-19.
The CEO of the United Motors Company, Saudi Arabia, Hassan AlShamrani was delighted to find happiness in overcoming an unparalleled slew of challenges at the pivotal point of his career. Covid, with its enormity, could not disappoint and distract him; rather it gave winds to his sail and while the other entrepreneurs resorted to downsizing their businesses, Hassan was able to raise its market share to a considerable volume in the automotive sector in KSA. By the time the situation was under control, the entrepreneur with all his vehemence and determination focussed on expanding its portfolio, acquired the KIA Brand in Western, Northern, and Southern regions of KSA, and to handle its operation, he launched a new organization NMC. This changed UMC's status from a single entity to a group of companies. Unsatiated in his mission, Hassan successfully pitched and secured the dealership of another brand, Jetour, for which he set up NMS. Finally, in 2021, UMC group collaborated with a well-known Bodyshop & Service Company, FIX Auto and this added GMC, to its list of subsidiary companies.
During its journey spanning over 30 years, UMC has gone through many vicissitudes that have strengthened its position as one of the biggest and fastest-growing automotive companies in KSA. However, during 2021, under the proud mentorship of the CEO Hassan AlShamrani, UMC emerged as the most diversified business group, distributing multiple products of four distinct brands.
Why his USP matters the most?
Entrepreneurship is the daunting task of uncovering and articulating your unique selling ideas that can leave a deep impact on your customers, marketing campaigns, and lead generations. Hassan, with his exemplary set of services, has been able to set a benchmark of growth and versatility in business. Mellowing his contribution to the business, the leader attributes his success primarily to his host of professional and experienced workers, who with their uninterrupted dedication to purpose, engineering prowess, and out-of-box thinking ability have been able to live off the edge in providing clean, connected, and cutting-edge mobility solutions to its customers.
The entrepreneur brings forth their unswerving commitment to duty as the leading factor that puts them much ahead of their competitors, in terms of timeliness and technology. It is this passion that fuels the process of UMC's continuous growth and development. Being a businessperson to the core, Hassan places his customers at the highest citadel where their satisfaction is his only motto. Thus, at UMC, he leverages the best available resources to produce superior quality products that could guarantee the highest value for money.
Entrepreneurship is never a one-man show; it is always a team of people constantly working behind the successful accomplishment of a business plan. For Hassan, it is his partners, their investment, guidance, and trust, which helped UMC gain the strongest competitive advantage in the business and elevated it to a greater height.
Another predominant factor that makes UMC stand out of the crowd is Hassan's impeccable style of management, which runs on a unique blend of autocratic and democratic styles of leadership. Unlike the exclusive autocratic form of administration adopted by a majority of businessmen, hybrid system of governance like this enhances group solidarity and fosters 'inclusion' as a crucial aspect of a thriving business house.
Nurturing Brand values
Brand values are defined by a set of unique and authentic set of attributes that play an integral role in building a deeper connection that turns one-time customers into loyal ones. While much of Hassan's success as the CEO stems from his breakthrough technologies, constant innovation, and attention to customer needs, his No. 1 spot can be attributed to his leadership styles, high ideals, and human-centric values. The CEO sets high-end principles at UMC as the bottom line that helps him sustain all vulnerability and volatility during his journey. His value encompasses loyalty and honesty, proactivity, competence and compliance, and in-depth knowledge and experience. Being a compassionate leader, Hassan attaches much importance to the employees' contribution and recognizes their group effort through rewards and appreciation. As the leader of a people's organization, at UMC, Hassan ensures a peaceful yet progressive work culture where every member works harmoniously as a family member and has the opportunity to grow and succeed in his domain.
Win ning culture of UMC
The internal culture of a company should be such that it serves as a 'glue' to integrate all the members of the organization. The in-house culture of United Motors Company is designed to promote the strong values of the company that entices prospective candidates and retains top talents. While cultivating the brand value of UMC, the CEO makes sure to align his ideas with the 2030 vision of the kingdom that appreciates chanTges in the talent market. As a visionary, Hassan aims at holistic growth and development of the organization for which he works in close affinity with the reforms and advancement policies undertaken by the government of Saudi Arabia. In the words of the entrepreneur, "UMC Group have managed to establish a balanced culture, one which follows adhocracy when an opportunity presents itself, while our operations maintain a customer-focused culture but the Group entirely, including all its companies, has a hierarchical culture." Such a strong work culture induces the spirit of cohesion and connectivity among the workers and brings about a visible change in the employees' level of engagement, productivity, and performance.
Forthcoming venture and message to young aspirants
Five years from now, the CEO is all set to explore and exploit the treasure house of possibilities that UMC has in store for us. Positioned at the top echelon of the company, Hassan considers it his privilege to judge, and foresee the prospect of his company, while he is resolved to take it to the penultimate point of glory and success.
Sharing his piece of mind with the future CEOs, Hassan throws light on the sublime duties of a CEO, and his invaluable advice to his successors project him as one of the finest entrepreneurs of his time. In his view, even the minutest aspect of things can lead us to major conclusion. Therefore, a leader should learn from every little thing, for him every detail counts, however insignificant it might appear. Thus, the entrepreneur insists, "For any leader to be successful, they shouldn't underestimate the importance of any piece of information, no matter how minor it may seem, and the most crucial thing to focus on as a leader is the optimal utilization & retention of capable and competent employees".