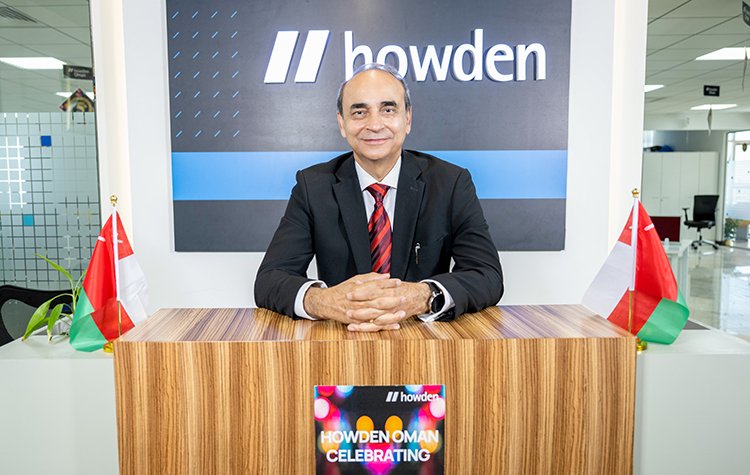 Rajiv Arora, CEO, Howden Insurance Brokers LLC
Our story today revolves around the life of a man who envisioned change in the insurance industry and reimagined a new culture in insurance broking sector in Oman. He is none other than the veteran insurance expert, Mr. Rajiv Arora, the visionary, and CEO of Howden Insurance Brokers LLC Oman. The one idea that encompassed his profession, his accomplishment, and his genius was empowering the lives of the Omanis by leveraging the power of insurance.
Mr. Arora started his career 35 years back and had the privilege of working with some eminent international companies like New India Assurance, Norwich Union, AXA, Al Ahlia & RSA, and Global insurance broker Heath Lambert in India & Middle East, until he joined Howden Broking Group Oman in 2017. Here he got a scope to explore this industry, thoroughly, across all the verticals, and gained a greater insight into the potentialities, depth, and knowledge, and the complexities and vulnerabilities that belied the trustworthiness of the insurance sector.
However, Mr. Arora was perpetually driven by an innate passion to curb impossibilities, eradicate ignorance and implement trust in this business. He believed it is only through hard work and knowledge one can dispel the cloud of ignorance and obscurity. He updated his domain knowledge and acquired two most prestigious degrees in insurance industry. Fellowship from the Insurance Institute of India and Chartered Insurer from Chartered Insurance Institute, United Kingdom. Such was the zeal to position himself as a highly accomplished professional in this sector, that Mr. Arora ,whenever he had the opportunity attended every seminar and workshop with unabated enthusiasm and sincerity and kept himself at par with the latest skills and technologies of the market.
As the best should always come to the most deserving, he did not have to wait too long for the opportunity- a word of inspiration from his wife spurred the spirit of entrepreneurship and he seized the offer of being a part of Howden Group when they were looking to set up the operationsin Oman in 2017. This set the stage for the most exciting journey of entrepreneurship.
Unleashing possibilities and making a difference at Howden Insurance Brokers LLC
Mr Arora believes that , insurance is just not an annual reminder of renewal of a policy covered in papers; it transcends much beyond. So, more than winning a client's business, Mr. Arora is much inclined towards building an everlasting relationship with the clients. The CEO, along with his highly competent multidisciplinary team of professionals at Howden Insurance Brokers LLC has proved this with intensity, efficacy, and acumen.
Under the aegis of the CEO, Howden Insurance Brokers LLC underwent a complete overhaul of its business. With the sole objective of becoming the top-rated insurance broking group in Oman , the CEO aimed at leveraging the right mix of talents, technology, and resources. He established Howden Insurance Brokers LLC as a joint venture company in partnership with Sheikh Saad Suhail BhawanOTE Group and Howden Group UK and), an initiative that further enhanced and strengthened the employee-owned structure of Howden.
To meet the discerning needs of his new-age customers, the CEO has optimized insurance broking to the best advantage of his clients. Mr Arora has been instrumental in bringing clarity and transparency to the creation, administration, and distribution of insurance. Here, the entrepreneur brings to the table a wide range of comprehensive, bespoke, and technology-oriented solutions that cover the areas of Insurance broking ,& consulting, risk management, portfolio management, , and claims management. With recognizable expertise in Financial Lines, Construction, Property Insurance, Motor, Liability, and Employee benefits insurance products, the company caters to an extensive range of SMEs and Corporates across Financial Institutions, Marine, Oil & Energy, Aviation, Retail, Hospitality, Construction, Manufacturing, and Infrastructure industries.
Values augmenting success
Staying on top through excellent customer service and seamless insurance solutions has been the only mission of Howden Insurance Oman , since inception. Since it started operations inJan 2018 in a short span of just 5 years, the company has carved a niche in the insurance industry by offering specialized insurance broking services backed by innovative technologies and international capabilities. Aside from their exemplary services and unique range of products, their invaluable and distinct corporate culture surrounding the 4 key principles enables them to stand out of the crowd and create a diaspora in the insurance business.
People First principle: As the head of an employee-oriented organization, Mr. Arora strongly believes in the success of his employees. In his experience, the strong foundation of an organization primarily rests on a robust workforce. So, at Howden, the leader unwinds every learning opportunity for his people. There are Howden Cyber Academy, CMA training programs, and Global Employee Benefits Academy where employees can upgrade their skills and enhance their performance. He gives them space to work and grow independently, which in turn benefits his clients.
Proudly Independent: The company is proud of its employee-owned structure, where 35% of the shares are held by the employees. Being an independent entity, the company is not listed on any stock exchange. This gives them the liberty to choose strategies and perform at the highest level and in the best interest of their clients.
Technology-oriented: The CEO is on the lookout for maximizing value for his customers as well as society. Considering the disruptive technologies of the age, the entrepreneur has amplified the need for a transformative and digitalized system. For this, he has introduced data-driven technology that comes with maximum risk-handling capacity, while making optimal use of global resources.
Finally, the company works on a power-packed combination of the knowledge of a specialist broker, the agility of a start-up, and the scale and experience of an international organization. This unique combination gives them speed, scale, and satisfaction and helps them set a benchmark of a world-class performance bestowing simplicity and reshaping the future of the clients.
Why He matters?
A leader can inspire millions, navigate their thoughts, and transform a nation, with the power of his noble vision. As the CEO of Howden, Mr. Rajiv Arora exhibits an exalted style of leadership, where he induces "100% commitment backed by 100% efforts with honesty". As a leader, he stresses clarity in thoughts, unwavering loyalty to purpose, and an indefeasible faith in himself, transpiring his vision into reality. It requires a good deal of patience, guts, and courage to succeed as a leader of a group that comprises members from diverse cultural backgrounds, especially in the Middle East. Mr. Arora, being a judicious leader par excellence, embraced this challenge with a lot of enthusiasm, vim, and vigour. He conducts various employee engagement programs and engages all his employees in various activities like Townhall Meetings, Coffee with the CEO, Employee of the quarter, etc. Such group activities help in promoting group solidarity, dissolve differences, bind them together, and enable them to build a rapport with the employer.
Transparency, as pointed out by the leader, plays a very crucial role in building trustworthiness among the employees, which steers them into action. He sets clear objectives, draws up plans, and communicates his ideas in clear terms to his people. He believes that a good leader must walk the talk and chart a new path for his followers.
Being a compassionate leader, Mr. Arora sets up an autonomous workspace, where workers enjoy liberty in thoughts and actions. He encourages his team to implement their innovations, appreciates their efforts, andwelcomes their strategies and methodologies across all projects.
The CEO sets the direction, and delegates power, but never imposes it on his employees. More of a mentor, Mr. Arora prioritizes inclusiveness over authoritarianism, trusts his employees, boosts their morale, and motivates them to do their best with integrity, honesty, and dedication. His leadership outlook could be paraphrased in his own words, "It's like in a boat race, to win the race all 20 people on the boat must row at the same pace, direction, and rhythm, supporting other members of the team." A true leader is never obsessed with reaping benefits from his employees but stands by them through thick and thin and helps them sustain even when the chips are down.
Thus, as the CEO and leader of Howden Oman, Mr. Arora plays an integral role in paving a new roadmap to business, enhancing productivity, enriching lives, and empowering the nation.
What is success?
Mr. Arora's idea of success defies the commonly accepted notion. The leader connects success more to one's mental stability and maturity of perception. For him, success is something that brings smile on our face. So, he insists that true success lies not only in collecting the best pearls; it alludes more to the joy of riding the waves and taking the plunge, fearlessly.
For the leader, success connotes the idea of acceptance, where we must be prepared to embrace our failures, learn from our mistakes, and leave no stone unturned to explore every opportunity that crosses our paths. As a corporate chief, his success lies in seeing the happy faces of his employees and clients and this justifies the legacy of a true leader.
Way ahead
In the upcoming years, the CEO vows to continue the saga of his good work and aspires to secure his position as the visionary leader in insurance industry in Oman. In the next 5 years, Mr Arora envisions a business that would project the ingenuity of their culture, and uphold their values of creating excellence, where people can thrive happily. Mr Arora is looking forward to augmenting his business by enhancing local talents. As a part of their service, he is keen on bringing specialist insurance knowledge to all customers, challenging the status quo for the benefit of the clients, and building a sustainable business.
Sharing nuggets
His illuminating presence in the world of business is itself a blessing for us as well as for millions of business aspirants. With his resolute determination, steadfast commitment, and unswerving passion for duty, Mr. Arora has created a precedent, which led us to believe that nothing is impossible if we hold on to our belief, and work with integrity. While sharing his pearls of wisdom, alongside gaining knowledge and upgrading skill levels, the leader, zeroed in on the virtues of hard work, patience, and perseverance. His words exude the never-compromising spirit of a leader, "Most of the insurance policies have an anniversary date, so if you miss an opportunity this year, you will get to see it again in 12 months!… Enjoy what you do and the extra effort you put into your work will never be a burden!"