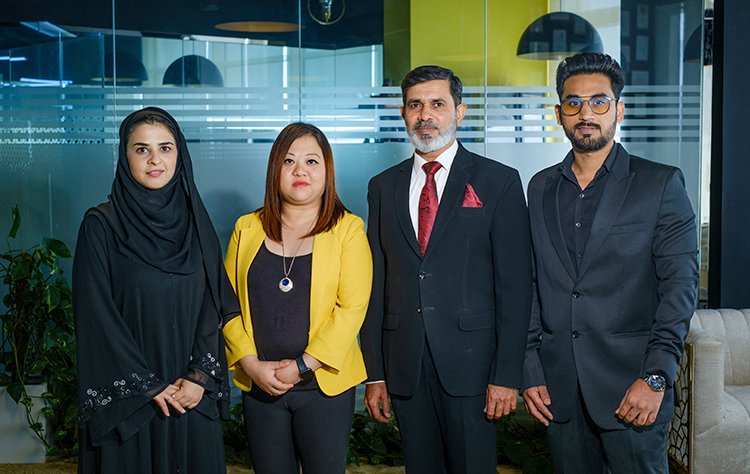 Aarti Mahajan, CEO , B2C Solutions
"A company is only as good as its people." This simple yet profound statement underscores the paramount significance of bringing the right talent on board. In today's fast-paced and ever-evolving business landscape, finding and hiring the right talent has become an essential pursuit for companies striving to maintain a competitive edge. The very success of a business hinges on its ability to attract, retain, and empower individuals who are not only qualified but also possess the skills, and cultural fit necessary to drive their organizations forward. 
However, finding talent that not only meets precise job specifications but also aligns with your company culture and possesses a genuine passion for the industry, can be challenging and time-consuming. It demands astute judgment, thorough screening, and an intricate understanding of industry trends. This is where B2C Solutions, a premier outsourcing and staffing company in Qatar, comes into the picture.
B2C's illustrious journey spans a decade, in the vibrant city of Doha with a vision to empower organizations in their quest for excellence by connecting them with the perfect individuals to drive their success. Keeping this vision at the core, the company has been catering to the diverse manpower needs of various business entities, making a profound impact on the lives of individuals while forging extraordinary relationships between organizations and their human assets. While its initial focus revolved around the Health Business Sector, the company's boundless determination propelled it into diverse industries, establishing itself as a trusted partner in sectors such as Aviation, Insurance, Telecommunication, Banking, Hospitality, Government Institutions, and even the Transport service sector. Offering a wide range of services such as RPO, Permanent Staffing, Contract Staffing, Event Staffing, Head Hunting, Payroll Outsourcing and BPO services, today it stands tall as the go-to name for diverse client requirements under one roof.
Going Beyond The Mere Skills Listed On Paper
As a firm believer in Human Capital, B2C is dedicated to delivering unparalleled outcomes for its valued clientele. At the heart of its approach lies a deep understanding of its customers' needs. "We recognize that each individual has a unique story, far beyond the mere skills listed on paper, and strive to uncover the reality behind that narrative, evaluating talents through on-the-job assessments and rigorous system evaluations," emphasizes the Recruitment Specialist at B2C Solutions. To provide unmatched sourcing strategies, B2C Solutions utilizes a range of powerful techniques. It conducts professional career analyses and skill assessments, aligning candidates' desires, values, and professional interests with the perfect opportunities. It goes the extra mile to understand what motivates and discourages individuals in the workplace, ensuring a seamless transition that fuels success.
Key Elements Fuelling B2C Growth and Success
B2C Solutions has established itself as a true trailblazer in the industry, setting the bar high with its unparalleled expertise, innovation, and client-centric approach. "In today's competitive world where failure is a taboo, we emerge as a beacon of assurance for our clients in terms of promptitude. We let our clients take a breather, while our experts work on the specifics, freeing them to focus on the core aspects of their businesses," affirms their Business Head Khurram. Versatility is another hallmark of B2C. It provides an array of resources that help organizations reach new heights – be it a diverse and skilled workforce comprising over 20 nationalities, catering to 36 languages or a dynamic management team that brings a wealth of experience and innovative thinking to the table.
Besides this, at the core of B2C's excellence lies an unparalleled connection to the market. With an extensive network and access to industry news and trends, B2C stays ahead of the curve, leveraging social media platforms to reach potential job seekers and remain at the forefront of the industries they serve. Through constant communication and a dedicated client-facing team, B2C provides clients with valuable market insights and updates, fostering a partnership that drives shared goals. The company also offers tailored solutions that seamlessly integrate with each project's unique requirements. "Recruitment is undoubtedly a critical aspect of any organization's success, and B2C takes pride in assuring timely and cost-effective recruitment solutions, with fast turnarounds," adds Khurram.
Delivering Excellence Against All Odds
Leveraging a wealth of industry experience spanning over 9 years, B2C has emerged as Qatar's leading sourcing and staffing company. Its journey has been one of transformation, shaped by the crucible of time and tested by formidable obstacles. From navigating the turbulent waters of the GCC Blockade to weathering the storm of the pandemic, B2C has not only survived but thrived in the face of adversity. A defining moment for the company came during the momentous FIFA World Cup when the world turned its gaze towards Qatar. With immense pressure and an unprecedented volume of work, B2C rose to the challenge, deploying over 2500 skilled workers within an incredibly short timeframe. Their commitment to excellence and unwavering dedication ensured the resounding success of this historic endeavour, establishing B2C as an indispensable contributor to the triumph of the World Cup.
Even in the face of the global pandemic, which brought unprecedented disruption to businesses worldwide, B2C refused to be deterred. Embracing hybrid work methods and harnessing the power of technology, it overcame barriers and continued to provide seamless support to its clients. Throughout these trying times, its commitment to its clients and the well-being of its workforce never wavered. Another noteworthy aspect that underscores B2C's stability and reliability is its extensive portfolio of government clients, constituting a substantial 70% of its clientele. "As we reflect on our journey, we are filled with a deep sense of gratitude for our dedicated team, visionary leadership, and unwavering support from our clients. It is through their trust and belief in our capabilities that we have been able to overcome every obstacle that stood in our path," opines their CEO – Aarti Mahajan.
Empowering Ideas, Embracing Diversity
At B2C, the company's identity goes beyond a mere business entity—it stands as a beacon of hope, resilience, and unwavering determination. The pioneering organization has embraced an open-door culture that encourages communication and collaboration at every level, breaking down barriers and enabling anyone to contribute and share their exceptional ideas. Regardless of nationality, the B2C team unites under a common goal, propelled by an unwavering commitment to the success of their customers. What truly sets B2C apart is its steadfast adherence to time-tested values and principles that ensure excellence in every aspect of its operations. The company firmly believes in an ageless formula that resonates deeply within its core: a happy customer attracts more customers. "We take pride in establishing an environment where every voice is heard, ideas are allowed to flourish, and the collective brilliance of our diverse team is leveraged to drive innovation," asserts Khurram.
Steering Towards a Promising Future
Forging ahead, B2C aims to go beyond the ordinary, setting its sights on a future filled with boundless opportunities. It aspires to expand its reach far beyond the confines of the GCC regions, encompassing the dynamic landscapes of Asia and Europe. To further propel its global presence to new heights, B2C is actively seeking strategic alliances with multinational organizations. Through this collaborative approach, the company aims to augment its capabilities and solidify its position as a trusted global partner of choice.
Yet, B2C's aspirations extend far beyond mere expansion and commercial gains. The company is fuelled by an insatiable hunger for unexplored ventures and uncharted territories that hold immense potential. "We are relentless in our pursuit of new opportunities, seeking to challenge conventions and redefine what is possible. Our passion lies in pushing boundaries, uncovering hidden possibilities, and transforming them into remarkable achievements," concludes Aarti Mahajan the CEO of B2C.