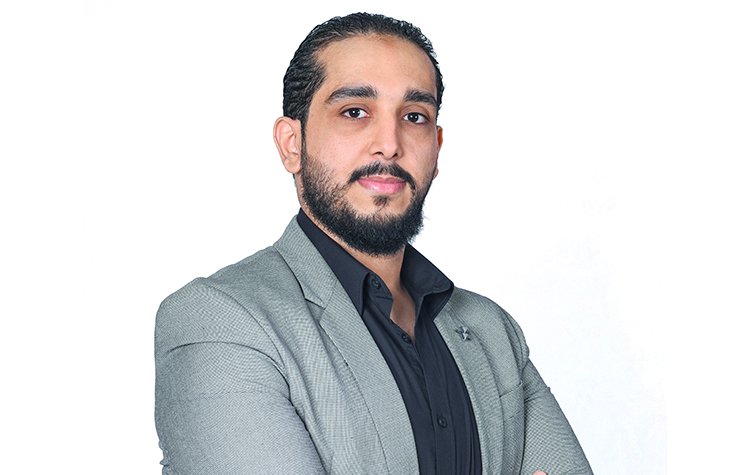 Mohammad Ghassan Zekrallah, Co-Founder & CTO, Cura
The Gulf Entrepreneur got the opportunity to feature Mohammad Ghassan Zekrallah as one of the Most Influential Entrepreneurs from Saudi Arabia in 2023. We want to tell his story to many more people with an intention to inspire readers, especially budding entrepreneurs and thus embolden the entrepreneurial spirit of the region.
This feature will talk about his professional journey: challenges, failures, successes, leadership approach and the values he brings to people through the company. 
Interview with Mohammad Ghassan Zekrallah (Cura)
Please tell us why you chose to become an entrepreneur. Briefly tell us more about the circumstances in your life when you made this decision to incept Cura?
Being of a rebel personality type myself, I was always under the active pursuit of 'escaping the matrix' and I always felt that somehow, I'm enslaved to a life that I'm living but not satisfied with and that I must find a way out to gain my freedom. I was also extremely stressed financially with lots of commitments to take care of my beloved father and mother being the sole provider to them, and I was always sad that I'm not able to give them the best quality of life they deserve to have now at their age.
Around my 4th year of my career as a successful software engineer, this idea of finding a path to escape the salaried employee life and finding a way to own assets and become rich and financially independent and free started to take a hold of me. I still didn't do anything, but I know that I wanted to own a piece of a business someday and that an employee life will not get me what I want. This idea started growing like a virus in my mind and started to define me similar to this quote from 'inception' movie: 'An idea is like a virus. Resilient. Highly contagious. And even the smallest seed of an idea can grow. It can grow to define or destroy you".
Being convinced of those believes, I started talking a lot about my interests in building a start-up amongst my friends and circles of connections and indulging in start-up building cultures. I think that attracted the right people that came to my life later, but still, the right time did not come yet. I remember in 2012, I invited my colleague and friend "Wael Kabli" to my house who was working as a SharePoint Consultant at Microsoft Saudi at that time who is a very smart guy, and we have great chemistry as friends, and I told him about this Start-up thing and that we should start a tech startup together. He was excited, but the right circumstances were not there, we shut down the idea.
Nothing happened after that meeting for 2 years. Now I'm around my 6th year in my very successful yet boring professional career as a software engineer, I started to get really frustrated working in enterprise government projects which are mostly implementation projects and me being a 'builder', I always wanted to build a software product that is of my own vision and design. Since working in products is totally different than working in projects, I badly wanted to build a technically challenging product that I would feel proud to have built myself.
One day near the end of 2014, I got a call from Wael, he said, you know since you are obsessed about this start-up thing, I have an idea about building a medical app, let me explain it to you. I pretended to listen. My decision was already made. I wanted to quit my job but I was afraid to let go of my fruitful career and start an unknown risky path of entrepreneurship. I watched a specific episode of 'Breaking Bad' for some motivation, I quit my job the next day. Wael split a part of his salary with me so I can maintain a living and become dedicated full-time. I worked from my very small 1-bedroom apartment for 1.5 years, left my apartment for Friday prayers only, gained 40 KGs of weight but eventually I built and launched all Cura products myself (iOS, Android, Backend, AWS). After gaining initial traction, we got a seed investment round for $1 million at 2016. Wael was able to join full-time as CEO then and Cura was officially born as a company. The rest is history.
What is the USP of your company? Tell us more about your mental health services?
Our mission is to enhance the healthcare delivery model and bridge the gap between in-person and online healthcare services. Cura provide a reliable 24/7 access to the best licensed and certified doctors instantly so you get your medications and proper advice as fast as possible. For example, if you have a flu and feel sick, open Cura app, request an instant consult, you will be matched with a family consultant and get a guaranteed response in less than 5 minutes, you will get diagnosed and get an e-prescription accepted in all Saudi Pharmacies. Better yet, we get the e-prescription delivered to your home same-day. All without you having to leave your home. You are sick already why should you bother? That's how we want healthcare to be and that's what we are already doing today.
Regarding our mental health services, we provide psychiatry and psychology counselling online with doctors and therapists to treat different mental health disorders and concerns using real-time messaging and video calls. We also provide wellness programs that are 5 to 8 weekly scheduled sessions with therapists to help you achieve a certain health goal like coping with depression, dealing with your anxiety, changing your negative thinking patterns which involves structured work and assignments you have to deliver to your therapist to further progress on your program.
We have extended our offering to include Corporates and workplaces through our Corporate Benefits programs to achieve health and wellness goals at the organization level for all their employees as well.
Tell us about your company culture. What motivates your employees to come to work every day? How do you take care of your team?
Our culture is not a family culture as the cliché goes. That culture is a bit dangerous in my opinion as it allows for less skilled employees to stay which would then drive talented ones to leave. You may afford that in a corporate but definitely not in a start-up. That being said, we are not a stressful nor a highly competitive place in any way, we are very open, cool people, result-oriented with zero-politics and zero-bureaucracy culture but with high accountability and sense of responsibility. We might build a feature out of a 2-minute WhatsApp audio note that someone shared today and have it shipped next week.
Regarding the motivation side, since we are a tech startup and most of our staff are software engineers, I have this belief that if you don't have intrinsic motivation yourself to wake up today to finish the piece of code you were stuck in last night and see your own feature getting conceived and manifested yourself, then we are not the right fit for each other. I won't even try to motivate them. I would advise them to leave. Luckily, we have a technically interesting product and a great team environment that we never had a case of lack of motivation. That's what I love about start-ups. It just never gets boring.
Coming back to you, what are your responsibilities as an entrepreneur? What is your understanding of good leadership? Please share with us, what is your leadership style?
At our current company stage, I have external responsibilities centered around growth and putting our products and services at the hands of as much customers as possible while making sure they can always depend on us to solve the right problems they are suffering from. I also have internal responsibilities centered around building the company from the inside out, hiring and growing second and third line of leadership and management to scale decision making so I'm not a bottleneck anymore nor is my co-founder and ensuring we are not diverting from the culture we want as more people are joining. It is hard to balance the two as they require different mental modes but that is part of the challenges when scaling a company. It's crucial though to never lose track of the external responsibilities your have towards your customers. As much as that is a no brainer, you will be surprised at how easily you can get lost in the details of the day-to-day operations. That's a trap you should develop high levels of mental awareness to never fall into, otherwise, it will mark your slow death as a company.
Regarding my leadership style, I don't believe in a one-size fits all style. Leadership style highly depends on the people you are leading. For capable, mature individuals whom I trust their judgment, I give them complete freedom and autonomous. For more Junior staff, I tend to work with them more closely while giving them a safe space to make mistakes so they can learn and grow. It's my job as a CTO to build this safety net and provide that kind of safe environment.
In view of the future, what are you looking forward to as a person and an entrepreneur? What is something you are excited about?
I dream of a world of interconnected and integrated healthcare services that work for the benefit of the patient to empower him and treat him the way he is (the actual stakeholder) who should be in full control of his own data and medical records, not the hospital or healthcare facility as the one in control. I imagine a world where you can start a medical consultation in Cura but export all your data and finish your consultation in a hospital or another tele-medicine app, hassle-free. Or do a surgery in a foreign country but continue your follow-ups on tele-medicine apps like Cura. All having access to your same centralized medical records always in-sync and always up-to-date flowing between all healthcare facilities without any hassles while protecting your privacy at all times and putting you, the patient at the center of control to allow whom can access your data or not. Complete open integration, just like fintech and open banking startups that are thriving now. The number of start-ups and ecosystem partners that can thrive based on this idea of open-health alone in order to build this interconnected and interoperable ecosystem is very exciting to me and I wish to see that happening soon.
Quick Facts
Founding Year: 2016
Headquarters: Riyadh, Saudi Arabia
Clients/Industry: Telehealth